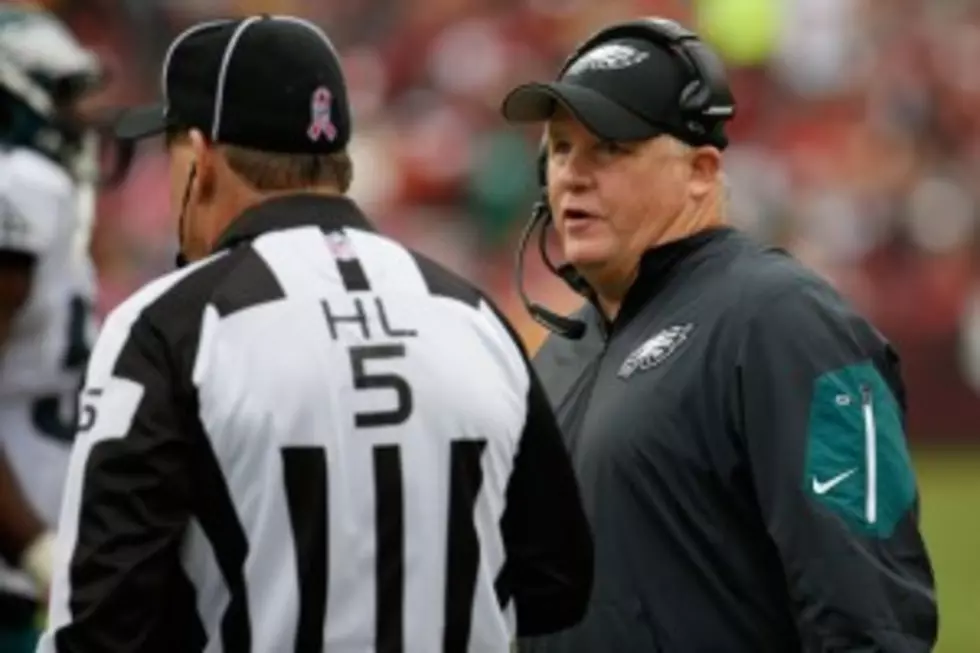 Chip isn't Courting College
Chip Kelly denies the college rumors again.  (Photo by Rob Carr/Getty Images)
PHILADELPHIA (973espn.com) - Get used to the speculation around Chip Kelly returning to the college ranks.
Any time a high-profile position opens up at the junior-varsity level, the Oregon-turned Eagles coach is going to be one of the first names mentioned, at least until he turns the corner in the NFL.
Kelly's success in Eugene and his clandestine approach to his job is always going to invite questions as is the history of coaches like Bobby Petrino, Nick Saban and Jim Harbaugh.
Understand, though, all of those college-turned-pro-turned-back-to-college mentors were escaping toxic situations. They didn't simply walk out the door, necessarily feeling the college game with the beautiful campuses and the coeds to match was the better way to go.
Petrino was an abject failure in the NFL and Saban has admitted if he ever got a quarterback in Miami he still might be in South Florida, while Harbaugh was a great pro coach pushed out by a general manager who didn't like him personally.
Kelly is none of the above, at least not yet, and he still has the keys to Jeffrey Lurie's castle here in Philadelphia.
When asked if he or his agent had been contacted by Southern California or any other university (Texas) about a coaching opening, Kelly was succinct Thursday.
"I understand that you are just doing your job and you have to ask the question,"he continued.
"It's going to happen. We're not successful (yet) and we're not winning. I came from college. We're going to go back to college," Kelly said, explaining the narrative that follows him. "I hope someday to be like (Giants) coach (Tom) Coughlin and win enough games where I stay around long enough where that speculation ends.
"I answered it the same way a year ago. I answered it the same way my first year here. It's an unfortunate part of the game because the other part of it is there are people that have lost their jobs. A friend of mind, Steve Sarkisian, is dealing with a big issue right now and I wish him the best."
As for Kelly's claim, it's hard to imagine that USC wouldn't reach out to the coach and at least take his temperature on the job. There is, however, a plausible deniability to all of this that high-profile coaches and their agents are well-versed in. The representative handles all of the leg work and doesn't let his client in on it until it becomes a viable option.
That's how Kelly can stand up in front of gaggle of reporters and say there is nothing to the story because from his standpoint, nothing is happening.
Nor will it, at least until things go south for Kelly with the Eagles and even in the worst-case scenario, that's a year or two away.
 -John McMullen covers the Eagles and the NFL for 973ESPN.com. You can reach him at jmcmullen44@gmail.com or on Twitter @JFMcMullen