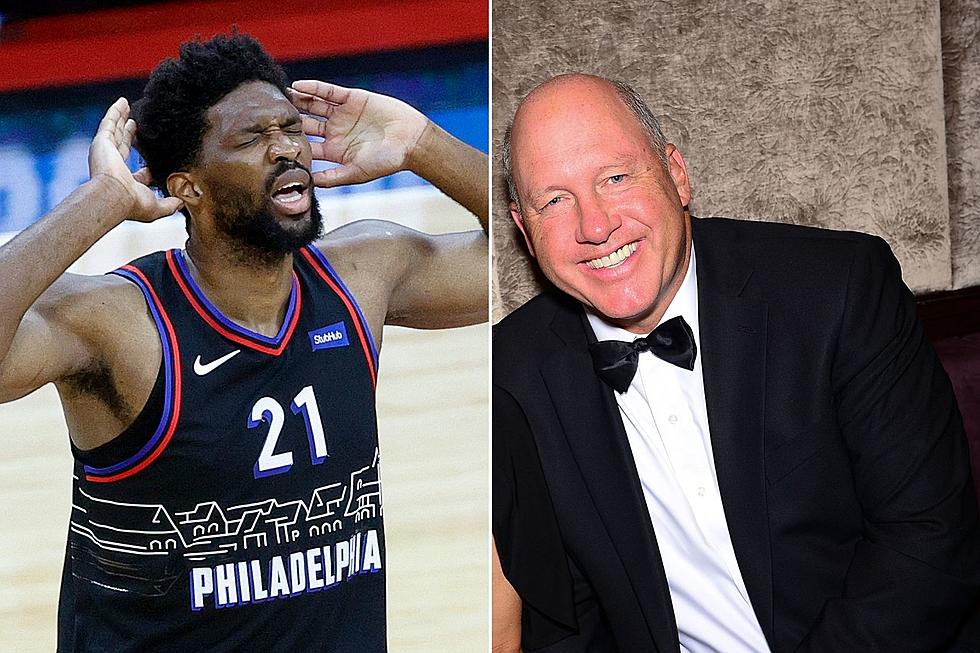 Clap Your Hands Everybody For Your Philadelphia 76ers
-Joel Embiid: (Photo by Tim Nwachukwu/Getty Images) -Tom McGinnis: (Photo by Lisa Lake/Getty Images)
The Philadelphia 76ers have a 2-0 series lead as they head to Washington, DC for Game Three on Saturday night against the Wizards.  Last Wednesday night at the Wells Fargo Center the crowd was electric as the Sixers blew out the Wizards by the score of 120-95 in Game Two of the first round series.  Former Sixers President Pat Croce, who announced first on my show, The Locker Room with Billy Schweim, that he would be Ringing the Bell before the game, putting the Sixers faithful into a Frenzy to start a wild night in Philadelphia.  Ben Simmons and Joel Embiid led the Sixers as they played inspired basketball throughout the game.  The Sixers defense and in particular Matisse Thybulle shut down the Wizards duo of stars Bradley Beal and Russell Westbrook, holding them to a combined 43 points.  The Wizards were a dismal 2 for 22 from Three Point Range.  Thybulle became the first NBA player to collect Four Steals and Five Blocked shots in 20 minutes of play.  If the Sixers continue their intense and focused play, it should be a short series. 
The Phillies continue to play disappointing baseball as they finish a four game series against the Miami Marlins with a two game split.  Saturday they open a short two game set against the Tampa Bay Rays, probable starters Zack Wheeler and Zach Eflin are on the hill for the Phillies this weekend.  Phillies are halfway through a nine game road trip that will conclude in Cincinnati before they head home for eight games versus the Nationals, Braves, and Yankees.
On Saturday's The Locker Room with Billy Schweim we will continue to ride the hype train as the Sixers prepare for Game Three in Washington.  Get your Popcorn ready!!! The Radio voice of the 76ers Tom McGinnis will check in with us to give his impressions on the Sixers play and having fans back in the stands at the Wells Fargo Center.  Then it's Memorial Day weekend and that means it's the unofficial start of the Summer!  We will start our coverage of the South Jersey Beach Patrol Report and visit with the Chief of the Longport Beach Patrol Matt Kelm.  Longport BP has won the last four consecutive South Jersey Lifeguard Championships.    
On Sunday's Show, Pete Thompson joins me in the Studio as we recap the Sixers-Wizards Game Three and look ahead to Monday's Game Four.  We will hear from the Head coach of the Pitman High School Boys Basketball team Ron Myers about his thoughts on the Sixers and his undying support for Ben Simmons.
All the action starts every Saturday and Sunday at 10am in The Locker Room with Billy Schweim on 97.3 ESPN radio. 
Sixers First-Round Picks Since 2000
KEEP READING: The Best Boardwalk Foods to Look Forward to Enjoying