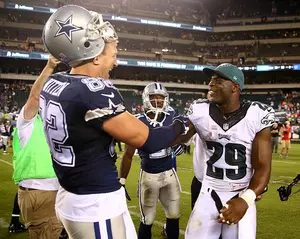 Cowboys Source Blasts DeMarco Murray
Getty Images
The Dallas Cowboys have struggled in replacing the production of DeMarco Murray.
His league best 1,845 rushing yards will not be touched this season by a Cowboys running back, Darren McFadden has rushed for 798 yards through 13 games this season.
But many in the organization are happy that Murray and his character are off the team and have become the problem of one their bitterest rivals, the Philadelphia Eagles.
One thing the Cowboys aren't exactly showing regret for is the decision to let DeMarco Murray walk. Yes, he was a great fit for the Dallas offense. But the Murray-related drama of the last two weeks didn't exactly shock his old co-workers. "The guy is a pro in his preparation and toughness and competitiveness," said one club source. "But he's also entitled, selfish and condescending. He's a great 'team' guy when he's the guy." Murray's reputation in Dallas was of a player who'd mope at times when things didn't go his way, which is part of what the Eagles have dealt with of late.
Murray voiced his frustrations about his Eagles role with team owner Jeffrey Lurie in the first class section of the chartered flight home after win against the New England Patriots.
This week, Murray has remained a 'team' guy when speaking to the media, (just win baby) but one wonders how things will shake out in the offseason.
Obviously, $18 million in guaranteed money to a running back on the field for less than 35% of offensive plays is not a good return on investment. Couple that with the fact that 'reserve' running backs Ryan Mathews and Darren Sproles have out rushed Murray this season, the two parties could be headed for a divorce.
Murray, 27, has rushed for just 603 yards and 4 TD this season.