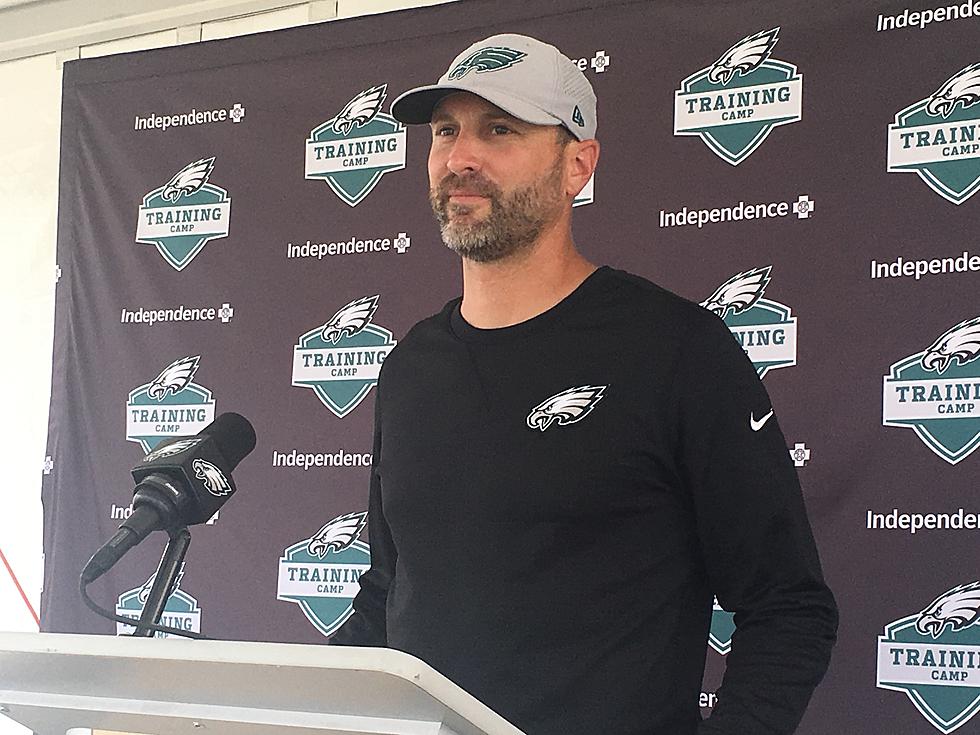 Eagles Coordinators Discuss the Value of Spring Work
(Photo: John McMullen/973espn.com)
PHILADELPHIA (973espn.com) - Jim Schwartz says buyer beware on that next spring star.
"They all look good this time of year," The Eagles veteran defensive coordinator joked.
Through two open OTA practices, sthat theme has resurfaced yet again. On Tuesday it was rangy receiver Carlton Agudosi using his 6-foot-6 frame to high-point a Clayton Thorson throw over Rasul Douglas that wowed more than a few onlookers.
"I think 27 years in the NFL I could probably make a pretty good all-star team of OTAs and first week in training camp and we can put that group together and there probably wouldn't be very many people that a lot of guys have heard of," Schwartz lamented. "You guys are probably the same way. You guys probably have some articles in the first week of training camp of somebody that really stood out."
Guilty as charged for me when undrafted rookie Kyries Hebert arrived in Minnesota one spring and looked like the second coming of Paul Krause as a center fielder. By the time the pads came on, Canton was ultimately replaced with Canada for Hebert.
"This league is not about [showing up in the spring]," Schwartz continued. "It's not about doing that. It's about being consistent over a long period of time. That's why training camp is long. You want to see who can persevere and survive the tough times in training camp and who can rise when it's all said and done."
Both Eagles coordinators -- Schwartz and OC Mike Groh -- explained that the on-field OTAs can be helpful but until the pads come on, no one really knows what kind of player someone is going to be.
There is value, however, although coaches are smart enough to understand players arrive for offseason work at different stages of their careers and proven veterans don't necessarily garner all that much from the on-field work other than staying in football shape for the grind ahead.
"We can only sit up in the office and watch so much tape," Groh said. "Just to be able to get out there and to work with the guys, and even a guy who has been in the league and had success, it's good to get out there and knock the rust off a little bit, work your technique, and continue to try to master your craft."
This is a sliding scale, though, and that's why Schwartz isn't concerned at all that Malcolm Jenkins is missing voluntary work as the Pro Bowl safety wrangles for a tweak to a contract he has outperformed.
"Certainly, he's one of our most experienced players and biggest leaders," Schwartz said of Jenkins. "[His absence is] not anything unusual when you look around the NFL. There are different guys in, different guys out, different guys have different parts of their career. Some guys benefit from more rest, some from more work. Every case is a little bit different.
"I know this, when the chips are down, you'll be able to count on Malcolm Jenkins. And a lot of other guys we're trying to find that out about, and that's what they're doing here at this time of year. Malcolm has some of those credits already in his bank account."
In other words, the hype is for the fans, it's not affecting the coaches.
"It's not just who the flash-in-the-pan player is," Schwartz assessed. "... There is a big difference between looking good running through some drills and looking good in non-contact practices in an off-season program and that translating to real ball in the fall."
That real ball determines any team's fate but Groh did explain the value of teamwork, even with the limitations of the offseason.
"Even if you get one little thing out of these next whatever we have, seven or 12 practices left, if you get a little bit better and figure one thing out that can help you be a better player in the fall then it was worth it," he surmised.
"For other guys, we talked about, the rookies, they have a lot of things they want to get better at, so they have a lot more clubs in their bag that they have to get better at hitting than a veteran guy that has had a bunch of success and knows how the league works," Groh continued. "But if he gets better at one part of his game, then it was a valuable spring."
Schwartz has always believed the value in any offseason is the teaching going on in advance of training camp, which is the evaluation period.
"You're taking everything with a little bit of a grain of salt so to speak," Schwartz said. "Bad cliche, but you're taking it with that saying, 'This is what we're seeing now; let's see if it translates to training camp pads and pre-season games.' But I do think you can see technique, the consistency in technique, and I think you can also tell a lot about a guy with his understanding of what you're doing, missed assignments, mental errors, things like that.
"... you can learn a lot about guys this way. But when it's all said and done, it has to be real football to really evaluate players."
-John McMullen covers the Eagles and the NFL for 973espn.com. You can reach him at jmcmullen44@gmail.com or on Twitter @JFMcMullen