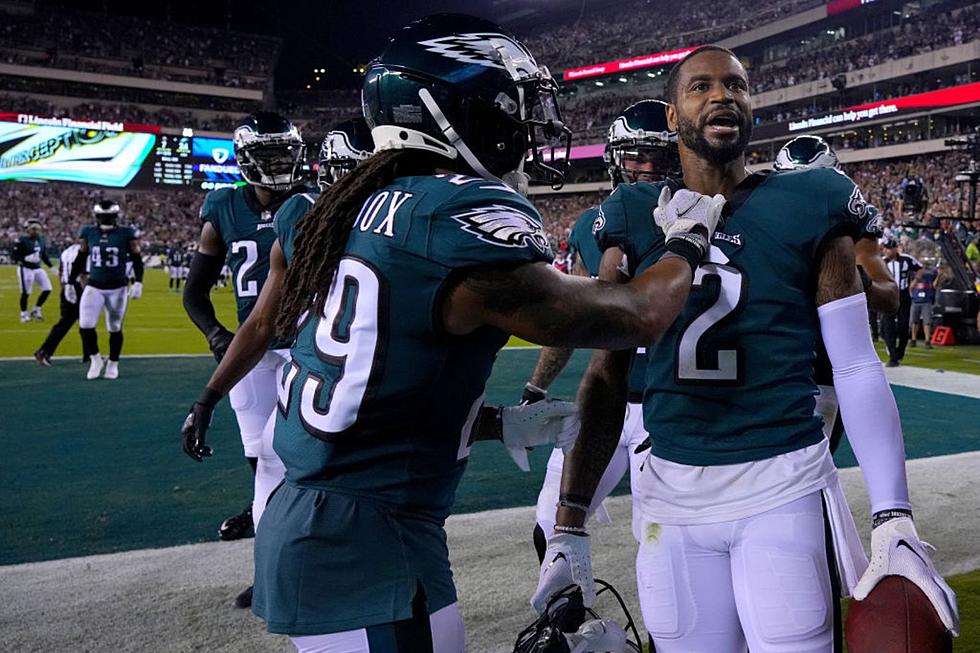 Eagles Cornerback in NFL Executives and Coaches Top Ten Rankings
(Photo by Mitchell Leff/Getty Images)
The 2022 Philadelphia Eagles Defense compiled the most Sacks in the NFL (70) and allowed the fewest Passing Yards in the league (3,057), both were major catalysts in propelling them to a great season that culminated in a Super Bowl appearance.
One of the most important players on the Eagles' Defense last season was Cornerback Darius Slay, who earned the fifth Pro Bowl Selection of his career.  After two straight years with three interceptions, the Eagles had trouble "letting go" of Slay and gave him a contract extension that awards him 24.5 Million Guaranteed and a 10.19 Million Signing bonus.
ESPN+ published their yearly survey results after speaking with NFL League Executives, Coaches, Scouts, and Players, totaling 80 voters who submit their ballots for the top ten players at every position group.  There are three Eagles Offensive Lineman who landed in the top ten rankings and a couple Eagles Wide Receivers also received recognition.  The same survey voting results land Darius "Big Play" Slay at fifth overall after only receiving an Honorable Mention last year.  Here is the ESPN+ explanation:
Slay returns to the top five for the first time since 2020 after a banner year for Philadelphia. He embodied the Eagles' tough attitude on defense with three interceptions and an 18.7% ball-hawk rate.
"I think he was better because he was allowed to match wide receivers on both sides of the field and truly fulfilled those No. 1 corner duties," an NFL pro scouting lieutenant said.
Slay has broken up 133 passes over the past 10 seasons, more than any player in that span.
"He's always the forgotten guy in that top group of corners, but he's been a benchmark, honestly," an AFC personnel evaluator said. "His game has held up really well. Can still really run, physical, wants the big matchup, always consistent."
Even though Slay landed fifth overall in the rankings, his teammate James Bradberry was not in the top ten or in the Honorable Mentions category.  Despite receiving Second Team All-Pro selections by the Associated Press and Pro Football Focus, Bradberry received only a handful of votes in this year's survey.
Eagles Top-10 Sack Leaders