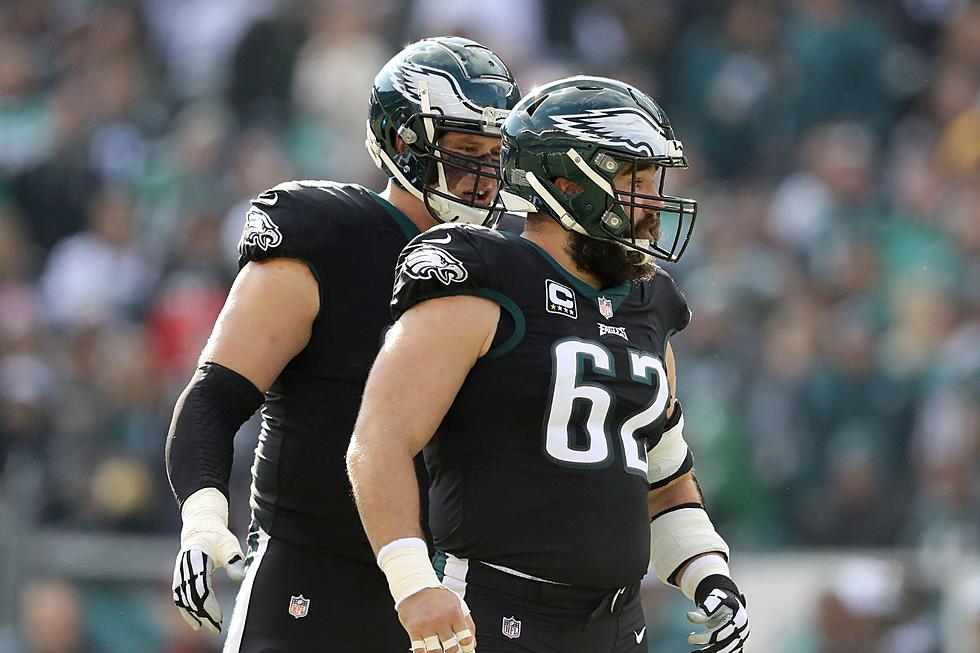 Three Eagles Offensive Lineman land in 2023 NFL Top Ten Rankings
(Photo by Elsa/Getty Images)
As we continue to countdown the days to the start of another Eagles Training Camp, one of the strengths of the team is their Offensive Line which has three Pro Bowl selections returning to the starting unit for the 2023 NFL season.  Even with the loss of Isaac Seumalo in Free Agency this offseason and the anticipation of an open competition at Right Guard, many still consider the Eagles' Offensive Line one of the best in the NFL.
ESPN+ has recently published their yearly survey results after speaking with NFL League Executives, Coaches, Scouts, and Players, totaling 80 voters who submit their ballots for the top ten players at every position group. In this year's ranking of Offensive Tackles, both of the Eagles' starters landed in the top five of the list.
Eagles' All-Pro Right Tackle Lane Johnson was ranked as the fourth-best Offensive Tackle in the NFL heading into the 2023 NFL season. According to Pro Football Focus, Johnson has not allowed a Sack since November 22, 2020 and was a First Team All-Pro Selection last season, major factors in why he jumped from 7th overall ranking last season and into the top five this year. Here is what the ESPN+ article had to say about Lane Johnson:
"Johnson showed once again his capabilities when healthy. Dating back to 2017, he has made first-team All-Pro in two of the past three seasons in which he played 15 games, including 2022. He tied for the league lead in pass block win rate among offensive tackles at 95%.
"(He's a) Premier player," an AFC scout said. "Incredibly gifted athlete with force."
But one NFC exec believes Johnson is overhyped and plays in a run-pass-option offense that helps him limit sacks: "He gets a lot of credit for being noisy and playing on a good team," the exec said."
Johnson is entering Eagles Training Camp five months removed from surgery to repair a Torn Adductor, but as you can see here, he looks more than ready physically for another high-level season for the Eagles.
The Eagles starting Left Tackle is Jordan Mailata and despite him receiving no All-Pro or Pro Bowl Selections in his NFL career after three seasons as a starter, he landed fifth overall in the ESPN+ Offensive Tackle survey rankings. After being an Honorable Mention last season, Mailata received many votes to catapult him up the list; here is the summary of what was said about the Eagles' Left Tackle:
"Mailata is a unique NFL success story, a former rugby player with no football experience who used his massive 6-foot-8, 345-pound frame to become a premier left tackle.
"He's a man," said a high-ranking NFL official who voted Mailata No. 1.
An NFC exec added: "He's kind of figured out the game of football, and if you're a pass-rusher it's like, 'How do I get around or through this guy?'"  Renowned Eagles offensive line coach Jeff Stoutland deserves much credit for his work with Mailata, who should be poised for his first Pro Bowl soon enough. Mailata's 40 starts are the most by any player chosen in the seventh round of the 2018 draft.
"I get the hype -- he's a talented athlete -- but he gets beat a good amount," a high-ranking NFL scout said."
Aside from being an excellent physical athlete for a man his size and his growth as the NFL Offensive Lineman, Jordan Mailata's talents as a singer have gone next level as well over the last several months.
Of course, I cannot write an article about the Eagles' Offensive Line without mentioning the future Hall of Famer who is the leader of the unit: Five-time All-Pro Center Jason Kelce was the sixth overall Interior Offensive Lineman by the ESPN+ survey results and the highest ranked Center on the list. After landing eight in last year's rankings, here's what they wrote about Kelce this year:
Kelce has aged better than just about any NFL player in recent history. Since 2021, he has jumped from honorable mention to No. 8 to No. 6 among interior players. He posted a 95.5% pass block win rate last season while keying an Eagles offensive line that many consider the best in the game.
"Yes, the system protects him a bit and he gets help from Jalen Hurts' mobility, but he's a supreme athlete that's held up incredibly well, a leader, gets out on the run and punishes linebackers on pulling plays," an NFC executive said.
Of course, aside from being the best Center in the NFL, Kelce co-hosts a podcast with his brother and does great work raising money for charities, making him also a "Hall of Fame Person" as well.
Eagles Left Guard Landon Dickerson received an Honorable Mention after receiving some votes for the best interior Offensive Lineman; Dickerson received his first Pro Bowl selection last season, so maybe with more growth this year he may land in the top ten for next year's rankings.
Top 10 Rushers in Eagles History