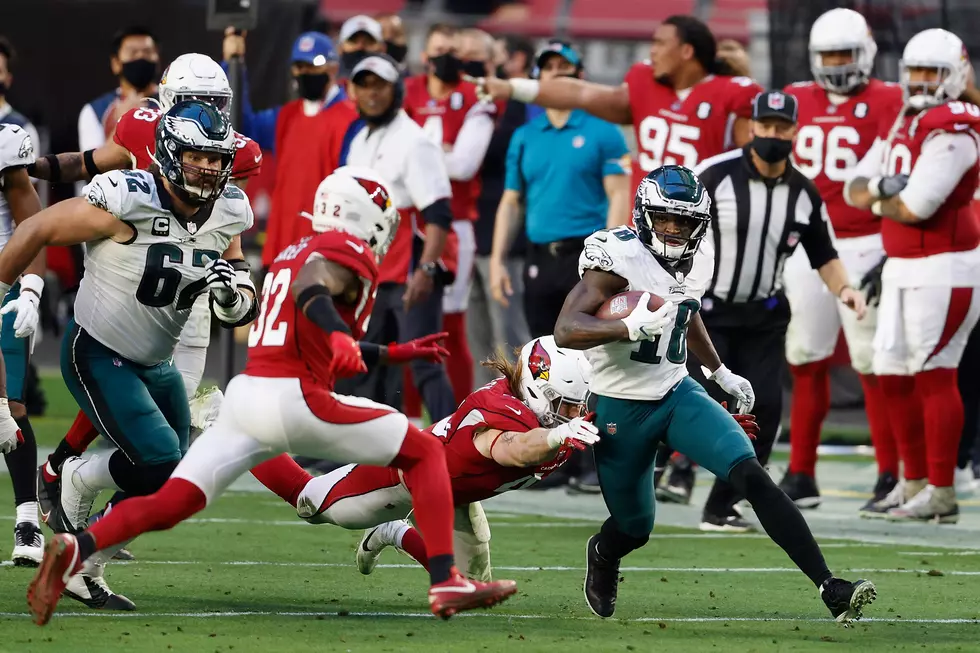 Eagles-Cowboys: 3 matchups to watch in divisional showdown
Christian Petersen/Getty Images
The Eagles (4-9-1) travel to Dallas to take on the Cowboys (5-9) Sunday at 4:25 in a pivotal divisional showdown.
While the Cowboys and Giants are tied for second place in a dreadful NFC East, the Eagles find themselves playing the unfamiliar role of divisional cellar-dweller.
In any other division, both teams would be playing out the string and preparing to embark on an offseason of reconstruction. Nevertheless, both teams enter Week 16 still very much in the playoff hunt.
Let's take a look at three matchups that could determine the outcome.
Eagles DE Brandon Graham vs. Cowboys RT Terrence Steele
The Eagles enter Week 16 immensely short-handed at edge rusher.
Josh Sweat, perhaps the team's best pure pass-rusher, was placed on injured reserve with a wrist injury Saturday. Unless the Eagles defy seemingly insurmountable odds and make it to the divisional round, Sweat's season is over.
Additionally, the team announced that defensive end Derek Barnett (calf) didn't travel with the team to Texas and has been downgraded to out.
Given the lack of depth at the position, Brandon Graham must shoulder a more prominent role. With only Vinny Curry, Joe Ostman -- and likely Malik Jackson -- available to occupy snaps at defensive end, Graham may be on the field for every defensive snap on Sunday.
Fortunately, his battle with right tackle Terrence Steele is one that significantly favors the Eagles' recently anointed Pro Bowl pass-rusher. Steele struggles with power rushers, and if Graham utilizes his bull rush and leverage, he'll keep Steele off balance most of the afternoon.
Eagles CB Michael Jacquet vs. Cowboys WR Michael Gallup
Sure, Cardinals' wide receiver DeAndre Hopkins did plenty of damage last week.
To be precise, Hopkins finished with nine catches for 169 yards and a touchdown. However, what appeared to be a baptism by fire for Jacquet -- who often found himself in coverage -- the undrafted cornerback made his share of plays, too.
All told, Jacquet finished with seven tackles (one for loss), two passes defended, and a sack following his first career start.
This week, Jacquet will likely draw the speedy Gallup in coverage. The third-year receiver will get his targets -- he's garnered 21 over the past three weeks -- but hasn't been able to do much with the opportunities. However, look for the Cowboys' game plan to include 8-10 targets in Gallup's direction this week.
While Jacquet displayed toughess, instinctiveness, and unwavering confidence in the desert, he'll be counted on to replicate his performance. Gallup offers game-altering speed, innate body control, and ball-tracking ability, but Jacquet is equipped to combat his strengths. The cornerback, who measures in at a hulking 6-foot-2, 201 pounds, boasts an 82 1/8-inch wingspan and ball skills that transitioned from his days as a wide receiver.
On paper, this matchup seemingly favors Dallas. However, I wouldn't be surprised if Jacquet turns in another strong showing.
Eagles WR Jalen Reagor vs. Cowboys CB Anthony Brown
The Eagles have made a concerted effort to feature Reagor in the game plan over the past two weeks -- he's yielded 12 targets over that span -- though he only mustered seven receptions for 95 yards. There have been times where Jalen Hurts blatantly missed Reagor, and other instances where the latter cruised at the top of his routes or did a poor job of battling for position.
This week, Reagor will have a prime opportunity to clean up the details and showcase his talents against a leaky Cowboys' secondary. Reagor will draw Anthony Brown in coverage on Sunday. Brown, who closely mirrors Reagor in size, possesses solid short-area quickness and click-and-close ability, but like Dre Kirkpatrick last week, he's handsy, lacks eye discipline, and can be susceptible to the deep ball.
The incessant comparisons between Justin Jefferson and Reagor will perpetuate, but Reagor can quiet some of the noise by capitalizing on this plus-matchup.