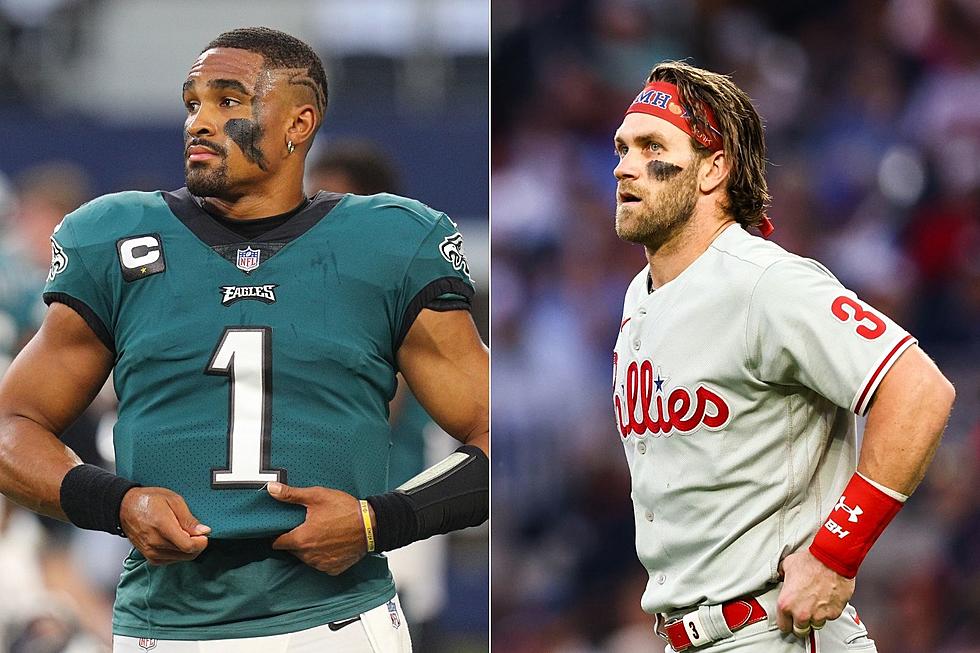 Eagles Disaster in Dallas Overshadows Phillies Failures
-Jalen Hurts: (Photo by Richard Rodriguez/Getty Images) -Bryce Harper: (Photo by Casey Sykes/Getty Images)
The Philadelphia Eagles returned from their Monday Night Football game in Dallas with more questions than answers. The embarrassing loss to the Cowboys was hard to stomach and has been the topic of conversation all week on sports talk radio and social media. The Eagles did the Phillies a favor by playing undisciplined football and losing on the big stage on primetime by a 41-21 score that doesn't indicate how bad the Eagles looked or played for most of that game.
With the Phillies now losing four straight games, they have quietly faded out of the NL East race and their playoff hopes have been crushed. The Phillies were swept by the Braves in Atlanta this week which handed the NL East Title to the Braves. The Phillies September record of 13-14 wasn't good enough to launch them into the playoffs for the first time in a decade. Their mediocre play was never going to change and the Phillies put together a streak of wins only to duplicate it with the same amount of losses each time. In the end the Phillies will miss the playoffs and the Eagles lick their wounds from an embarrassing loss while the Ben Simmons saga has garnered a lot of the Philadelphia Sports fans ire and is a hot topic. This weekend in The Locker Room with Billy Schweim we will discuss it all!
On Saturday's show, Scott McKay and I will review the week in Philadelphia sports and get you ready for the Eagles next opponent the Kansas City Chiefs. Our weekly segment with the Sports Book Consigliere Dave Sharapan will preview the weekend's football action with his six pack of picks. Dave calls in from Las Vegas every Saturday. Then we will hear from 2X Super Bowl Champion who's a member of the Eagles 75 anniversary Team, Punter Sean Landeta!  Sean will give us his take on the young Eagles coaching staff. Phillies and Sixers talk will round out the show.
On Sunday's Show, Pete Thompson joins me in the studio as we do our Eagles pregame show. The Eagles welcome the 1-2 Kansas City Chiefs and Andy Reid to the Lincoln Financial Field. 973ESPN.com and Fox 29 Sports Anchor Scott Grayson will check in and give us the latest news and updates for the Eagles/ Chiefs matchup. Then we will hear from the Fantasy Football Guru Brian Hartley on his hottest plays for week four in the NFL.
Don't miss out on The Locker Room with Billy Schweim every Saturday and Sunday from 10am to Noon on 973 ESPN Radio
Eagles vs Dallas Cowboys, Monday Sept 28 2021