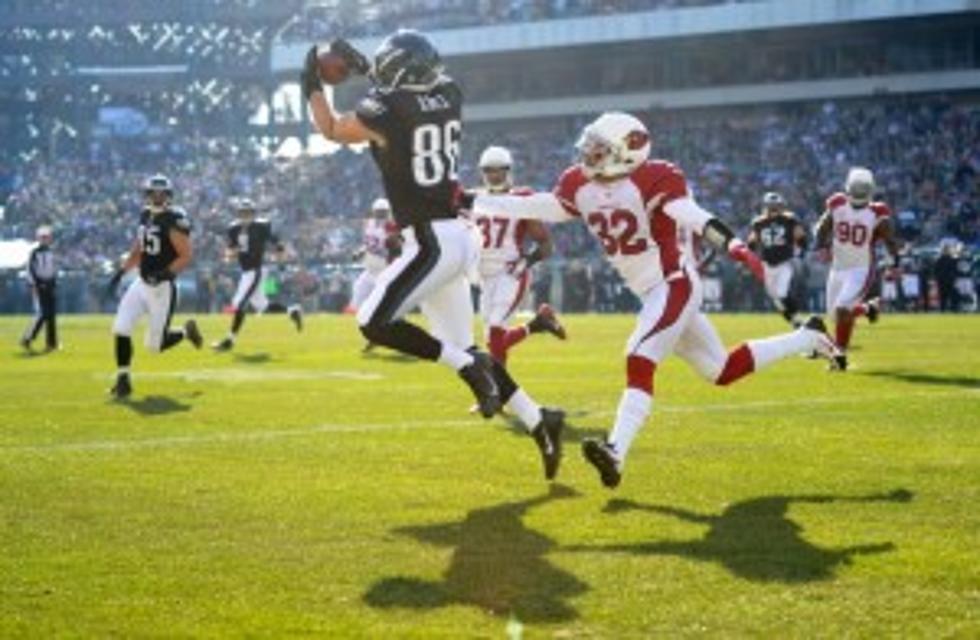 Eagles Inactives, Pick and Matchup to Watch vs Cardinals
Zach Ertz played on 38-of-78 snaps (48.7 percent) in last years win over the Cardinals. (Photo by Maddie Meyer/Getty Images)
The Eagles had a bye last week, but shutout New York, 27-0, at home back on Oct. 12 in week six to improve to 5-1 on the season.The Eagles' 5-1 record through six games is their second best of the last 30 years, behind only a 6-0 start in 2004.  The shutout against the Giants was Philadelphia's first shutout since Dec. 1, 1996.
The Cardinals hold a slim 55-54-5 edge in 114 all-time regular-season meetings with the Eagles, their longtime NFC East division mate (1970-2001).
In the 2012 draft, the Eagles took quarterback Nick Foles in the third round.  Foles completed 21-of-34 passes for 248 yards, two touchdowns, and two interceptions in Sunday night's Week 6 shutout of the Giants.  The two interceptions gives him 11 turnovers over the first six games.
The first overall pick in 2003, Carson Palmer completed 22-of-31 passes for 253 yards, two touchdowns, and an interception in the Cardinals' Week 7 win over the Raiders.
Philadelphia won the most recent matchup 24-21 at home in Week 13 last year, but the Eagles have lost in their last three trips to Arizona (including the January 2009 NFC Championship Game).
(ESPN.com NFL insider KC Joyner looks at the match-up)
The Eagles will be missing running back Darren Sproles, who is out for this week's game with a MCL injury, he will be replaced by Chris Polk who is playing after missing time with a hamstring issue that has plagued him virtually all season – a huge drop off.  The return of Mychal Kendricks should give the Eagles better coverage against Cards running back Andre Ellington who is having a great year catching the ball out-of-the-backfield.  Matt Tobin remains at left guard in place of Evan Mathis, but Mathis was back at practice this week and he should be ready to go when he is eligible to play in week 10.  Finally, for the fifth week David Molk will start at center in place of Jason Kelce who is out following sports hernia surgery, but could be ready to go next week after practicing this week.
On the Cardinals injury front, DE Calais Campbell is active for the game against the Eagles.  Campbell may have his snaps limited based on how he feels coming off an MCL sprain, but he presence is big for the Cardinals.
(Listen to this week's The Outside View with ESPN's NFL Nation Cardinals Reporter Josh Weinfuss)
(ESPN's Sal Paolantonio talks about the match-up to watch)
Cardinals rush defense vs Eagles Rushing attack: The Cardinals lead the NFL in rushing defense, allowing 72.5 yards per game. They also led the NFL in the category last season (84.4 ypg) after not having done so since the 1934 campaign.  LeSean McCoy registered his first 100-yard rushing game of the season in Week 6 against the Giants (149 yards). His average of 70.3 yards per game for the season is down from 100.4 per game last year, when he led the NFL in rushing (1607 yards).
If the Cards win this matchup, and losing Sproles will be a big loss to the Eagles running game - Nick Foles will have to be counted on to make some plays in the passing game.  One area where the Cards can be tested is in covering the tight end.  The Cards have struggled this season covering tight ends, and that could mean Zach Ertz is in today's game plan for Chip Kelly.
Eagles' inactives: RB Darren Sproles, QB Matt Barkley, WR Brad Smith, DB Jaylen Watkins, C Jason Kelce, OL Dennis Kelly and DE Taylor Hart.
Cardinals' inactives:  QB Logan Thomas, LB Thomas Keiser, LB Glenn Carson, DT Alameda Ta'amu, DT Bruce Gaston, G Earl Watford and TE Troy Niklas.
Reaction: The Cardinals are a dangerous team, that not a lot of people know about or give a lot of credit to for being a top-tier team.  However, if the Eagles can go out west and pick up this win, it would be very impressive - maybe the best win of the Kelly era.
Carson Palmer is 7-0 as the Cardinals' starting quarterback when posting a quarterback rating of 100 or better, so the Eagles will have to continue to get pressure on the quarterback like that have been able to do the past three weeks.  The Cardinals offensive line is average, so sacks are there to be had.
The Cards have an aggressive defense, losing a player like Sproles will hurt, he could have been a difference maker like he was the night vs Indianapolis - taking advantage of some over-pursue and hitting a hole with his explosive speed.  Without him, Nick Foles will have to be sharp, look for him to look in the direction of Ertz early and often and maybe take some shots downfield with Jeremy Maclin.
The Cardinals offense has some nice weapons with Ellington and Michael Floyd, plus the crafty Larry Fitzgerald.  Getting Kendricks back is a very big addition, especially in this game - the Cards like to use Ellington out-of-the-backfield, a spot Kendricks excels in.
Should be a great game, winner has a leg up for home-field advantage in the NFC playoff race, which makes this a very important game in the grand scheme of things.
The Pick:  Cardinals 28, Eagles 23