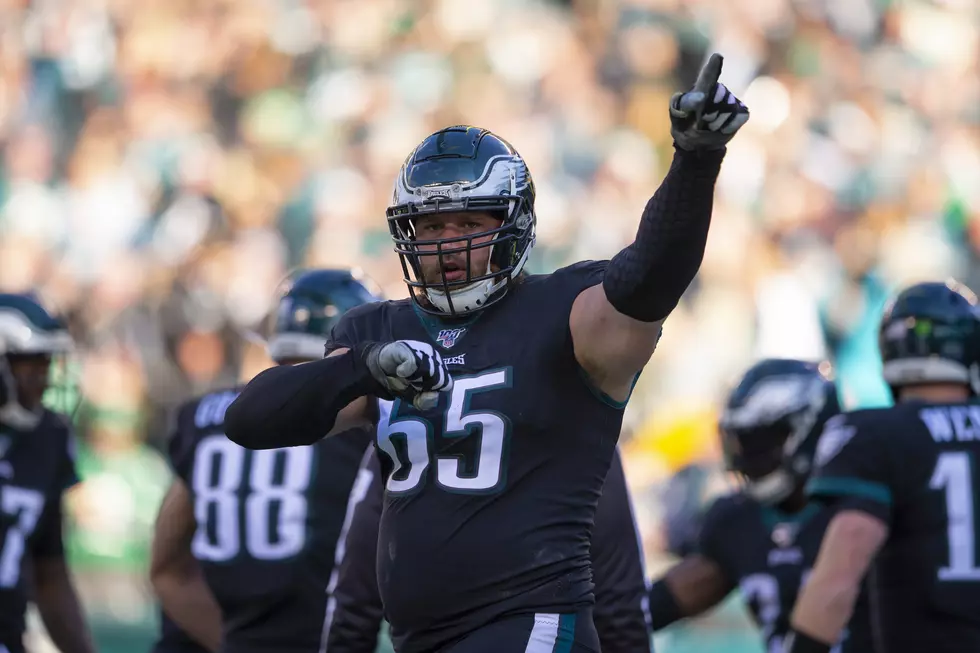 Eagles' Lane Johnson Day-to-Day with Injury
Getty Images
The Eagles offensive line has had many different looks this year, and that's before the team has even played an actual game.
Injuries have already commandeered two starters, Brandon Brooks and Andre Dillard, for the 2020 season. Now there is some question about the availability of Lane Johnson for Sunday's opener in Washington.
Enter your number to get our free mobile app
Johnson has been dealing with with a lower-body injury and will practice individually today at practice, not with the team.
"He's a guy that's day-to-day. We'll see where he's at at the end of the week, but he's doing well," Eagles head coach Doug Pederson said Wednesday morning.
Matt Pryor, who was working at left tackle last week, then over at right guard this week, will likely be working at Johnson's right tackle position today.  When John missed time in camp due to COVID-19 issues, it was Pryor worked with the first-team at right tackle.
"Lane is a valuable piece to our offensive line," said Pederson. "But yet we've got to prepare everybody if Lane is not available, and we've got to get our young guys ready to go. This is why when we select offensive linemen we look for guys that can play both left and right side, can play inside and outside. We've got some young players there that we'll have ready.
"We'll see where Lane is at today, and hopefully he'll progress in the right direction."
If he doesn't the Eagles could be forced to use Pryor at right tackle, and either Nate Herbig or rookie Jack Driscoll at right guard. Another possibility could be keeping Pryor at right guard and using Driscoll, a college tackle at right tackle.
Pryor has become a valuable piece to the Eagle offensive line puzzle. He started at right guard in Brooks absence in last year's Wild Card game, and handled himself very well. He was the first choice to replace Andre Dillard at left tackle, before Jason Peters decided to return to his natural position.
"That was obviously valuable experience for him to step in and play that right guard position," Pederson said about Pryor playing in the Wild Card playoff game.  "He's comfortable over there. He and Lane work well together and did last year and whatnot, and hopefully he continues to grow in that position."
"He's a big man. He's a physical man. He's done a nice job there. Having played the position gives him that experience moving forward, and hopefully he can really take it and just kind of roll with it, and embrace the opportunity that he has in front of him, and this will be really good for him."
With or without Johnson the Eagles will face Washington this Sunday at 1 p.m. (Listen on 97.3 ESPN).