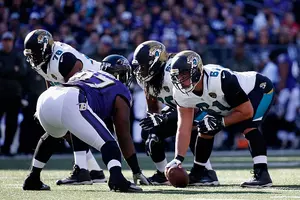 Eagles Lock Up Wisniewski
New Eagles OL Stefen Wisniewski. (Getty Images/Rob Carr)
PHILADELPHIA (973espn.com) — The Eagles locked down a potential free-sgent bargain on Monday, agreeing to terms with veteran offensive lineman Stefen Wisniewski.
The team had hosted Wisniewski on Thursday of last week and hammered things out over the weekend.
On the surface the Penn State product shapes up as a good fit in Philadelphia because Wisniewski has the ability to play both center and left guard, a versatility that the Eagles no doubt find very intriguing after a season in which they struggled mightily on the interior of the offensive line.
Jason Kelce's main backup in the pivot, David Molk, has already retired after losing most of last season to injury and the left guard spot is up for grabs as the pedestrian Allen Barbre tries to told off Andrew Gardner, Malcolm Bunche and a potential draft choice.
Wisniewski has played most of his NFL career at center after being selected by the Oakland Raiders in the second round of the 2011 NFL Draft. He spent his rookie year starting at left guard, however, before moving inside. Overall, he started 61 of a potential 64 games during four seasons in Oakland over before signing a one-year deal with Jacksonville in free agency last year.
He started all 16 games at center for the Jags in 2015 and of the 39 players rated at the position by ProFootballFocus.com, Wisniewski finished middle of the pack at No. 19.
In Philadelphia he could compete for the starting position at LG and serve as a very competent backup for Kelce, certainly far more accomplished than either Molk or Josh Andrews.
The Eagles also announced Monday that Matt Tobin, who started at right guard for most of last season after Gardner went down, signed his one-year tender as a restricted free agent.
-John McMullen covers the Eagles and the NFL for 973ESPN.com. You can reach him at jmcmullen44@gmail.com or on Twitter @JFMcMullen