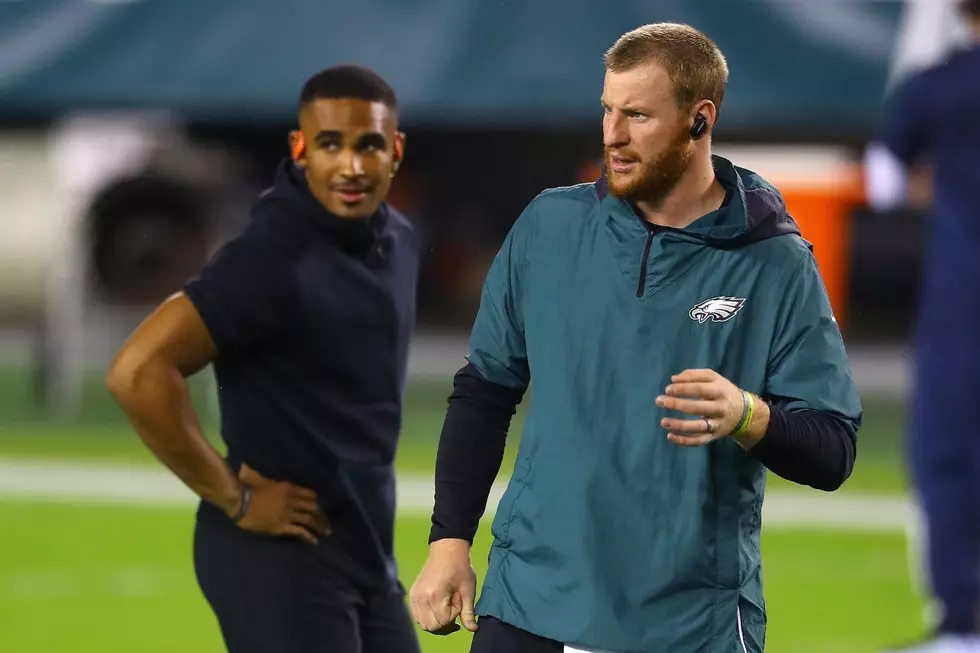 NFL.com Final QB Rankings for 2020 Season
(Photo by Mitchell Leff/Getty Images)
There were a total of 59 different starting quarterbacks during the 2020 regular season.
The Eagles started two of those 59 signal callers, Carson Wentz and Jalen Hurts.
If you simply go by these NFL.com rankings, the choice of starting quarterback for the 2021 season seems obvious.
According to NFL.com, Wentz was the 35th best starting QB in 2020. That means there were multiple backups that ranked higher than Wentz.
Here's what Tom Blair, one of the four contributors to the list, had to say about Wentz.
"Wentz is just one member of the (unsettlingly large) crowd of young quarterbacks teetering on the brink, but his fall might be among the most harrowing, given the heights from which the former MVP candidate has plummeted. Without digging into the messy business of assigning blame, Wentz's 2020 backslide should haunt not just the Eagles but any NFL decision-maker tasked with safeguarding the development of a talented signal-caller."
One reason a trade of Wentz seems likely isn't only his falling out with the organization, but also rankings like this, that show how far his play fell during the 2020 season.
That's why Howie Roseman, is willing to move on rhe former No. 2 overall pick and is now available via trade.
The Eagles other starting quarterback, Hurts, came in at No. 23 on the list.
From Ali Bhanpuri
Jalen Hurts provided a spark for a lifeless Eagles offense when he took over for Carson Wentz in Week 14, but the rookie's four starts were far from perfect. Still, combine his copious potential with a 2021 salary that's 3.4 percent the size of Wentz's, and it's no surprise why the fledgling Nick Sirianni regime might opt to stick with the second-year passer as the team's starter next season.
While Hurts provided a spark, he went 1-3 in four starts and completed just 52% of his passes, a number that will need to be better if he if the long-term answer at quarterback for the Eagles.
Some notable names on the list ahead Wentz were Gardner Minshew (34), Drew Lock (33), Cam Newton (32), Mitchell Trubisky (31), Jimmy Garoppolo (30), Teddy Bridgewater (29), and more.
Inside the NFC East, it was a tough year for signal callers, with Dak Prescott ranking the highest on the list, coming in at No. 16 even though he played in just five games.
Hurts was the next highest ranked QB in the division, followed by Daniel Jones (24), Andy Dalton (25), Alex Smith (27), Wentz (35), Talyor Heinicke (37), Kyle Allen (39), Colt McCoy (48), Dwayne Haskins (50), Garrett Gilbert (51), and Ben DiNucci, who came in last at No. 59.
KEEP READING: Eagles Quarterbacks With the Most Wins Since 1980