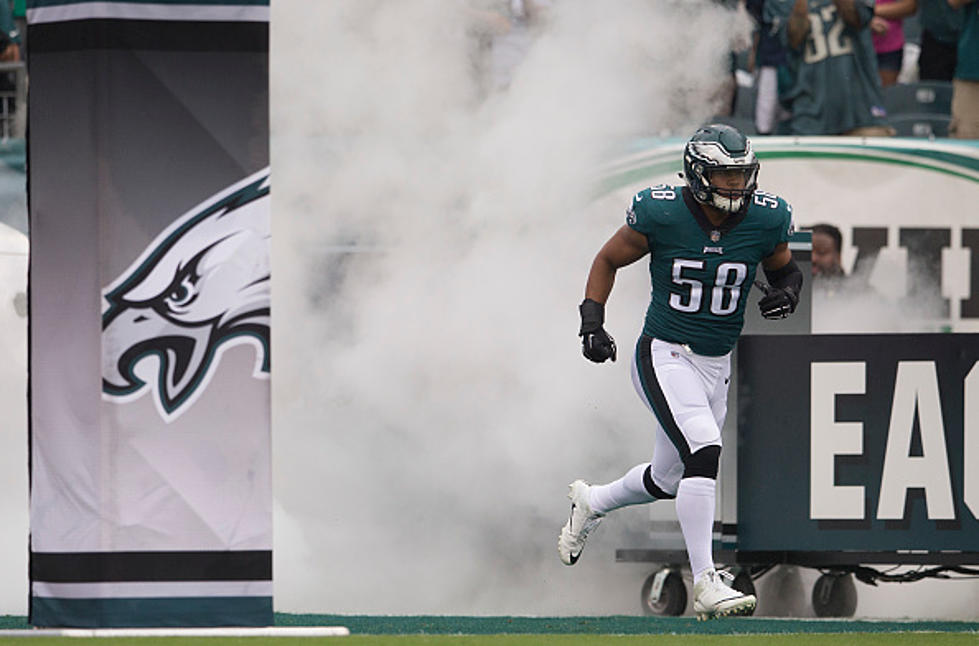 Eagles lose Jordan Hicks in Free Agency
(Photo by Mitchell Leff/Getty Images)
PHILADELPHIA (973espn.com) - Any hope of the Eagles bringing back Jordan Hicks on a team-friendly deal evaporated in the desert Tuesday when the Arizona Cardinals agreed to give the veteran linebacker a multi-year, big money deal.
Per the NFL Network, Hicks was able to get four years and $36 million, with a $12M signing bonus and $20M guaranteed, from the rebuilding Cards after a four-year stint in Philadelphia where he proved to be a consistent playmaker but injury prone.
Three of Hicks' four seasons with the Eagles were significantly derailed by injuries, some serious like the torn pec and torn Achilles' that cost him in Years 1 and 3, along with a calf injury that sat him a month of last season before returning for the stretch run.
By that point, however, Jim Schwartz stuck with Nigel Bradham as his lone every-down LB and did not go back to Hicks. In hindsight that might have been foreshadowing the future a bit although there is no obvious heir apparent for Hicks in the middle of the base defense, with both Nate Gerry and Paul Worrilow, who missed all of last season with a torn ACL, in the mix.
"This place is special for myself, my family," Hicks told reporters after the season. "It holds a special place in my heart. We'll see what happens. No guarantees, it's part of the business. We all understand that but a lot can happen over these next few weeks so we'll see."
The future here depended on a tepid market and Hicks was ultimately able to find at least one significant suitor.
-John McMullen covers the Eagles and the NFL for 973espn.com. You can reach him at jmcmullen44@gmail.com or on Twitter @JFMcMullen