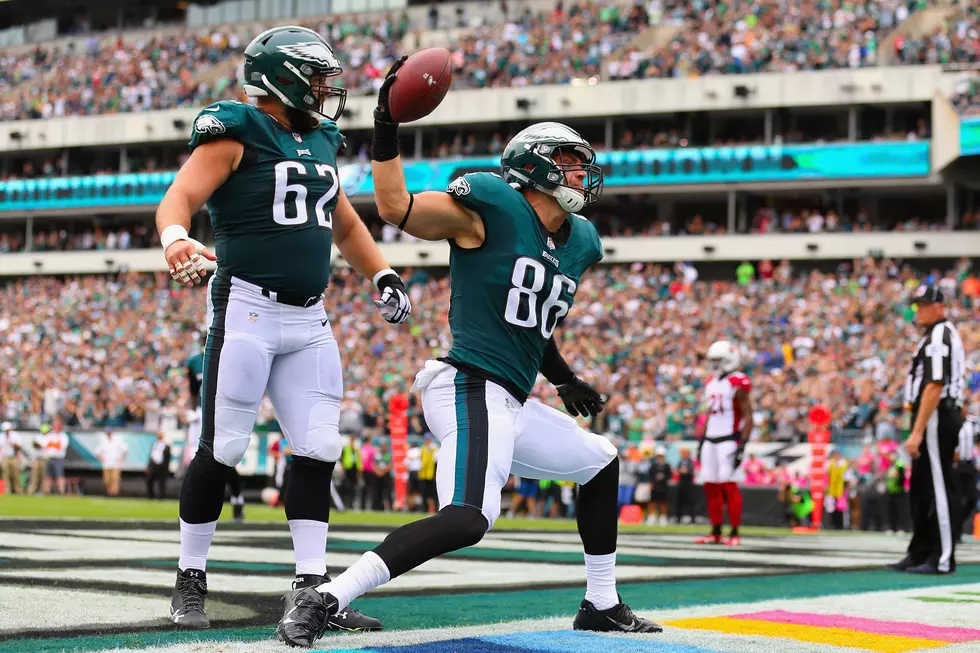 Eagles Notes: 'Would be Absolutely Stunned to see Zach Ertz Back'
Mitchell Leff, Getty Images
The Eagles did not trade tight end Zach Ertz during last week's draft, but that doesn't mean he will be back with the Eagles for the 2021 season.
"Even though he's not the same player he was, I don't think he is somebody you just willy-nilly discard," said ESPN senior NFL corespondent Sal Paolantonio on The Sports Bash on 97.3 ESPN. "If there was a market for him, he would have already been traded, but it looks like there isn't."
The Eagles are reportedly requesting a third round pick in exchange for the three-time Pro Bowler, but what do the Eagles do with the Ertz, who is coming off an injured filled 2020 season, if no team is willing to meet that asking price?
"I don't see any scenario, none," said Eagles writer Rob Maaddi of the Associated Press as a guest of The Sports Bash.  "I would be absolutely stunned to see Zach Ertz back next year."
While many feel that it is a foregone conclusion that Ertz will be gone, Eagles GM Howie Roseman sounded like a guy who was willing to bring him back to the team in 2021. 
"Zach's a really good player and a really good person, and he's under contract with the Eagles," Roseman explained. "At the same time, we have a lot of respect for him and what kind of player he is and what he's done for our team."
"But this isn't a guy in the twilight of his career. He's a guy still in his prime. A year ago at this time everyone was talking about where he ranked with the top tight ends in the league."
"So we feel really good about the kind of player he is and we have to do what's best for our team as well and again we have a lot of respect for him and continue to remain a member of the Philadelphia Eagles, if something changes, we'll update you guys."
So is Ertz a fading player on the downside of his illustrious career, or is he a player who just had a down season due to missing five games with to an ankle injury?
Hard to tell, but he is coming off the worst season of his career, catching 36 passes for 336 yards and just one score.
"If Zach Ertz is back, it would tell me the ability to forgive and forget and move on, it would take a small miracle for that to happen," Maaddi stated.
So in not so many words, it doesn't sound like Ertz wants to be here.
"Right now he is on the roster," said Adam Caplan of Inside the Birds as a guest on The Sports Bash. "I do not expect him to be on the roster in the fall, we'll see what happens. "The issue isn't a lack of interest, there is interest in him. One team couldn't make the money work, that is going to be the issue going forward here."
Ertz is set to make $8.5 million in 2021, but a post-June 1 move would help the team save about $4 million in cap space.
Eagles First Round Draft Pick Busts