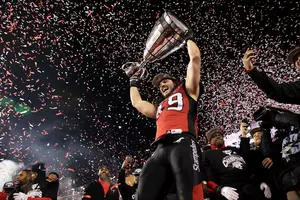 Eagles Promote LB Alex Singleton from PS
(Photo by Codie McLachlan/Getty Images)
PHILADELPHIA (973espn.com) - The Eagles stayed in-house when it came to replacing Zach Brown, elevating linebacker Alex Singleton from the practice squad on Wednesday.
Originally an undrafted player out of a small-school environment at Montana State, Singleton tried to catch the eye of Pete Carroll in Seattle before Bill Belichick and New England wanted a look and finally Mike Zimmer with the Vikings.
While it didn't generate the desired result for Singleton the fact that three of the best defensive minds in football felt he deserved an opportunity foreshadowed that something was there.
That manifested itself in Canada where Singleton was eligible to be drafted because he has dual citizenship due to his mother being born in Toronto.
"I think you take things from every defense and every coach," Singleton told 973espn.com this summer. "The goal is to learn everything you can and keep moving forward with more information and take advantage of that."
In 2016 just as Doug Pederson was putting his stamp on the Eagles Singleton took his place in the middle of the Calgary defense and the result was the two All-Star selections, an Outstanding Defensive Player of the Year award in 2017, and the Grey Cup.
"I'm a different player now," Singleton assessed. "I don't think there is any better way to improve than by playing and the time I spent [in the CFL] really helped me."
Every box was checked in Canada so Singleton took another shot in the states as a now fully-developed 6-foot-2, 240-pound LB who had an excellent offseason which first earned him a berth on the practice squad and a promotion to the 53 for Week 7.
To replace Singleton on the PS, the Eagles brought back center Keegan Render, who was with the team in training camp.
Philadelphia still has one spot open on the roster and that is expected to go to returning cornerback Jalen Mills, who returned to practice this week after missing nearly a calendar year with a foot injury.
-John McMullen covers the Eagles and the NFL for 973espn.com. You can reach him at jmcmullen44@gmail.com or on Twitter @JFMcMullen