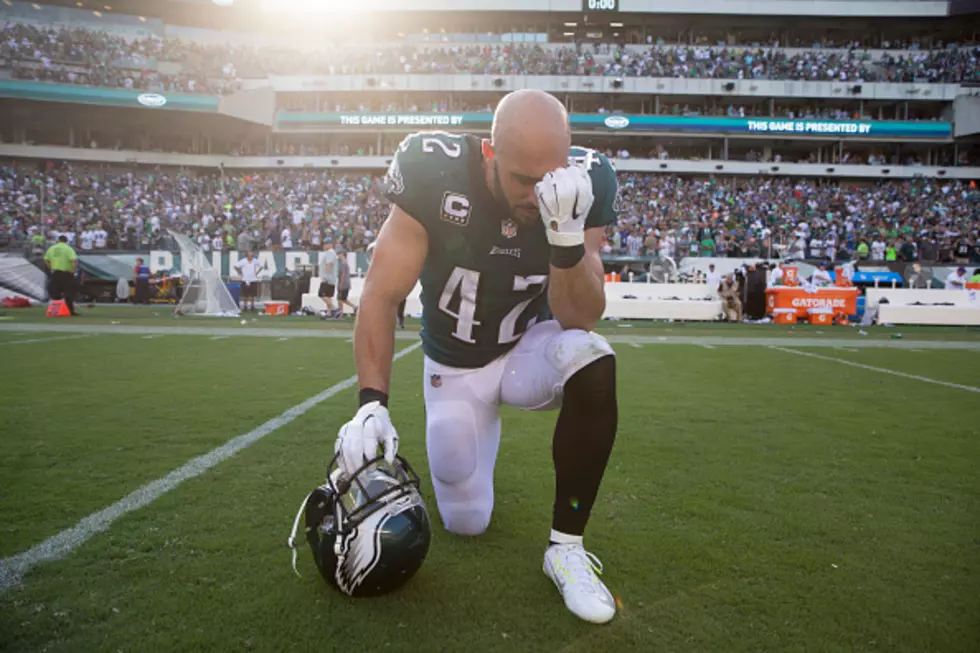 Eagles release Chris Maragos, Re-Sign Jake Elliott
(Photo by Mitchell Leff/Getty Images)
PHILADELPHIA (973espn.com) - The Eagles got to work early on their 2019 roster by releasing long-time special-teams standout Chris Maragos and re-signing two exclusive rights free agents, kicker Jake Elliott and long snapper Rick Lovato.
Maragos, 32, suffered what turned out to be a catastrophic knee injury during an October 2017 game in Carolina and hasn't played since. Originally thought to be a PCL injury, Maragos also damaged his ACL and has needed two surgeries since, the most recent coming in December of last year.
Maragos proved to be one of the better special teams players in football since arriving in Philadelphia for the 2014 season and was considered to be the leader of Dave Fipp's coverage teams as well as a capable backup safety until his injury.
The Eagles reportedly re-worked Maragos' deal, which was set to expire but because he didn't play last season, a former NFL contract advisor tells 973espn.com that Maragos' deal likely tolled so Philadelphia was forced to release the veteran instead of just letting the contract expire.
"We are grateful for Chris Maragos' contributions to the Philadelphia Eagles over the last five seasons," the team said in a statement. "A captain on our Super Bowl LII-winning team, Chris' leadership on and off the field and his ability to connect with teammates, coaches and fans made him a valuable member of this organization and the community. Chris solidified himself as one of the best special teams performers in the NFL and played a crucial role in the success of our team. We wish Chris and his family the best."
Both Elliott and Lovato, meanwhile, signed one-year deals.
Signed off Cincinnati's practice squad after Caleb Sturgis was injured in September of 2017, Elliott quickly became a fan favorite during his Lincoln Financial Field debut with a franchise-record 61-yard, walk-off field goal against the New York Giants.
As a rookie Elliott made 26-of-31 FGs and finished with 117 points, also setting the franchise record for most 50-plus field goals with five and making the two longest field goals by a rookie in Super Bowl history. He followed up by making 26-of-31 FGs again last season for 111 points.
Lovato joined the Eagles late in the 2016 season as an injury replacement for veteran LS Jon Dorenbos. He then won the job in training camp before 2017 and has snapped in all 37 regular and postseason games over the past two seasons for the Eagles.
In other news Philadelphia was awarded two compensatory picks in April's draft by the NFL, fourth- (No. 138 overall) and sixth-round (No. 208) selections.
The Eagles now have eight picks in the April 25-27 selection process, including two in the second, fourth and sixth rounds. They do not have a third-round pick after sending that to Detroit for Golden Tate or a seventh-round selection which was dealt to Chicago for Deiondre' Hall.
Compensatory picks are awarded by the league based on free agent signing and losses from the previous year. The Eagles lost Trey Burton, Beau Allen, Patrick Robinson and LeGarrette Blount in free agency last offseason but gained Haloti Ngata and Mike Wallace.
The Eagles 2019 draft picks are:
Round 2 (No. 53) Acquired from the Baltimore Ravens
Round 4 (No. 138) Compensatory
Round 6 (No. 208) Compensatory
-John McMullen covers the Eagles and the NFL for 973espn.com. You can reach him at jmcmullen44@gmail.com or on Twitter @JFMcMullen