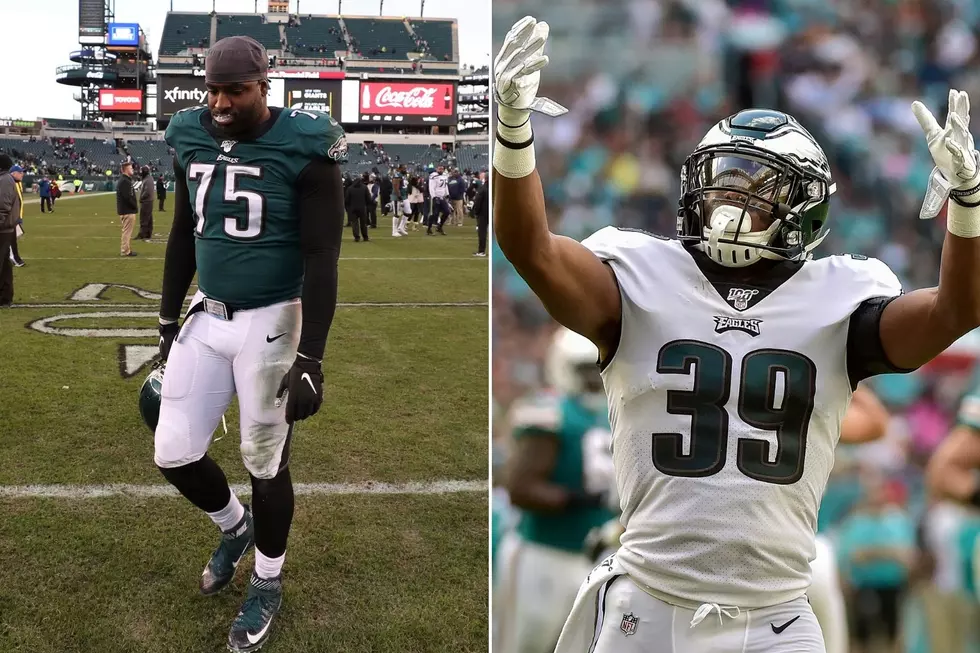 Eagles Updates: Vinny Curry, Craig James, Latest Depth Chart
-Vinny Curry: (Photo by Mitchell Leff/Getty Images) -Craig James: (Photo by Eric Espada/Getty Images)
On Tuesday, the Eagles made roster moves ahead of their Week Two matchup versus the Los Angeles Rams that will impact the Defense and Special Teams on Sunday:
Vinny Curry is dealing with a Hamstring Injury and the Eagles showed this past week that they are being extra careful with Hamstring issues after Miles Sanders and Derek Barnett were ruled versus Washington.  Sua Opeta was one of the player the Eagles called up from the Practice Squad for Week One so adding him to the active roster should be no surprise.  Under the new IR rules for this season, Curry and James will be eligible to return in three weeks.
Eagles Defensive Coordinator Jim Schwartz addressed how Josh Sweat will have to fill the void with Curry unavailable for the next few weeks:
You guys saw (Josh Sweat) in training camp. He's one of our most improved players. I thought [DE] Vinny [Curry] was playing really well in this game. The combination with those guys, keeping a good rotation, trying to keep all those guys fresh, was working out pretty well.

Sweat was able to come in on some third downs and be fresh, look speedy and explosive. It was a hot game. There were a couple times we were back on the field after one play. It was important to stay fresh in that game.

We have other guys. We'll see where all those guys get to. It's only Monday as far as injuries go. We'll see how those guys go. We'll see where our guys that missed this last game trend. We'll have a good plan come Sunday.
Craig James loss will impact the team's Secondary Depth since he was listed as the primary backup on the depth chart behind Darius Slay.  Last week, one of the players on the Practice Squad the Eagles protected from other teams was Trevor Williams, who started 27 games at Cornerback for the Chargers from 2016-2018 so he may be another player add to the roster before Game Day.
Eagles Special Teams Coordinator Dave Fipp spoke about the impact of the loss of Craig James:
To be honest with you, I don't even know how long (Craig James) is out....At the end of the day all these guys could go down at any one play right there. We'll just have the next guy step up, go in. We're confident. We have contingency plans.

In that game [CB] Cre'Von LeBlanc came in, played snaps, did a nice job. He had one gunner rep, a couple on the outside as a jammer on punt return. I thought Cre'Von went in there, competed well, did a nice job for us.

If he were to be down, we would be able to adjust the roster a little bit, get somebody else up potentially. Those are all the things that happen for us week-to-week. We'll see who we have available to us, and then put the best 11 out there.
Speaking of the Eagles Depth Chart, here is the Eagles Unofficial Depth Chart for this week with a couple interesting notes: Nate Herbig listed as starting Right Guard, Vinny Curry's backup at Defensive End is Casey Toohill.
Eagles QBs Drafted Outisde Of The First Round Since 2000