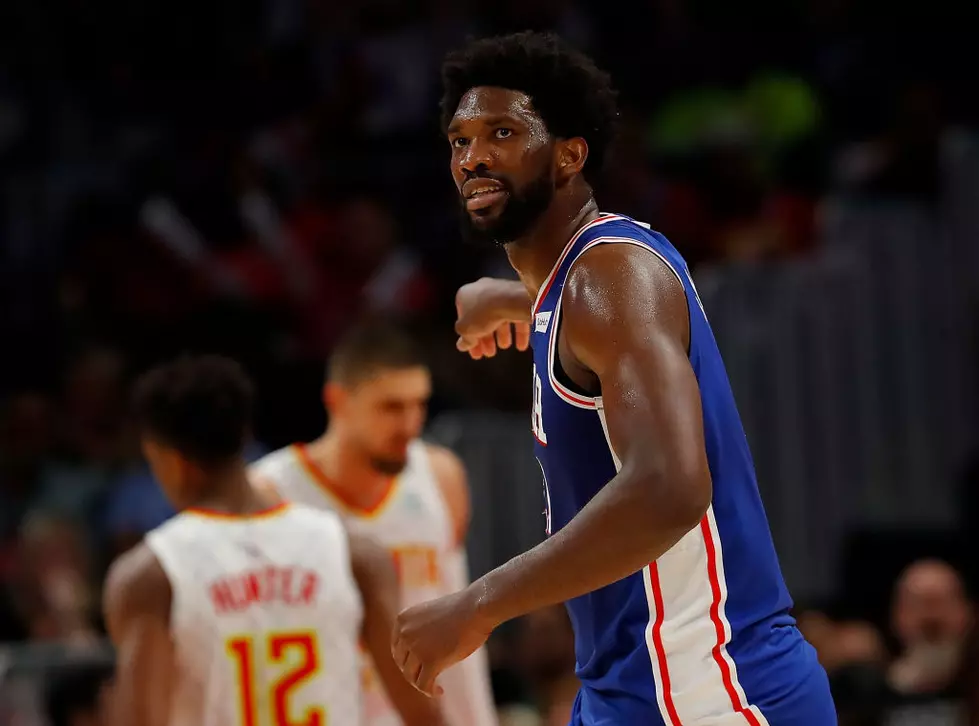 Engaged Embiid Leading Sixers is Exactly what they Need
Kevin Cox, Getty Images
No Ben Simmons, No problem.
When you get the version of Joel Embiid you got against the Brooklyn Nets on Thursday night, the Sixers can play with any team in the league.
Embiid seems to understand that needs to be his mindset.
"I'm getting back to myself, so I'm telling my teammates to just get me the ball, that's the mindset I've got to have, and I want my teammates to know that I'm going to be there, especially in the tougher situations."
The All-Star center scored a season-high 39 points (10-of-20 FGs, 18-of-19 FTs) with chipping in 16 rebounds, two assists, in a season-high 41 minutes.
He did it on both ends of the floor, adding  two steals, two blocks on the defensive end, altering shots and giving the Sixers a hulking presence.
"He was all over the place," Sixers head coach Brett Brown described. "Just defensively and offensively, he would say, "Give me the ball."
"His defense is still the thing that is our backbone and they had one point in overtime," Brown continued.  "Their percentages going down the stretch in the fourth period were low and that's where I see his energy and his passion being contagious with the confidence that he gives the other four players."
While Embiid's defense was huge, his aggressiveness on offense help set the tone and rubbed off on newcomer Alec Burks, who scored 19 points, including four in overtime, in just his second game with the team, adding four rebounds, one assist and two 3-pointers in 30 minutes.
"I don't know if y'all watched the west coast, but that's how I play," Burks explained. "It's just me playing my game, trying to feel it out. It's only my second game…so hopefully it gets better as the season goes on."
Burks saw some more time with Simmons out, and took full advantage of his opportunity to impress his coach.
"We all have to walk out of here being pretty impressed with Alec Burks, Brown said. "He provided a scoring punch, he really was a dynamic score and his ability to pass out of the pick-and-roll is elite."
Brown mentioned how well Embiid played as a screener, and Burks showcased his ability to navigate pick-and-rolls.
"I thought the thing that might not go as noticed, as I see it, was his screen setting," Brown said.
Performances like this remind you of how special Embiid can be when he's engaged and how far the Sixers can go when Simmons and Embiid are playing their best together.