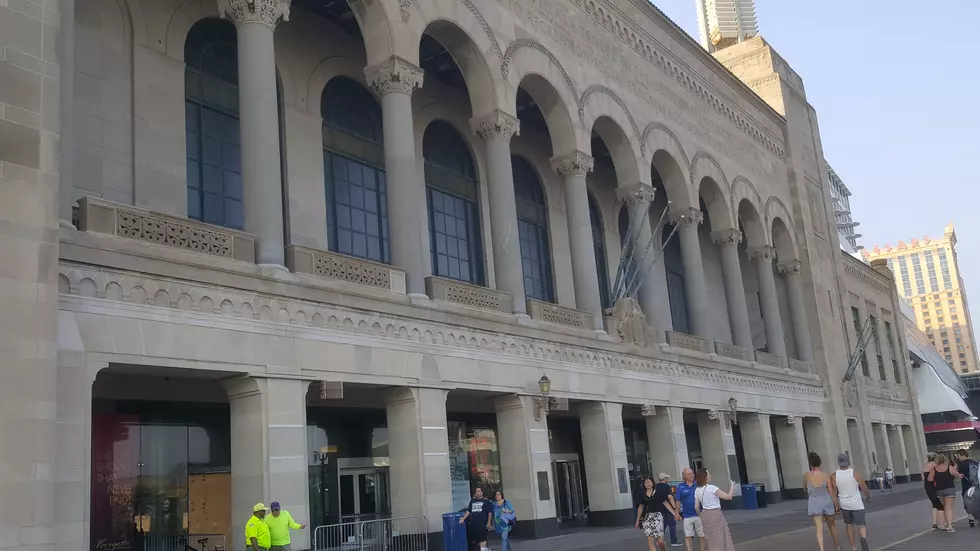 Extra Points: 2 Local Girls Wrestlers Place Second in State Championships
Chris Coleman
ATLANTIC CITY - Mainland Regional High School junior Amirah Giorgianni began her winter sports season hoping to earn a varsity roster spot on the Mustangs' girls basketball team.
She ended it as one of the top girls wrestlers in the state.
Giorgianni and Lower Cape May Regional senior Joelle Klein both capped outstanding seasons by placing second in their respective weight classes Saturday at the NJSIAA state individual wrestling championships at Jim Whelan Boardwalk Hall.
Giorgianni suffered a 7-5 defeat in overtime to New Brunswick's Kerly Borbor in the 180-pound final. Klein couldn't overcome an early deficit in a 7-0 loss to West Orange's Sandy Guerrero at 215 pounds.
Giorgianni came oh-so-close to becoming the first local girls wrestler to win a state title. She nearly pinned Borbor with about 30 seconds remaining in the second period, catching her in a headlock while the crowd at Boardwalk Hall roared. Borbor barely managed to keep her shoulders from touching the mat before the buzzer sounded to end the period.
"If Amirah had had five more seconds, she would have pinned her," Mainland coach Clayton Smith said. "You could have fit maybe three sheets of paper between her shoulders and the mat."
Earning a silver medal marked the highpoint of a season that got off to an unexpected start.
Giorgianni attended a few practices with the basketball team in early December. After about a week, however, she decided trade layups ad jump shots for takedowns and pins.
She first put on headgear and a singlet on December 6, almost exactly three months ago.
"I had played basketball my whole life," Giorgianni said. "But I just realized I wasn't happy doing it, anymore. I still wanted to do something this winter, though. I had always wanted to try wrestling, so I decided to give it a shot."
Although she only weighs about 160 pounds, Smith felt her quickness and agility would give her an advantage in a higher weight class.
She used those attributes to earn a 13-1 record leading up to the state final, where she met top-seeded Borbor (20-0). Borbor jumped to a 4-0 lead in the first period, but Giorgianni quickly gained the momentum with a big, five-point move in the second.
The match remained tied 5-5 through regulation at the first one-minute overtime. Borbor scored the winning points with a reversal in the second 30-second rideout.
"I'm upset because I wanted to win," Giorgianni said. "But I'm very satisfied with the way the whole season went. I never thought I would get this far. I'm very happy. I can't wait for next year."
After placing third in the inaugural girls state championship last year, Klein (18-1) was hoping to get to the top of the podium, but fell behind 2-0 in the first period and never could gain any momentum. Guerrero (21-0) extended her lead to 4-0 with a third-period takedown and capped the match with a three-point near fall.
Surprisingly, Guerrero prepared for the match by relying on Klein's strong presence on social media.
"She has her own YouTube Channel and every one of her earlier matches was on it," Guerrero said. "I watched all of them at least five times. I even watched her match from (Friday night) five times this morning and that helped me a lot. I had been having dreams where she would beat me. When I woke up this morning and watched another video, it reminded me that I'm just as good as anyone else in the tournament."
Klein was upset about the outcome, but the Woodbine resident could take solace in the fact that reaching the final marked another milestone in a special school year.
Last October, she became the first local girls football player to start a varsity game on offense or defense when she lined up at center Wildwood. Klein, who plans to wrestle in college, also played defensive line and registered a sack against the Warriors.
She also became the first Lower wrestler since two-time state champion Shawn Laughlin (1996-97) to finish third or higher in the state twice.
"She's disappointed in the loss, but this is just another step in the growing process," said Damiana, who was also a two-time place-winner for Lower Cape May. "She worked extremely hard and should be proud of what she accomplished."
Both Giorgianni and Klein should be proud of their performances at the tournament.
You don't always have to have your arm raised to be a champion.