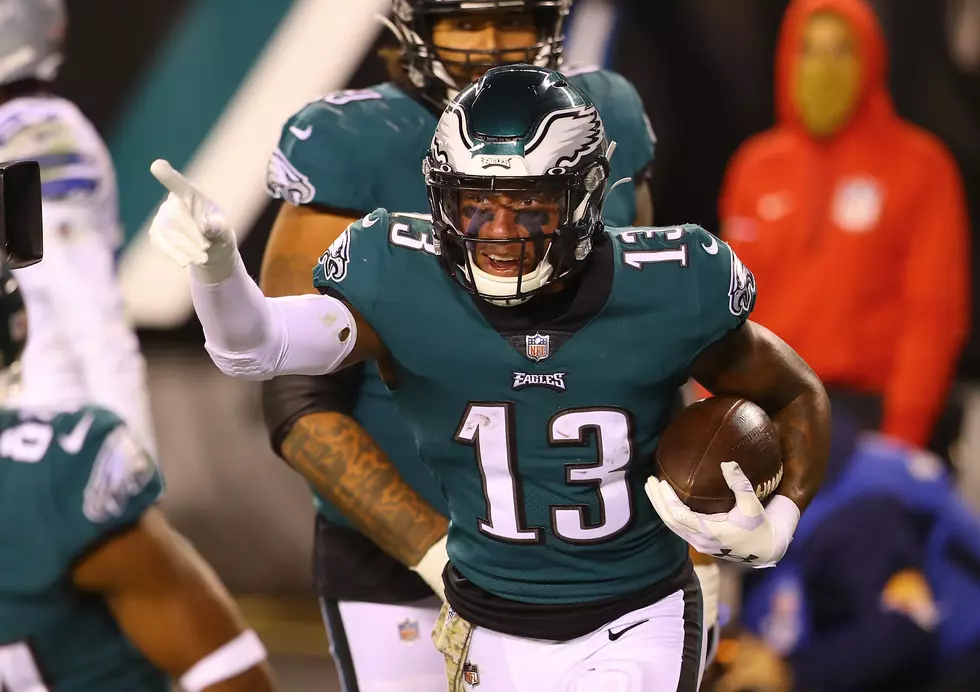 Extra Points: Best, Worst of a Disappointing Eagles Season
Getty Images
And so ends the weirdest season in Eagles' history.
Sunday's 20-14 loss to Washington left them with a 4-11-1 record and the No. 6 overall pick in the 2021 NFL draft.
Not exactly what they had in mind.
The Eagles entered the season as the favorites to win the NFC East, due in no small part to having an elite quarterback in Carson Wentz, several standouts at other positions, and experience and stability in the coaching staff that the other teams in the division lacked.
They opened with a loss at Washington and never really recovered. Wentz had a lousy year before being benched and injuries decimated the offensive line and the secondary.
Here's a look back at some of the plays and players who had roles in the best and worst of the Eagles' season.
Enter your number to get our free mobile app
BEST GAME: Eagles 24, Saints 21 (Dec. 13, 2020). Even without Drew Brees, the Saints were supposed to roll. Rookie quarterback Jalen Hurts was marvelous in his first NFL start, throwing a touchdown passes and rushing for 106 yards. Running back Miles Sanders added 115 yards, including an 85-yard TD.
WORST GAME: Washington 27, Eagles 17 (Sept. 13, 2020). The opener set the stage for the entire season. The Eagles built a 17-0 lead and promptly fell apart. Washington answered with 27 unanswered points behind quarterback Dwayne Haskins, who isn't even on the team anymore.
BEST PLAY (offense): Running back Miles Sanders broke loose for an 82-yard touchdown run against the Saints on Dec. 13. It was the fourth-longest TD run in franchise history.
BEST PLAY (defense): Linebacker Alex Singleton scored one of the teams' two defensive touchdowns this season when he returned an interception 30 yards for a TD at San Francisco on Oct. 4.
BEST PLAY (special teams): Rookie Jalen Reagor scored on a 73-yard punt return at Green Bay on Dec. 6. It was the Eagles' first punt return for a TD since Darren Sproles took one back 83 yards at New England in 2015.
WORST PLAY (offense): Guard Jamon Brown started against the Ravens on Oct. 18. He gave up two sacks, both of which were legendary. He actually sacked Eagles quarterback Carson Wentz himself on one play. On another, he was spotted adjusting his gloves while Ravens defenders stormed into the backfield.
WORST PLAY (defense): New York Giants quarterback Daniel Jones dashed upfield for an 80-yard gain on Oct. 24. He would have scored if he hadn't stumbled and plopped to the turf at about the 15-yard line.
WORST PLAY (special teams): With punter/holder Cameron Johnston sidelined with a concussion, tight end Zach Ertz served as holder for a PAT at Arizona Dec. 20. Long snapper Ric Lovato's effort skidded back to Ertz, who couldn't handle it.
BEST SINGLE-GAME PERFORMANCE (offense): Quarterback Jalen Hurts threw for 338 yards and three touchdowns and also rushed for 63 yards and a TD at Arizona.
BEST SINGLE-GAME PERFORMANCE (defense): Linebacker Alex Singleton had 12 tackles, a sack and a fumble recovery at Cleveland on Dec. 1.
BEST SINGLE-GAME PERFORMANCE (special teams): Place-kicker Jake Elliott went 3-for-3 on field goals, including a 54-yarder, against Cincinnati on Oct. 5.
UNLUCKIEST PLAYER: Pro Bowl guard Brandon Brooks saw his season end before it ever began when he tore his Achilles tendon for the second time in three seasons during an offseason workout.
BEST OFFSEASON PICKUP: The Eagles claimed wide receiver Travis Fulgham off waivers from Green Bay on Aug. 20, then signed him to their practice squad. Injuries forced the Eagles to give him a chance and he responded with 38 catches for 539 yards and four TDs.
WORST OFFSEASON PICKUP: The Eagles acquired wide receiver Marquise Goodwin in an offseason trade to add some much-needed speed to the offense. Goodwin opted out of the entire season due to Covid-19 concerns.
BEST OPPONENT (Offense): Pittsburgh wide receiver Chase Claypool burned the Eagles for seven catches for 110 yards and scored four touchdowns on Oct. 11.
BEST OPPONENT (Defense): Washington defensive end Ryan Kerrigan continued his dominace against the Eagles with two sacks and a fumble recovery in the season opener.
TURNING POINT: Despite a slow start to the season, the Eagles were 3-4-1 at the midway point and in first place in the NFC East. A 27-17 loss to the Giants on Nov. 15 started a four-game losing streak that took away their momentum.
Eagles Head Coaching Wins All-Time