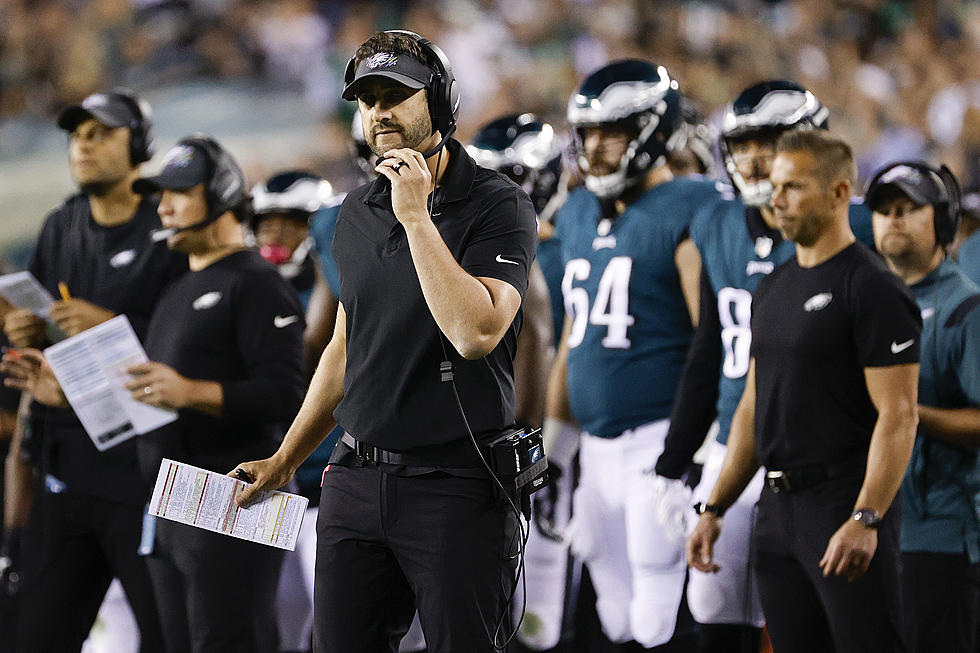 Extra Points: Eagles Coaches To Blame for Team's Troubles
Getty Images
That was ugly.
The Eagles' 33-22 loss to the Raiders at Allegiant Stadium Sunday was the worst butt-whipping I've seen in Las Vegas since I lost my shirt - and $500 - playing three-card poker at the MGM Grand in 2014.
Rumor has it the Eagles stayed at Circus Circus, such was their clown-like performance.
I expected the Eagles to lose big - I picked a 35-24 final score on Twitter and Facebook Sunday morning - but it was shocking to see the ineptitude on both sides of the football.
Raiders quarterback Derek Carr completed 91.6 percent of his passes (31 of 34) with two touchdowns and an interception, thus continuing the Eagles' streak of struggling against competent opposing quarterbacks. In previous weeks, Tom Brady, Patrick Mahomes, and Dak Elliott all had their way against defensive coordinator Jonathan Gannon's vanilla defense. According to CBSSports.com, Carr's completion percentage was the second-highest in NFL history for quarterbacks who attempted at least 30 passes in a game.
The Raiders (33), Buccaneers (28), Chiefs (42) and Cowboys (41) all scored seemingly at will. The bend-but-don't-break strategy employed by Gannon only works if you don't break.
The next time the Eagles blitz will be the first time.
The frustration is apparently mounting in the defensive huddle. Defensive tackle Fletcher Cox, a six-time Pro Bowler, couldn't contain his frustration after the game. He has struggled with the strategy, having produced just one sack in the first seven games.
"I don't get paid to play screens," said Cox, who is making $16 million this season. "I get paid to sack the quarterback, play in the backfield, tackle. We get screened all the time."
Given the defensive struggles, Gannon, 38, could become the Eagles' first defensive coordinator to lose his job during a season since head coach Andy Reid canned Juan Castillo after six games into 2012 season and replaced him with Todd Bowles.
It probably won't happen, but it wouldn't be a total shock if head coach Nick Sirianni followed Gannon out the door of the NovaCare Complex.
The 40-year-old had 10 days to prepare for the Raiders. He presumably used some of that extra time to "self scout" in an effort to correct the mistakes that have plagued the offense for much of the year. Yet, his play-calling and decision-making were questionable at best, save for the opening drive.
Three plays in particular stood out.
1. On the Raiders' first drive, the Raiders gained just 2 yards on a third-and-five play and were called for a holding penalty. Interim coach Rich Bisaccia sent out the punt unit while Carr and company headed to the sideline. Sirianni, however, decided to accept the penalty. Carr came back out and teamed with wide receiver Zay Jones for a 43-yard gain on a third-and-15.
"I felt good about accepting (the penalty)," Sirianni said. "I know they converted, but I was just playing it like I was playing it (as an offensive coordinator), like, I would go for it in that scenario."
2. Trailing 17-7 at halftime, the Eagles opted to attempt an onsides kick to open the second half in a move that reeked of desperation. The Raiders recovered and went on to score to up the lead to 24-7.
3. Behind 30-7, the Eagles moved to the Raiders' 1-yard line. On second-and-goal, quarterback Jalen Hurts lined up over center for a sneak, only to see Raiders defensive end Maxx Crosby dive over the blockers to stop Hurts for no gain. Instead of trying it again, Sirianni had Hurts drop back into a shotgun formation. Center Jason Kelce's snap was deflected by right guard Jack Driscoll, resulting in a fumble.
"It was a fumble snap," Hurts said. "I didn't secure it. It touched my hands and I didn't catch it. I didn't catch the ball, regardless of what it is. ... I have to be better and make it right."
Some have compared this Eagles' team to the 1999 version, when Reid was in his first year as a head coach. Like Sirianni, Reid was relatively young (41 at the time) and had never been a head coach or play-caller at any level before joining the Eagles.
But the major difference is Reid was surrounded by experienced assistants such as offensive coordinator Rod Dowhower, defensive coordinator Jim Johnson, and quarterbacks coach Brad Childress. Sirianni and Gannon are part of a coaching staff that wasn't old enough to play blackjack in Vegas on Saturday night.
Apparently, they are old enough to go to the circus.
50 Most Popular Chain Restaurants in America
YouGov investigated the most popular dining brands in the country, and Stacker compiled the list to give readers context on the findings. Read on to look through America's vast and divergent variety of restaurants—maybe you'll even find a favorite or two.