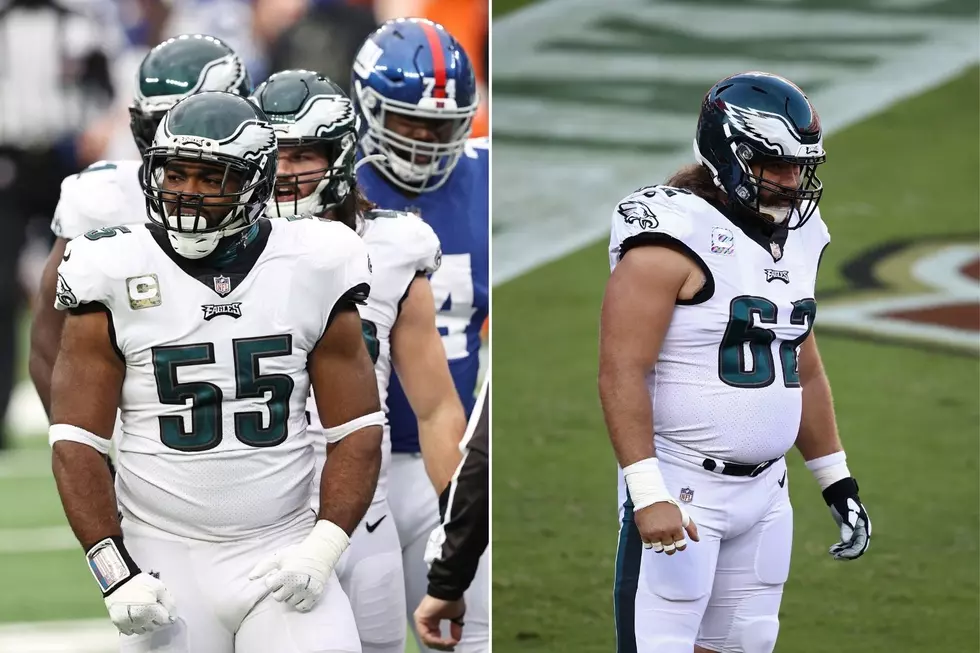 Extra Points: Eagles Graham, Kelce Have Staying Power
*Brandon Graham: (Photo by Elsa/Getty Images) *Jason Kelce: (Photo by Ezra Shaw/Getty Images)
Loyalty and longevity are rare in Philadelphia sports nowadays.
Very few Eagles, Flyers, Phillies or Sixers veteran players started and ended their careers after a decade or more with those franchises.
Some left of their own accord while others were shoved out the door due to age, performance and/or salary cap considerations.
Former tight end Brent Celek is the only recent Eagles player that comes to mind. Celek, a fifth-round draft pick in 2007, retired after the Eagles' Super Bowl LII victory in the 2017 season. Prior to him, you have to go back decades to find someone who spent his entire career with the franchise. Before Celek, the last Eagle to play at least 10 years with only them was tackle Jerry Sizemore (1973-84).
It's been so long since the Flyers have had a player fit the bill that the only three to accomplish the feat - Bill Barber (1972-84), Bobby Clarke (1969-84) and Jimmy Watson (1972-82) - played without helmets ... And front teeth.
First baseman Ryan Howard (2004-16) was the last player to wear only red pinstripes. He's one of only five former Phils to do so, along with pitcher Larry Christenson (1973-83), infielder Terry Harmon (1967-77), pitcher Bob Miller (1948-58) and third baseman Mike Schmidt (1972-89).
Technically, Julius Erving (1976-87) is the only one to spend his entire NBA career in Philly with the 76ers. Al Bianchi (1956-66), Dolph Schayes (1949-64) and Hal Greer (1958-73) played for the same franchise, but got their start when the team was known as the Syracuse Nationals. It's worth noting that Paul Arizin, who is arguably one of the five best players in Philly basketball history, played exclusively for the Philadelphia Warriors (1950-62) before the franchise moved to San Francisco.
Eagles defensive end Brandon Graham and center Jason Kelce are on pace to join the exclusive fraternity. Graham, 32, a first-round draft pick in 2010, is entering his 12th NFL season as the team's longest-tenured player. Kelce, 33, arrived a year later as a sixth-round pick.
Neither could be blamed if they had left after last year's 4-11-1 debacle. Eagles owner Jeffrey Lurie and general manager Howie Roseman have indicated the franchise is set to start a rebuilding process. The team may be able to qualify for the playoffs in 2021, but they are realistically at least two or three years away from being considered legitimate Super Bowl contenders again.
Considering they are in the two-minute warning of their careers, Graham and Kelce would been forgiven for signing elsewhere in hopes of earning one more ring or even retiring. Instead, both are slated to be on the team for at least one more year.
"I know I don't have long (in the NFL), but I don't want to go anywhere," Graham told the The Athletic. "I don't want to be just dipping out when things got a little rough. I'm gonna stay dedicated to the team as always and hopefully they ride with me until the wheels fall off."
The wheels have carried him along some bumpy roads through the years.
The Eagles drafted Graham out of Michigan with the 13th overall pick. Two picks later, the Giants grabbed South Florida pass rusher Jason Pierre-Paul. Injuries limited Graham to just 8.5 sacks in his first three seasons while Pierre-Paul, who's now with Tampa Bay, accumulated 27.5 in the same span.
In 2013, he had to switch positions when new coach Chip Kelly and defensive coordinator Billy Davis moved him to outside linebacker in a 3-4 alignment. After years of playing with his hand in the dirt, Graham had to learn how to play as a standup linebacker. After registering just three sacks and 21 tackles that season, Graham actually fell behind former practice squad member Travis Long on the depth chart during training camp in 2014. He was reportedly on the way out, but Long tore his anterior cruciate ligament in the final preseason game. Graham took advantage of the opportunity and notched a career-high 13.5 sacks in 2014.
Three seasons later, he made one of the best defensive plays in franchise history. His strip/sack of New England quarterback Tom Brady late in Super Bowl LII helped clinch the Eagles' 41-33 victory. Oh, and he played that game with an ankle injury that eventually required surgery.
Kelce has been the epitome of durability during his career. He enters his 11th season having started 105 consecutive games since suffering a core-muscle injury early in 2014. He underwent surgery that season but returned after missing five games and hasn't missed another one.
He's played through a slew of injuries. There have been times when he's limped to the line of scrimmage with torn ankle ligaments and broken toes. Last season, he angrily slammed his helmet on the bench after hurting his left elbow at Cleveland on Nov. 22, a grimace clearly visible through his thick, bushy beard. Two series later, he was back with a bulky brace on his arm.
Still, he's not ready to walk away.
"I'm really fired up to be able to come back and play for the Eagles again," Kelce said.
"I'm having fun and as long as I'm having fun and I feel I'm playing at a level I want to play at, I'm going to keep doing it."
Over the years, players were forced to don other uniforms in order to continue their careers.
Brian Dawkins and Allen Iverson went to Denver. Chase Utley and Jimmy Rollins joined the Los Angeles Dodgers. Donovan McNabb was traded to Washington. Tim Kerr and Eric Lindros played for the New York Rangers.
Hopefully, Graham and Kelce will never wear another uniform.
Eagles Head Coaching Wins All-Time