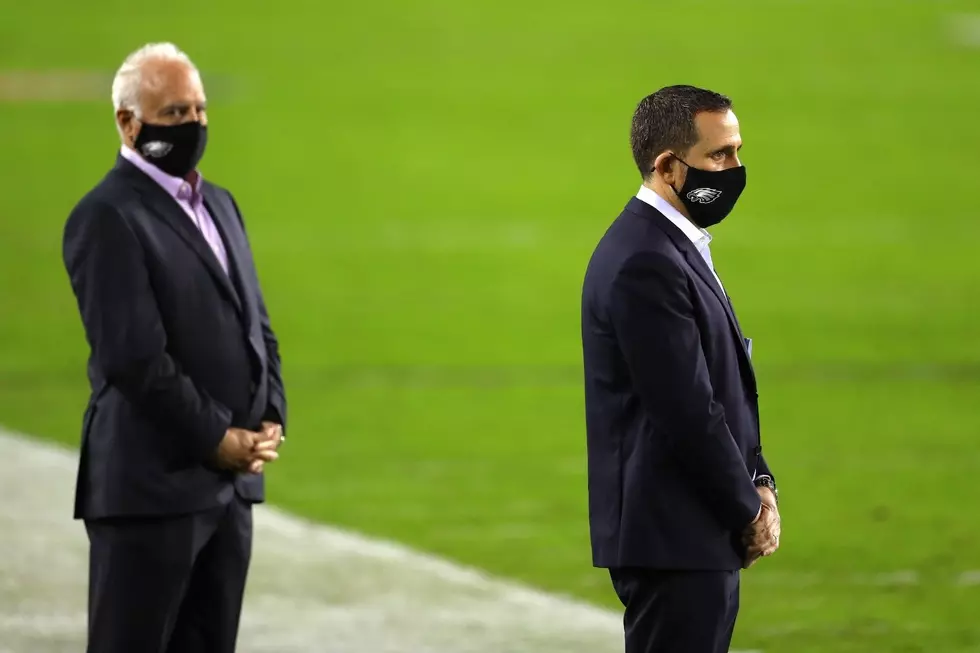 Extra Points: Eagles Offseason Full of Plot Twists
(Photo by Mitchell Leff/Getty Images)
The Eagles are never boring.
This offseason has already featured more plot twists than "The Flight Attendant" on HBO Max, which has become my favorite show until the "Ozark" returns to Netflix later this year.
New head coach Nick Siranni's bizarre, introductory press conference on Friday capped a whirlwind series of hires, fires and switches.
Let's recap:
*A week before the season ended, defensive coordinator Jim Schwartz announced he would be taking a year off from coaching and is said to be seriously considering retirement.
*After the season, coach Doug Pederson appeared in a joint press conference with general manager Howie Roseman to discuss the team's offseason, an indication that Pederson would be returning for a sixth year. Among his plans was to promote quarterbacks coach Press Taylor to offensive coordinator.
*A day later, Pederson met with owner Jeffrey Lurie at his estate in Palm Beach, Florida. Apparently, Lurie didn't like the idea of Taylor getting the job, just like he pushed back on Pederson's plans to retain Mike Groh as offensive coordinator in 2019.
*The meeting went so poorly that Pederson returned to South Florida a week later, on Jan. 10, for another meeting. In essence, Pederson had plans to restore the team to its former glory next season. Lurie was more concerned with how the team would operate in 2022, 2023, 2024 and beyond and fired him.
*Lurie and Roseman began to collect a list of candidates. Lurie said they initially had 25 names and whittled it down to 10 for interviews. Sirianni, New England offensive coordinator Josh McDaniels and Eagles running backs coach/assistant head coach Duce Staley were among the finalists.
*McDaniels appeared to be the early favorite, though some Eagles veteran players sent text messages to Lurie lobbying for Staley to get the job. Surprisingly, Lurie went with Sirianni, a 39-year-old who had spent the previous three seasons as Frank Reich's offensive coordinator in Indianapolis.
*Sirianni's first move was to hire fellow Colts assistant coach Jonathan Gannon to replace Schwartz as defensive coordinator. He then hired Shane Steichen as offensive coordinator. Steichen coached with Sirianni in San Diego with the Chargers, followed by special teams coordinator Michael Clay, defensive line coach Tracy Rocker and quarterbacks coach Brian Johnson among others.
*Johnson, the former offensive coordinator at the University of Florida, is the only new hire with no prior connection to Sirianni. Roseman is a UF grad.
*Staley left to become running backs coach/assistant head coach for new Detroit Lions coach Dan Campbell. Special teams coordinator Dave Fipp also got hired by the Lions.
*Taylor is set to head to Indy as a member of Reich's staff. He'll also be reuniting with Groh, who is Reich's wide receivers coach.
*Jeff Stoutland is staying with the Eagles as offensive line coach.
*On Friday, Lurie introduced Sirianni. Both kept talking about the need for coaches and players to establish connections with one another. Sirianni seemed focused on creating a "Love Connection" with all the players. I almost expected Chuck Woolery to show up during the press conference and announce, "We'll be back in two and two."
One of his main assets is supposedly his ability to adapt his offensive system to fit the talent. He worked with quarterbacks Andrew Luck, Jacoby Brissett and Philip Rivers with the coach and took advantage of their individual skill sets.
You know, like Pederson did with Carson Wentz, Nick Foles and Jalen Hurts.
Sirianni didn't score many points during his first presser, appearing nervous, unprepared and overwhelmed.
Of course, none of that will matter if he puts points on the scoreboard.
If not, well the "Love Connection" won't last long.
He won't be back in "Two and two."
Eagles First Round Draft Pick Busts