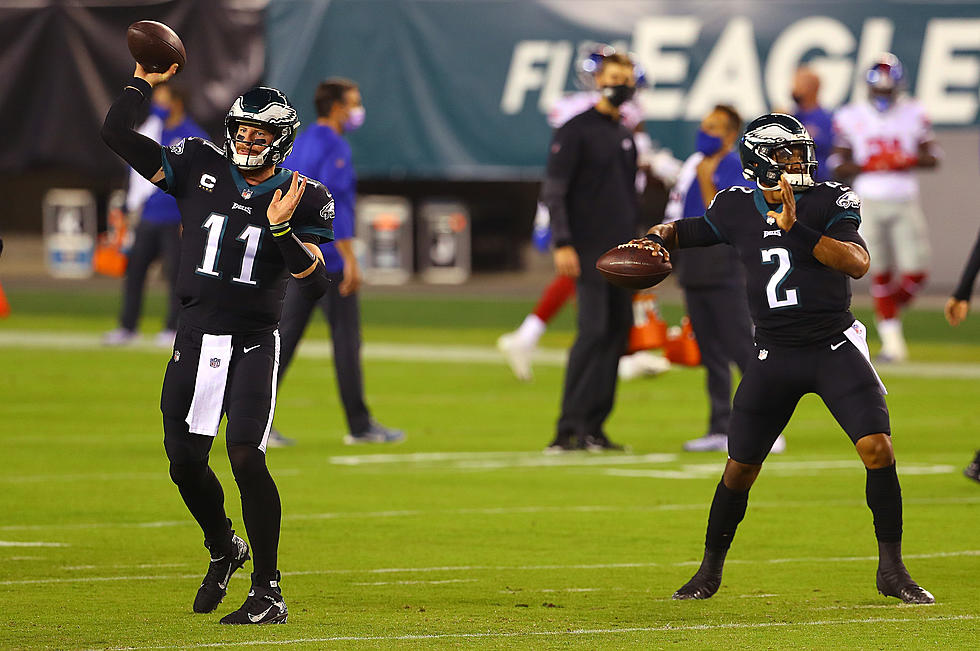 Extra Points: Eagles set to go with Hurts over Wentz
Getty Images
arson Wentz will be on the bench for Sunday's game against New Orleans.
Coach Doug Pederson confirmed an ESPN.com report Tuesday that rookie Jalen Hurts will be the Eagles' starting quarterback against the Saints.
"I have come to a decision and I am going to go with Jalen Hurts this week against New Orleans," Pederson said on the team's web site. "We're not where we want to be as an offense. I looked at the whole thing and decided that for this week to look for that spark again to try to get the team over the hump, to try to get everybody playing better."
It will mark the first time Wentz hasn't started a game when healthy since entering the league as the team's first-round draft pick in 2016. He missed the last three games of the 2017 season – and the Eagles' run to the Super Bowl – after suffering a knee injury. Nick Foles, who was Super Bowl LII MVP, also started the first two and the last three games in 2018 when Wentz was sidelined with a back injury.
Last season, he started all 16 games, but left the Eagles' playoff loss to Seattle in the first quarter with a concussion in favor of Josh McCown.
Injuries have nothing to do with this move, however.
With few exceptions, Wentz has been awful this season. He leads the league with 15 interceptions, is the only quarterback with a completion percentage under 60 percent (57.4), and has endured a whopping 50 sacks. More significantly, his confidence has taken more hits than his body.
"Carson is like all of us right now, he's disappointed. He's frustrated," Pederson said. "He's been a professional through it all. He supports his teammates and that's what you want to see from him, the leader of the team.
"I know sometimes the quarterback gets a lot of the blame like the head coach does. It's the good with the bad. It's not about Carson Wentz. It's not about one person. We know we have issues on offense and it has been a struggle for us all season. That's where the frustration lies a little bit, but he's been a pro and would expect nothing less."
Enter your number to get our free mobile app
Hurts, the teams' second-round draft pick, provided a much-needed spark to the offense upon replacing Wentz in the third-quarter of Sunday's 30-16 loss at Green Bay. He made plays with his legs and his arm, completing a 34-yard pass to rookie wide receiver Jalen Reagor, then finding wide receiver Greg Ward for a 32-yard touchdown on a fourth-and-18 play.
Don't get too excited, however. Hurts completed only 5 of 12 passes. In addition to throwing his first career TD pass, he also threw his first career interception, though his arm was hit on the play.
And the element of surprise is gone. It's one thing to catch the Packers off-guard, but the Saints' defense will have an entire week to prepare. And their defense is among the best in the NFL. Prior to Atlanta scoring a late touchdown in New Orleans' 21-16 win, the Saints hadn't allowed a TD in 43 straight series and have allowed an average of 11 points in the last four games.
And I'd imagine Saints safety Malcolm Jenkins has a few chips on his shoulder pads.
Pederson relied on his personal experience when making the decision. In 1999, he was the Eagles starting quarterback under first-year coach Andy Reid. Midway through the season, Pederson was replaced by rookie Donovan McNabb.
"It made me, personally, a better teammate," Pederson said. "It allowed me to see the game through a different lens from watching Donovan and Koy (Detmer) even having to start a game at the end of that season. Overall, I just became a better player. It was a great learning experience. I really learned how to lead and be a leader. That's what it taught me. I think we learn our greatest lessons through adversity and it taught me a valuable lesson at that time that holds true today."
Time will tell how long Wentz's demotion lasts.
It could be one half, one game, the rest of the season, or it could even mean the end of his era in Philly.
Should Hurts get off to a strong start and help the Eagles (3-8-1) beat the Saints (9-3), Pederson will have no choice but to stick with him. If he can carry it over to the rest of the season and somehow win the NFC East, the team will have a tough decision to make going into 2021.
It would not make financial sense to cut Wentz. Doing so would mean a cap hit of $59 million. Trading him would reduce it to $33.8 million, which is still a sizeable amount, but might be worth it in the long run if you can get a high draft pick in return from a team such as Indianapolis. Going to the Colts would mean Wentz would be reunited with Frank Reich, who was the Eagles' offensive coordinator in 2017, when Wentz had his best season.
Something tells me Jeffrey Lurie, Howie Roseman and Pederson, should he be back as coach in 2021, aren't ready to trade in the Wentz Wagon just yet.
But as is the case with my 2013 Hyundai Elantra, it's going to need a lot of work to keep it running.