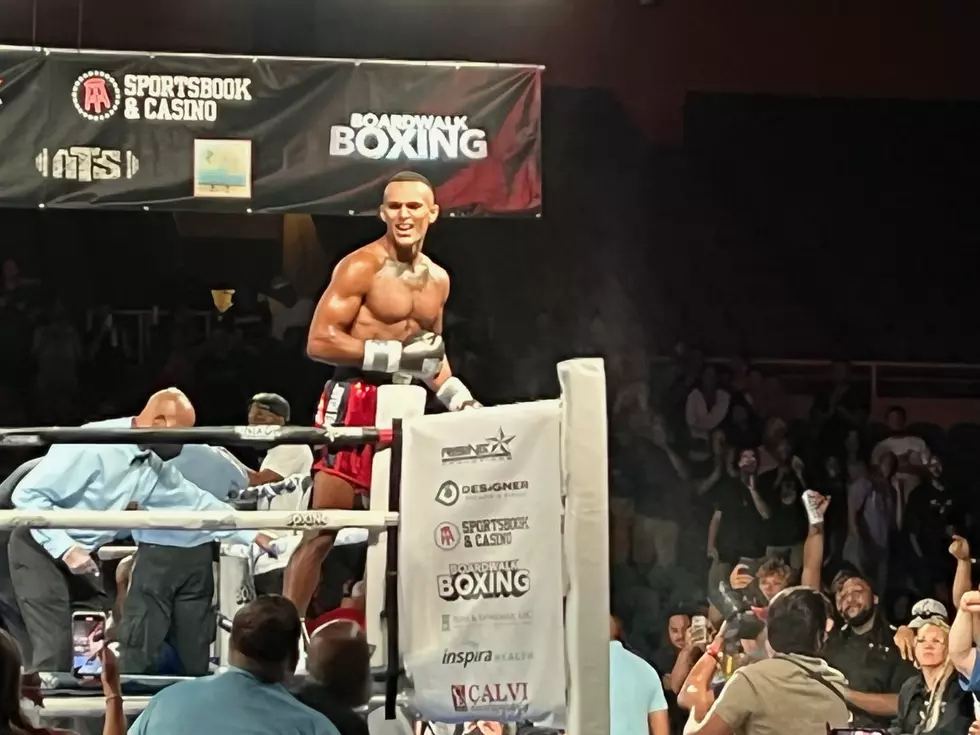 Extra Points: Figueroa enjoys terrific pro boxing debut
Photo: Dave Weinberg
By DAVID WEINBERG
ATLANTIC CITY - Local boxer Justin Figueroa loaned opponent Tavaris Smith a pair of boxing shoes Saturday night, then promptly knocked him off his feet.
Smith discovered that he had left his shoes home in Toledo, Ohio when he arrived at Jim Whelan Boardwalk Hall, so Figueroa dug spare pair out of his equipment bag.
Smith didn't wear them for long. Figueroa, a member of the Atlantic City Beach Patrol and a Holy Spirit High School graduate, enjoyed a spectacular pro debut. With hundreds of fellow lifeguard and former Spartans classmates cheering, the 23-year-old registered a first-round knockout at  Boardwalk Hall's Adrian Phillips Ballroom.
"The fans really gave me a boost," Figueroa said. "I'm from Atlantic City and to fight in my hometown means everything to me. This was like a dream come true."
Figueroa wasted little time in earning the victory. He jumped on Smith (0-5) at the outset of the scheduled four-round bout, blasting him with a barrage of punches that forced him into a corner. Figueroa landed another six-punch flurry that forced Smith to all fours. Referee David Fields Lee completed the 10-count at one minute, 34 seconds of the junior-middleweight bout.
With the fans roaring, Figueroa celebrated by doing the "Worm" across the ring, then sprung to his feet before jumping onto the ropes and spitting water into the air.
"I planned on that," Figueroa said with a smile. "I've seen a lot of fighters doing backflips in the ring after winning, but I've never seen anyone else do the 'Worm.'
Given the electric atmosphere, Figueroa would have been forgiven if he had been a little nervous and tentative beforehand, but that wasn't the case.
He stomped his feet and waved to the fans during the prefight introductions, then quickly settled down and went to work.
"I just love his work ethic and approach to things," trainer Arnold Robbins said. "I didn't want him to overthink things. I told him to just relax and do what he does best and that's exactly what he did. He took care of business just like he was supposed to."
Figueroa has made sure to pay attention to both the fighting and business end of the sport.
Once he decided to make boxing his career, he bought the book, "How to Protect Yourself At All Times," by Adrian Clark. A conversation with Clark led to a meeting with Jolene Mizzone, a former matchmaker with Main Events who is now president of Fighters First Management. Mizzone is Figueroa's manager.
"The A.C. connection is what got my attention at first," Mizzone said. "It's been a while since Atlantic City has produced a homegrown fighter. And then when I met him, he had a list of questions for me and that really impressed me. He's the total package."
Millville middleweight Thomas LaManna (32-5-1, 13 KOs) has also demonstrated success in and out of the ring. LaManna, who is president of Rising Star Promotions, put together Saturday's eight-bout card, then registered an eight-round, unanimous decision over Mexico's Saul Roman (46-16, 15 KOs) in the main event.
LaManna nearly ended the fight in the fifth round, driving Roman into the corner with a left hook-straight right combination that sent sweat flying off Roman's forehead. Referee Richard Gonzalez administered a standing-eight count, but Roman managed to last the rest of the round.
"I had some ring rust, but it was just good to be back after a year and a half off," LaManna said. "This is the last time I'm going to promote and fight on the same card, though. It's just too much to worry about and my career is too important to risk it again. This is my last comeback and I don't want to do anything to jeopardize it."
Undercard: In the co-main event, Puerto Rican bantamweight contender Emmanuel Rodriguez overwhelmed Miami's Frank Gonzalez (9-3, 4 KOs) en route to a fourth-round knockout.
The best fight of the card saw Woodbridge bantamweight Jose Nieves (4-0, 2 KOs) remain unbeaten with a four-round, unanimous decision over Nicaragua's Juan Seguiera (1-1, 0 KOs).
Nieves got off the canvas in the opening round to take control during an exciting slugfest.
New York junior-welterweight Kurt Scoby (7-0, 5 KOs) stayed unbeaten with a first-round TKO over Miami's Raul Chinno (19-16, 12 KOs).
Philadelphia light-heavyweight Derrick Vann (2-4) scored an upset via four-round, split decision over New York's Paul Bamba (4-2, 3 KOs).
Newark bantamweight Anthony Johns (4-0, 3 KOs) went the distance for the first time in a four-round, unanimous decision over Philly's Jerrod Minor (2-15-1, 1 KO).
In the opening bout, unbeaten welterweight Avious Griffin (9-0, 8 KOs), of Chattanooga, Tennessee, scored a pair of knockdowns en route to a second-round knockout over Bowie, Arizona's Ramon Marquez (4-2, 4 KOs).
PUNCHLINES: Boxing will be back in town on Friday, Sept. 9, with a SHOBOX: The New Generation card at Bally's Atlantic City.
Joseph Adorno (16-1-2, 14 KOs), from Reading, Pennsylvania, will meet Argentina's Hugo Alberto Roldan (21-0-1, 7 KOs) in the 10-round super-lightweight main event.
LaManna plans on fighting for a WBA regional title in Colombia in early September.