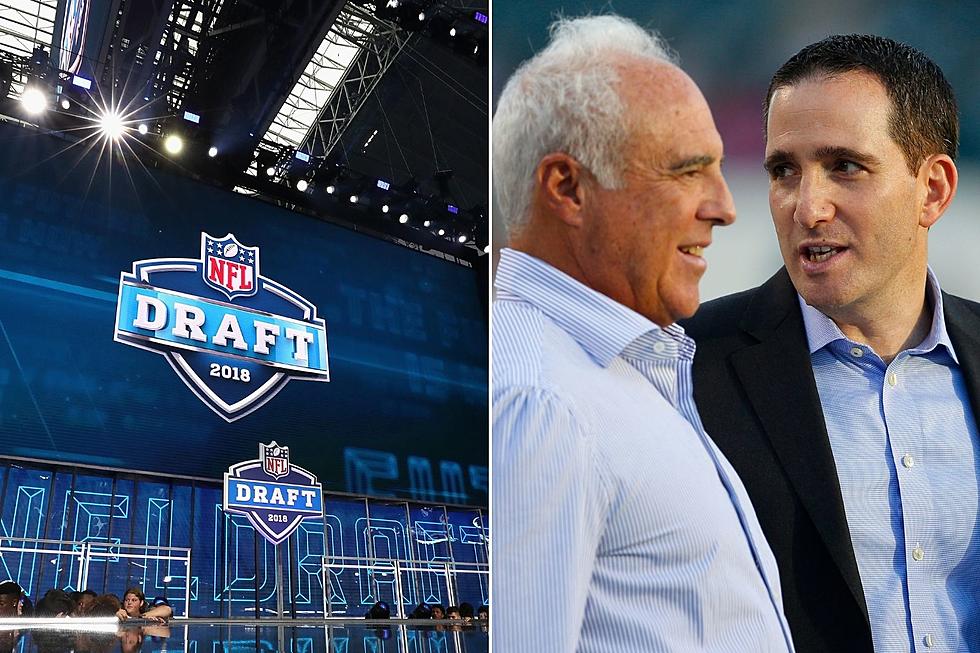 Extra Points: Making a mockery of the NFL draft
*2018 NFL Draft: (Photo by Ronald Martinez/Getty Images) *Jeff Lurie and Howie Roseman: (Photo by Rich Schultz/Getty Images)
By DAVID WEINBERG
I've been doing mock drafts for a while. My first one had the Eagles taking University of Chicago quarterback Jay Berwanger first overall in 1936.
Berwanger never played for the Eagles. The team refused to meet his asking price of $1,000 per game and traded his rights to the Bears in exchange for tackle Art Buss. They made the same mistake the following year, taking Nebraska-Lincoln fullback Sam Harris No. 1 overall, then trading his rights to the Bears before he ever played a game. They finally made some great selections in the next 30 years or so, taking LSU RB Steve Van Buren (1944), Penn C/LB Chuck Bednarik (1948) and Nebraska tackle Bob Brown (1964. All three have busts in Canton as members of the Pro Football Hall of Fame.
They've had a few more good picks - Texas T Jerry Sizemore (1973), N.C. State WR Mike Quick (1982), Ohio State RB Keith Byars (1986), Miami DT Jerome Brown (1987), Oklahoma TE Keith Jackson (1988), Florida State T Tra Thomas (1998), Syracuse QB Donovan McNabb (1999), Florida CB Lito Sheppard (2002) - but they have had more misses.
Players such as Florida QB John Reaves (1972), Penn State WR Kenny Jackson (1984), Indiana T Kevin Allen (1985), Tennessee T Antone Davis (1991), Boston College DE Mike Mamula (1995), Virginia DE Jon Harris (1997), Baylor G Danny Watkins (2011) and Louiville DE Marcus Smith (2014) didn't pan out for various reasons.
I'd also throw North Dakota State QB Carson Wentz (2016) in that group, considering his tenure in Philly is already over.
I'm not ready to give up on their last two first-round picks - Washington State T Andre Dillard (2019) and Texas A&M WR Jalen Reagor - just yet. Dillard has gotten off to a rocky start, but I won't be surprised if he beats out Jordan Mailata to be the starting left tackle this season. Reagor will forever be compared with Vikings WR Justin Jefferson, who was taken one spot after him in last year's draft. But I still think he can be an impact player.
Which brings me to Thursday's first round. Most so-called draft gurus have the Eagles taking one of four players with the No. 12 pick. Alabama wide receivers DaVonte Smith or Jaylen Waddle could slip to 12th. Alabama CB Patrick Surtain seems headed to the Cowboys at No. 10. I'd grab him in a heartbeat if he's somehow still on the board. South Carolina CB Jaycee Horn would also be a good fit.
There's seemingly no way the Eagles can mess this up, but remember who's calling the shots in their draft room. It's not coach Nick Sirianni. General manager Howie Roseman, owner Jeffrey Lurie and Vice President of Player Personnel Andy Weidl will decide who joins the team.
Leave it to them to pick a quarterback.
I'm giving them the benefit of the doubt.
It took me three hours to put together a mock draft for Thursday, only to see the entire file evaporate in the internet clouds after mistakenly hitting the wrong button.
I'm just glad I didn't start a global thermal nuclear war.
Rather than make another attempt, let's just stick with the Eagles' pick. Smith, Surtain and Horn will be gone by the time the Eagles' pick at 12. That means Jalen Hurts will be reunited with Alabama wide receiver Jaylen Waddle.
Or they'll beef up that quarterback factory at take Trey Lance.
It all depends on who beat Sirianni at Rock, Paper, Scissors.
Eagles Quarterbacks With The Most Wins Since 1980