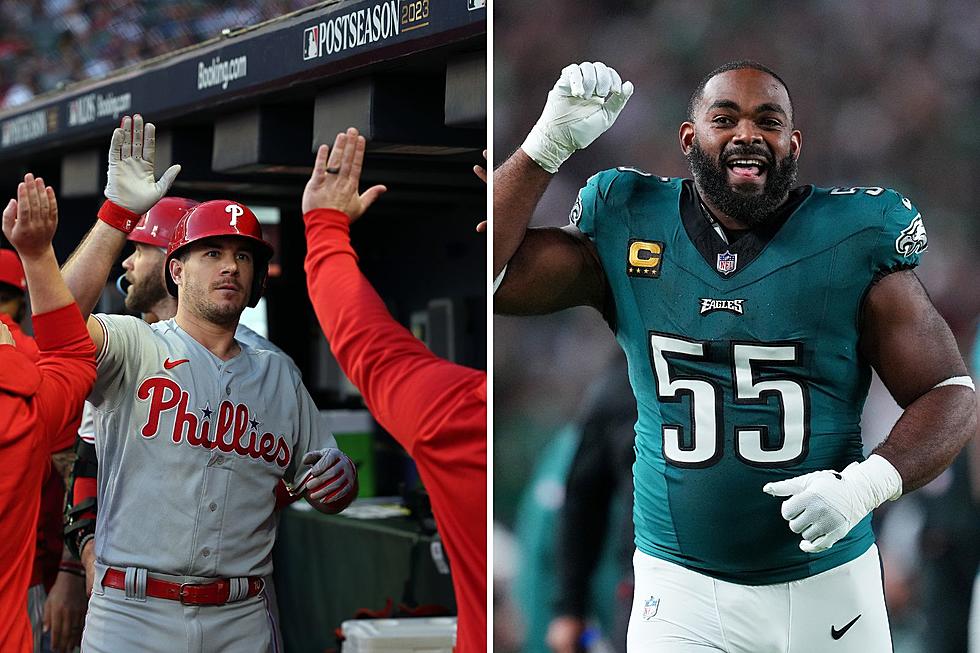 Extra Points: Phillies and Eagles have their fans at fever pitch
JT Realmuto Photo by Elsa/Getty Images and Brandon Graham Photo by Mitchell Leff/Getty Images
By DAVID WEINBERG
Last Sunday's 23-14 victory in Los Angeles left the Eagles tied with the 49ers as the NFL's only unbeaten teams at 5-0.  It marks the first time in franchise history they've won their first five games in back-to-back seasons.
And despite Monday's Game 2 meltdown in Atlanta, the Phillies are still in position to upset the Braves and reach the National League Championship Series for a second straight year.
No other fan base is enjoying as much success as those who chant "Fly, Eagles, Fly" and have colored this month "Red October."
In San Francisco, the 49ers are off to a terrific start, but their Giants failed to make the playoffs.  The Miami Dolphins are tied with the Kansas City Chiefs atop the AFC with a 4-1 record; However, the Phils swept the Marlins in the National Leahuge wild-card round and the Royals didn't qualify in the American League.
Sticking with the National League, the upstart Arizona Diamondbacks emerged from Monday Night with a surprising 2-0 lead in the NLDS after hammering the Los Angeles Dodgers starters Clayton Kershaw and Bobby Miller in the first two games in L.A.  That gave Arizona fans a reason to cheer since their Cardinals are off to a 1-4 start under former Eagles defensive coordinator Jonathan Gannon.
SoCal residents have to hope the Dodgers can make a comeback because the Rams (2-3) and Chargers (2-2) have yet to hit their strides.
Down in Baltimore, the Orioles were one of baseball's feel-good stories after winning an A.L.-best 101 games, but quickly found themselves down 0-2 to the Rangers entering Tuesday's Game 3 of the ALDS.  The Baltimore Ravens lost to the Steelers on Sunday because their Wide Receivers forgot how to catch passes, leaving them 3-2 this season.
Speaking of Texas, how 'bout 'dem Cowboys?
The defending-World Series champion Houston Astros entered Tuesday's game three of their ALDS series tied 1-1 with the Minnesota Twins.  Former Eagles linebacker DeMeco Ryans has the Texans (2-3) in the hunt in the AFC South, but may still be a ways away from making a playoff run.  Minnesota fans better hope the Twins can advance in the playoffs because the Vikings (1-4) are dreadful and Justin Jefferson was placed on the Injured Reserve list
Optimism is as high as the Walt Whitman Bridge in Philadelphia.  The Eagles haven't looked as impressive as the Niners, but there are several factors to suggest they will remain among the NFC's top teams this season.
First, they have yet to play a complete game this year.  Place-kicker Jake Elliott has been a savior for an offense that has struggled to establish any consistency.  For all of their firepower - Wide Receiver A.J. Brown and Tight End Dallas Goedert both had over 100 receiving yards last Sunday - they still only scored two touchdowns against the Rams and currently rank 26th in red zone efficiency.
They were 2-for-6 against the Rams, prompting center Jason Kelce to express his frustration with an animated discussion with coach Nick Sirianni on the sideline.
"I think I just got a little bit too heated," Kelce said. "The red zone has been frustrating, I think, for everybody. We've left a lot of points on the board. And I let myself get too frustrated, too animated. And it wasn't productive. So, for me and I cannot overstate this, I think I always get the most heated and the most emphatic with the people that I love and respect."
It should help that Kelce is part of the best offensive line in football. And the unit fronts a terrific running game led by D'Andre Swift, as well as provides solid protection for Hurts.
The Eagles defense also has fared well, despite some costly injuries.  Rookie defensive tackle Jalen Carter had two sacks against the Rams, making him the first Eagles' rookie with two or more sacks in a game since Derek Barnett did it six years ago at Dallas.
That should help them weather the most difficult part of their schedule.  After this week's game against the struggling Jets (2-3), their next eight contests are against the Dolphins (4-1), Commanders (2-3), Cowboys (3-2), Chiefs (4-1), Bills (3-2), 49ers (5-0), Cowboys again and Seahawks (3-1).
The Phils accomplished their goal of splitting the first two games of their series in Atlanta but wasted a chance to take control against the Braves on Monday night. They grabbed an early, 4-0 lead but some defensive miscues, a failure to capitalize on more scoring opportunities and a costly baserunning blunder in the ninth inning led to a 5-4 loss.
They should benefit from a raucous, rowdy home crowd at Citizens Bank Park for the next two games, which were scheduled for Wednesday at 5pm and Thursday at 6pm
Two wins means a return to the NLCS for a second straight year.
"We've got the best fans in the world," Phils slugger Bryce Harper said.
If nothing else, they have plenty of reasons to cheer this week.  It could be worse....
How 'bout 'dem Cowboys?
Where to watch Phillies Playoff games during Red October in Atlantic and Cape May Counties
The Phillies are back in the MLB Playoffs for the second straight year and you want to cheer on your team with your fellow Philly Fans! Here are places in Atlantic and Cape May Counties you can watch the game at
Gallery Credit: Josh Hennig/Townsquare Media