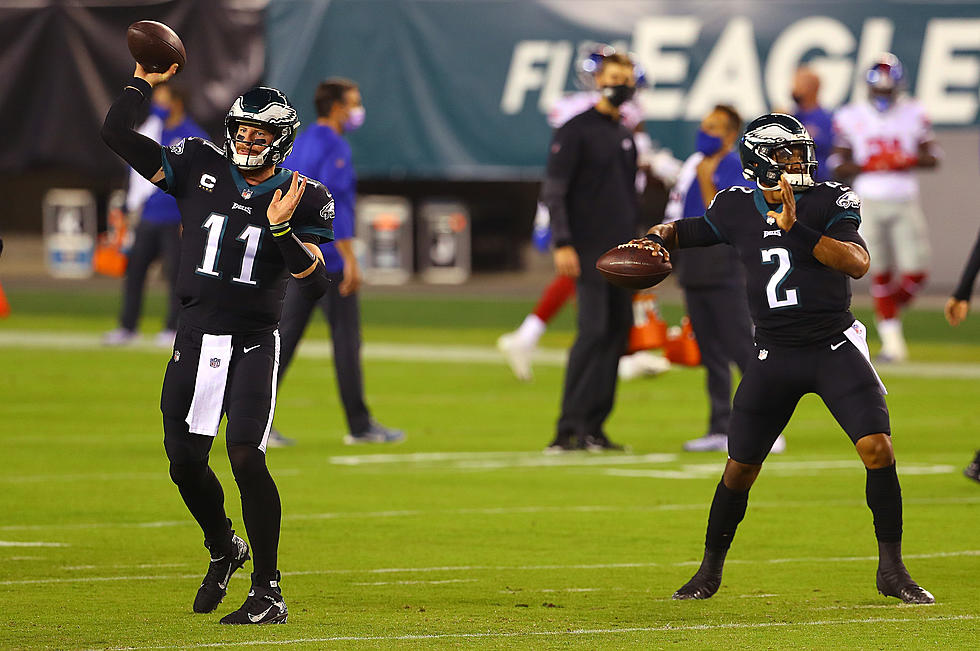 Extra Points: Time for Eagles to Make Some Changes
Getty Images
Incredibly, the road to the NFC East title is still Broad Street in Philadelphia.
Despite Sunday's embarrassing, 22-17 loss at Cleveland, the Eagles (3-6-1) still hold a slight lead in the division over Dallas (3-7), the New York Giants (3-7) and Washington (3-7) with six regular-season games remaining.
For them to have any chance of maintaining that advantage, however, some drastic changes need to be made immediately.
It starts with benching the quarterback.
Carson Wentz had another dreadful performance against the Browns. He threw two more interceptions to run his season total to a league-high 14 and has coughed up a fumble or thrown a pick in all but one game. His decision-making, pocket awareness, and execution are off, and his confidence is shot.
Rookie Jalen Hurts couldn't do any worse.
That's not to insinuate Wentz's career with the Eagles is over. His demotion may not even last more than one game. But he needs to take a seat for at least a little while, starting with next week's Monday Night Football outing against Seattle, if only to let his battered body and mind heal.
It's worked before. Former coach Andy Reid benched slumping Donovan McNabb at halftime of a loss to Baltimore in 2008 in favor of Kevin Kolb. McNabb was back in the lineup the following week and wound up leading the Eagles to the NFC championship game at ArIzona.
Unfortunately, coach Doug Pederson doesn't hold the same view.
"Look, I think if you get to that spot where you don't start him or you bench him, I think you're sending a wrong message to your football team that the season's over and that's a bad message," Pederson said after the game. "Carson is our starter, no question."
It might also help if Pederson relinquishes to the play-calling duties to someone like assistant head coach and running backs coach Duce Staley or offensive consultant Marty Mornhingweg. His recent game plans have been worthless, especially early in games. They were shut out in the first half against the Browns after scoring three points last week against the Giants and seven the previous game against the Cowboys.
Sunday's strategy lacked balance. Running back Miles Sanders got off to a good start, bouncing back from a costly fumble on the first drive to help the Eagles rush for 96 yards on 16 carries in the first half.
They had six total attempts in the second half for 10 yards.
About the only thing Pederson didn't do wrong against the Browns was go for two.
It's also time to confiscate the compromising photos left tackle Jason Peters must possess. There is no other way to explain the decision to keep running him back out there when he's clearly past his prime. Cleveland pass rusher Myles Garrett missed the game due to Covid-19 complications, but Olivier Vernon picked up the slack, beating Peters for three sacks, including a safety.
His performance Sunday was both atrocious and sad. It reminded me of a Meatloaf concert my wife and I attended a few years ago in Atlantic City. The intensity and aggressiveness that had made him a great performer were missing. He essentially went through motions on every song, essentially talking through
"Paradise by the Dashboard Lights," "Two Out of Three Ain't Bad," "Bat Out of Hell," and "I Would Do Anything for Love."
Jordan Mailata may not be ready for the Pro Bowl, but he showed steady improvement when Peters was sidelined and deserves a chance to keep that job at least until Andre Dillard returns next season.
Yet, Peters will be back out there against the Seahawks, at least until he suffers yet another injury.
The defense hasn't been great shakes, either.
They played reasonably well against the Browns, allowing 13 of the 22 points, but gave up big plays in crucial situations. Highlight shows this seek are going to include the image of Browns running back Nick Chubb brutally shoving Eagles defensive end Joel Ostman to the muddy turf during his 54-yard run.
The vaunted front four has been a disappointment. The linebackers have been worse, save for Alex Singleton. The secondary is no better, save for cornerback Darius Slay.
"We have to work through this," Pederson said. "When times get tough, sometimes (benching players) might be the easy thing to do. This business is about work, this business is about detailing, having ownership, things I talk about with the team. That's what we gotta do. That's coaches and players. This sport is bigger than one guy. We all have a hand in it and we all have to fix it."
Sunday's game marked the start of a daunting part of the Eagles' schedule. They will now face Seattle (7-3), Green Bay (7-3), New Orleans (8-2) and Arizona (6-4) in consecutive weeks before closing the regular season with back-to-back games against Dallas and Washington.
Unless Pederson finally relents and makes some changes, it's going to get ugly.
"I know you're looking for a ruby in a mountain of rocks, but there ain't no Coup de Ville hiding at the bottom o'f a Cracker Jack box. ..."
Eagles Head Coaching Wins All-Time