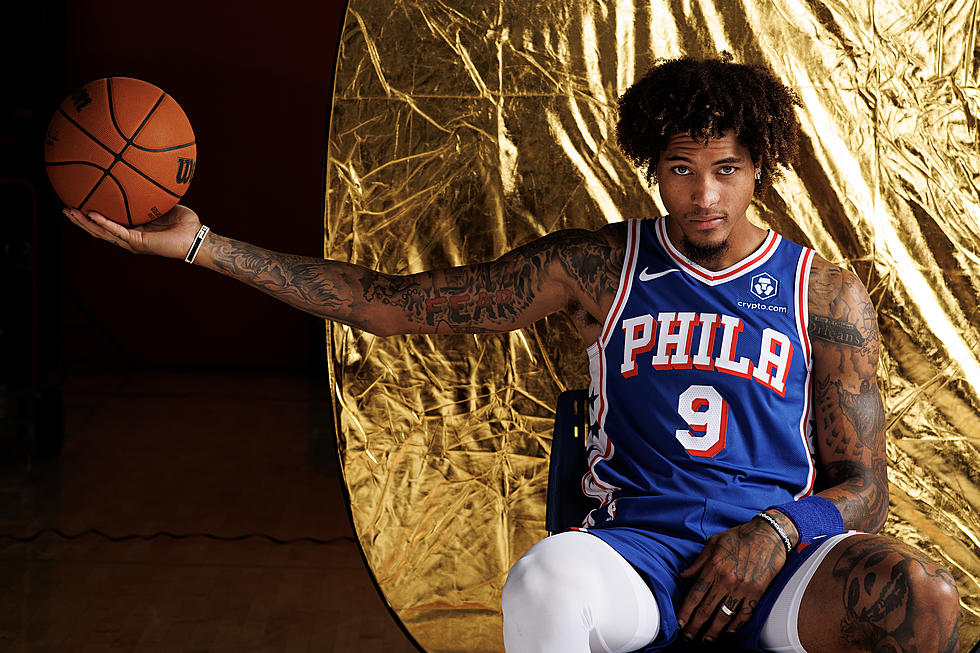 Fitting in? Forget that, Kelly Oubre Jr. wants to stand out
Photo by Tim Nwachukwu/Getty Images
FORT COLLINS, CO - Kelly Oubre Jr. isn't concerned with fitting in during his time with the Sixers.
He wants to stand out.
Oubre isn't quite sure how he's going to do that. He claims he can't predict the future.
"But, I'mma just do everything coach tells me to do and I'm ready to go to war," he told reporters at Friday's practice, the last of training camp.
Oubre, much like the rest of the players on the team, seems to trust what Nick Nurse and his staff are doing. Not only have they made training camp fun - a rarity, according to Oubre - but they seem receptive to feedback from the players.
"It's a process to learn everything. But, for me, I'm just coming in with an open mind and just doing what I do as far as going out there and playing hard and giving it my all. Whatever he says, I'll do it," Oubre said.
From the time he arrived in Philadelphia, Nurse has likened basketball strategy to a toolbox. If ideas don't work, they'll crumple them up and throw them out. If they do work, they'll store the recipe in a playoff toolbox.
His players are buying it.
"If it works, it works. If it doesn't, we'll talk about it, look at the film, and correct it," Oubre said. "So, it's just taking it a day at a time, processing the information, bringing it out into the game to see if it actually works."
Nurse's camp was evidently different than what Oubre has typically experienced.
"Efficient, productive, and we got better. Everything was smooth and I had fun. That's really weird to say when training camp is around. But, I had fun," the 27-year-old wing said.
Nurse didn't take a second of time for granted this week. In Oubre's estimation, that's what made it fun.
"Just the smoothness of everything. The drills, the transitions, us playing was very organized. He had great structure to it. So, that leads to great basketball. I think that we got better and we kind of gelled a little bit more today," he explained.
The Kansas product averaged 20 points per game with the Charlotte Hornets last season - by far a career high. He signed a one-year deal with Philadelphia for the veteran minimum, an extreme rarity for a player producing that level of scoring before his prime years.
He knows he has to rehabilitate his value a bit.
"I'm ready to lock in on defense, bring that bread-and-butter back to my game and continue to just plant those seeds and allow them to grow," Oubre said.
"But, Coach Nick has a great foundation for me to do so and I'm excited to get better, man. That's what I want to do every single year. But, I got to bring defense back first."
This might be Oubre's first time donning a Sixers uniform, but it's not the first time he's shared a team with some of the Sixers he'll take the court with.
"Yeah, a lot of the guys, man. I played with [De'Anthony Melton] before. I played with [Danuel House Jr.] before. Me and [Tyrese Maxey] played on the same AAU team. It's just a lot of things that are kind of aligning that I didn't even know of and coming in, man, I'm a quiet guy. But, at the end of the day, once I kind of open up, I'll speak and start to open up a little bit more," Oubre explained of the chemistry he's found with his teammates thus far.
"Everybody is starting to come together. I know grinding on the court in Colorado thin air, I think that brings us together a little bit. But, once we start playing, man, I see everybody kind of come in and getting to know me a little bit more."
Having been a part of only two teams that had hopes of making noise in the playoffs through eight NBA seasons, it would've been easy for Oubre to get stuck in the wrong mindset. But, being rewarded for a 20-point-per-game season with a one-year minimum is a humbling experience.
There's no hint of resentment or entitlement in his face or his words. Oubre is approaching this opportunity with Philadelphia as if he has everything to prove.
"To be honest, I don't know. I'm just here. They tell me to put the jersey on and I do it and I go out there and hoop," Oubre says of his place in lineups during team scrimmages.
"But, as far as the lineups and everything, that's on Coach Nick and I'm here to show him that I deserve to be in one of them."
Where to watch Phillies Playoff games during Red October in Atlantic and Cape May Counties
The Phillies are back in the MLB Playoffs for the second straight year and you want to cheer on your team with your fellow Philly Fans! Here are places in Atlantic and Cape May Counties you can watch the game at
Gallery Credit: Josh Hennig/Townsquare Media