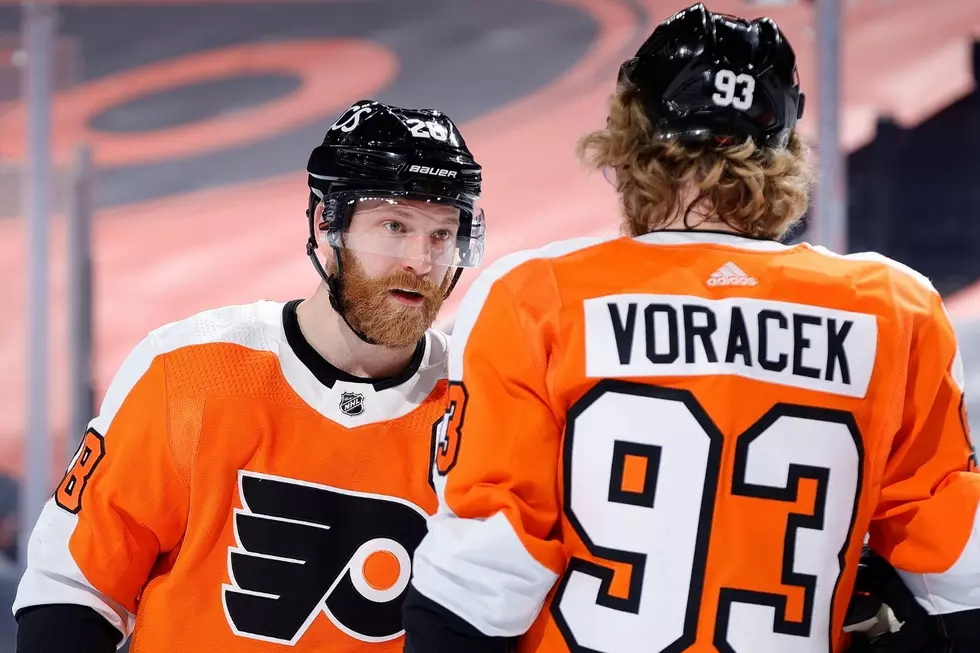 Flyers Season Was Doomed By Poor Defense and Underachievers
(Photo by Tim Nwachukwu/Getty Images)
While the Philadelphia Flyers season ended on a positive note with a win on Monday night, the season was a real disappointment after last season seeming to make serious steps forward in the first season under Head Coach Alain Vigneault. After finishing last season with a +36 Goals For versus Goals Against Differential in 69 games, this season the Flyers were -38 and they allowed more Goals Against (201 in 2020-21 compared to 191 in 2019-2020) in fewer games played (56 games this season compared to 69 games last season). Anyone watching the Orange and Black this season saw how poorly the team played defensively through out the season with numerous missed defensive assignments, poor defensive rotations, and at times underwhelming effort. Statistically the Flyers had the 10th best defense last season; this year Philadelphia ranked 30th in the NHL defensively.
SiriusXM NHL Radio Host Scott Laughlin joined GameNight with Josh Hennig on Monday and gave detailed perspective on the Flyers situation as they head into this offseason:
"The first thing I would do if I was (Flyers General Manager) Chuck Fletcher is try to rebuild that back end up again. We talked about Matt Niskanen all season long and that was a big, big loss for the Philadelphia Flyers. That being said, maybe the problems defensively run a lot more deep than just losing Matt Niskanen to the unexpected retirement at the end of last season. This is a team that defensively just was not good enough and Alain Vigneault in years gone by the the New York Rangers and Vancouver Canucks and Montreal Canadiens, teams he has coached along the way, one of the calling cards for AV was the fact that his teams were very responsible defensively. - You got to solidify the back end, somehow some way find a way to make that work, maybe it's move out (a Forward) perhaps to get someone on the back end to bolster (the defense). The scoring chances the Flyers gave up this season were like night and day compared to what they did last season. Also, Carter Hart - I don't think he digressed like some want to think but he kind of plateaued this season at an age where quite frankly you don't expect him to plateau. So I think that this offseason will be key for Carter Hart...(Flyers) have to restore that young man with confidence in-between the pipes and I think that the first step in doing that is to bolster the back end, find some defensive depth. - The reality is that the defensive deficiencies were not there last year, this season they were (obvious) and that is the first step in turning around the Flyers."
A couple of major takeaways from what Scott Laughlin had to say:
*The loss of Matt Niskanen is something that everyone around the league saw impacting the Flyers and that means all the other teams in the NHL know that General Manager Chuck Fletcher will be in the market to improve the Defensive situation, specific with upgrading the players who are the last line of defense. With the NHL expected to have a Flat Salary Cap this offseason, teams are going to have to get creative to make improvements to their teams and I will be curious to see what teams Chuck Fletcher will get to work with him to get any potential deals done.
*Flyers have to make some difficult decisions about who they protect in the Expansion Draft and who they make available for trades this offseason. Both of those situations will reveal exactly how serious this organization is about making changes and improvements to a roster that has stagnated.
*The concept that Carter Hart did not digress but plateaued is an interesting angle to consider. We have seen Goaltenders such as Sergei Bobrovsky, Carey Price, Robin Lehner, and others play inconsistently during their early 20's as they were still learning how to play at a high level in the NHL on a night to night basis. Carter Hart turns 23 years old this August so he is still very young as a professional Goaltender and remember the last time that Philadelphia bailed on a young Goaltender: Sergei Bobrovsky won two Vezina Trophies for the Columbus Blue Jackets. It's completely unfair to expect Carter Hart to turn into Dominik Hasek 2.0 and demand that he completely carry the defense like "The Dominator" did in Buffalo during the mid-1990's.
My eyes told me that the players are the reason why the Orange and Black underachieved this season. I know in the NHL that firing Head Coaches and General Managers is common method of initializing changes in an organization but the Flyers issues this past season is much deeper than just who is behind the bench or making decisions in the Front Office. Philadelphia has invested a large amount of money in Claude Giroux, Jakub Voracek, Kevin Hayes, and James Van Riemsdyk. All four of those players have a higher Cap Hit than your best Two-Way Forward (Sean Couturier) and the team's best Defensemen (Ivan Provorov). The team's leader in Goals Scored was 20 year old Joel Farabee (20 goals this season) while James Van Riemsdyk had more Power Play Goals (10) than Kevin Hayes, Claude Giroux, and Jakub Voracek combined this season (4).
Watching the Flyers has been exasperating this season and the time is well past due making excuses for the supposed best players on the team. Think about it this way:
*What if the Sixers leading scorer was not Joel Embiid or Tobias Harris but instead, Shake Milton or Seth Curry - Wouldn't you say that the top three highest paid players are not playing up to expectations?
*What if the Phillies best pitchers were Matt Moore and Chase Anderson, instead of Aaron Nola and Zach Wheeler - Wouldn't you ask why are the Phillies paying Nola and Wheeler so much money if they are playing worse than guys who make half the money they do?
That is the problem with the Flyers: The players who are paid to be the "Best Players" are either inconsistent or underachievers compared to expectations. The solution to solving the Flyers problems will not be easy or happen without some uncomfortable decisions like trading a young player we like or taking on another team's "Jake Voracek" in order to move on from the veterans who are underperforming to upgrade the roster. But if the Flyers are going to elevate from mediocre to contender again, real changes have to be made. This team needs surgery and not rehab, the Flyers need to rebuild around their young talent like Goaltender Carter Hart, proven goal scorer Joel Farabee, 2020 Selke Trophy Winners Sean Couturier, and star Defensemen Ivan Provorov.
Claude Giroux and Jakub Voracek have been given plenty of opportunities to lead this team back to the Stanley Cup Finals but under Giroux's Captainship, the Black and Orange have reached the postseason four times in nine seasons and only got out of the First Round of the NHL Playoffs once. Consider me underwhelmed with the Claude Giroux and Jakub Voracek tenure in Philadelphia.
Checkout what SiriusXM NHL Radio Host Scott Laughlin had to say about Alain Vigneault's future, his thoughts on Jake Voracek, the rumors of Johnny Gaudreau's time in Calgary coming to an end, and perspective on the upcoming NHL offseason:
KEEP READING: Flyers Top Goal Scorers Each Year Since 2010
KEEP READING: South Jersey Boardwalks & Promenades We Love