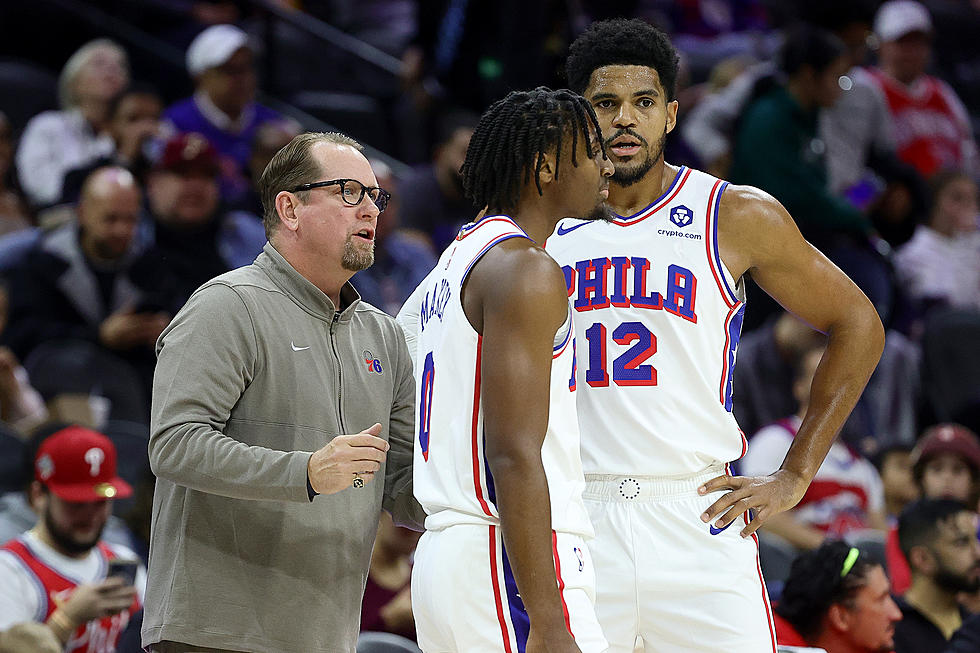 Former Villanova head coach Jay Wright: 'Sixers are better right now'
Getty Images
ESPN NBA analyst Tim Legler said it looks like the Sixers have had a cloud removed from over their head, after watching them beat the Celtics on Wednesday night in Philadelphia.
"The cloud has been lifted," Legler said
Many fans are starting to see a different Sixers team and are starting to get excited that this team could be different after the team has disappointed fans over the years with multiple second-round playoff exits.
The team has more depth, they have more speed, they aren't as stagnet, and they seem to be
So after beating the rival Celtics, do you think the Sixers are the better team?
One Hall of Fame coach who thinks the Sixers are better right now is former Villanova head coach Jay Wright, who went on social media on Thursday to say:
"the Celtics are a very good team ! The Sixers are better right now - there is a lot of basketball to play - this is a Long season that will test commitment to excellence."
While Wright did acknowledge that its a long season, so far through one meeting and a few weeks of a long NBA season he is right.
The Sixers are bigger, deeper and right now better than the Celtics, but it should be a lot of fun watch this two teams this seaosn, and maybe even in another playuoff series in April.
Top Ten Philly Athletes Age 25 or Younger
Philadelphia has some great young athletes right now, from NFL MVP Runner-up Jalen Hurts to NL Gold Glove Award Finalist Bryson Stott to 30 Points Per Game Scorer Tyrese Maxey. In honor of the Philly Sports teams Youth Movement, here are my rankings of the top ten Philadelphia Professional Athletes who are 25 years old or younger:
Gallery Credit: Josh Hennig/Townsquare Media