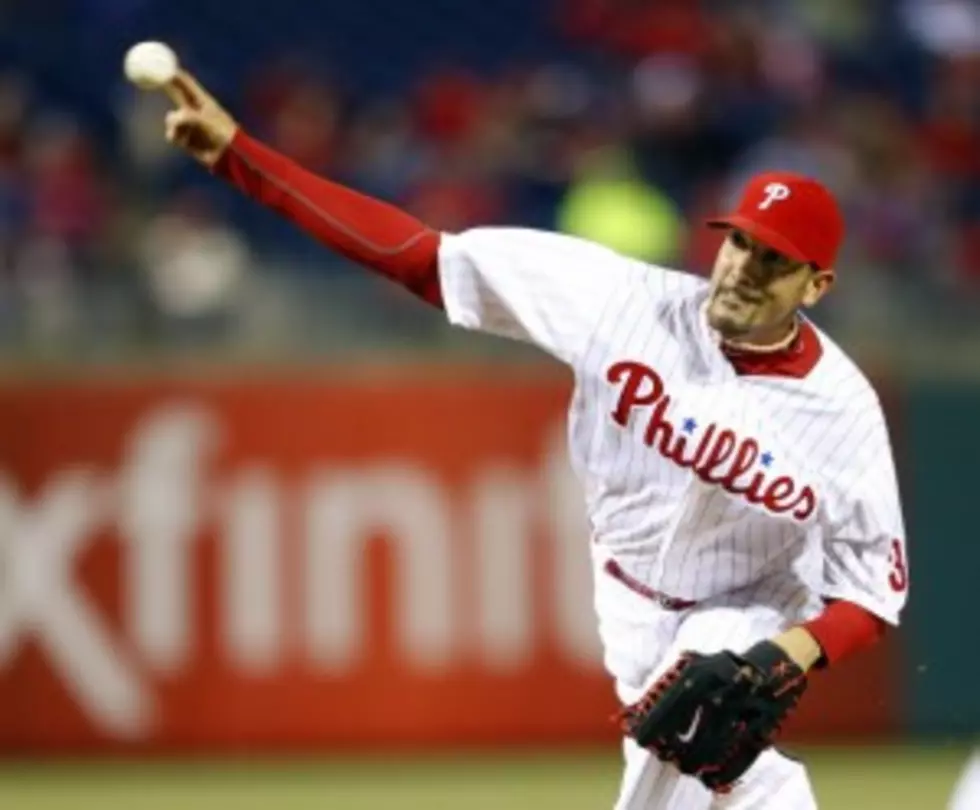 From the Ballpark: Bullpen Crumbles in Phillies 5-3 Loss to Pirates
Roy Halladay left with a 3-1 lead only to see Mike Adams and the bullpen blow it, saddling him with a no-decision. (Photo by Rich Schultz/Getty Images)
PHILADELPHIA—So much for progress.
Despite an effective lineup shakeup, another Roy Halladay gem and continued contribution from one of baseball's top benches, the Phillies bullpen crumbled again.
And so was this 5-3 loss to the Pittsburgh Pirates at Citizens Bank Park tonight.
"Tonight our bullpen, back end of it, we had some trouble," said manager Charlie Manuel as he's had to so often already. "We didn't get it done."
The Phillies entered the seventh with a 3-1 lead, after second-deck belts in the first and fourth innings from Ryan Howard and Chase Utley, who'd been separated in the heart of Manuel's lineup for the first time since the 2011 season finale.
Michael Young batted between them at third.
Just like that, the first Howard-Utley same-game home run combo since last Sept. 22.
"Finally got into one," Howard said. "It felt pretty good."
Kevin Frandsen added a screaming a pinch-hit RBI single with two outs to score Ben Revere in the sixth, as the Phillies have off the bench so often so far.
Halladay one-hit the Pirates for six innings of one-run ball, for his third straight quality start and bit of evidence to support that his transformation is coming along.
Even the relief staff, a punching bag for opponents and fans all last year, entered working a streak of 13 1/3 innings spanning five games without an earned run.
Antonio Bastardo served a solo shot to Pedro Alvarez in the seventh to make it 3-2. It was his first earned run this year, and just his third hit in nine appearances.
Mike Adams opened the eighth letting all four batters he faced reach, two via walk, one, Travis Snider, on an RBI single to score Jose Tabata to tie it, 3-3.
It was Adams' first blown save since May 5 last year.
Adams surrendered the final run before the streak, a solo shot to Carlos Beltran for the go-ahead run in a Game 1 loss to the Cardinals last Thursday.
Jeremy Horst took over with no outs and the bags full in the seventh.
His first batter, Brandon Inge, who hit .150/.320/.283 in 18 Triple-A games before his debut yesterday, roped an RBI single to score Starling Marte for the go-ahead run.
The Pirates iced it off Horst in the ninth. A Marte pop-up to shallow right slipped out of Utley's glove to score Clint Barmes for the two-run cushion the Phillies once had.
"No one called it," Utley said when asked about communication with John Mayberry Jr. "I thought i could catch it. It hit my glove. I just wasn't able to come up with it."
Adams now has more losses (2) than holds (1) this year, equal parts on his inconsistency, the Phillies' offensive impotence and Manuel's insistence on using Adams in anything but high-leverage situations.
Not that Adams' performance is proving Manuel wrong.
More missed chances on offense didn't help.
Revere popped out with men on second and third in the fourth, letting the Pirates walk catcher Humberto Quintero to bring Halladay to the plate with the bags full and two outs.
Halladay entered the batter's box 0 for 10 with 10 Ks this year.
Utley dropped a D.O.A. bunt to advance Rollins to third in the fifth.
But Rollins poorly judged a Young grounder to third with no outs, waiting on contact but leaving before second baseman Neil Walker had thrown to first for the double play try.
Rollins was doubled up at home.
A similar play happened yesterday with Mayberry on third. Manuel said running on contact in that scenario was the Phillies' default strategy.
"From what I saw, he kinda waited to see where the guy was going to take the ball," Manuel said. "He should have went on contact."
Still, these Phillies entered tonight 6-0 when leading after six innings.
And yet, all three relievers to appear were tagged for an earned run. Along with their 13-4 home opening loss to the Royals, that's happened twice already.
Halladay was encouraging. His command was shaky. He threw strikes to only 9 of 22 batters tonight, and entered with the 10th worst first-pitch strike percentage in baseball.
But he left with a 1.71 ERA in his last three starts, all six innings or longer.
Halladay worked himself out of a jam in the fourth, after walking a batter and plunking another with a pitch with two outs.
Alvarez roped an RBI single to center to score Garrett Jones to pull the Pirates to even the score, 1-1, but that was it for the damage.
Then came Howard, who rocketed a homer to CBP Section 204 on an 0-2 fastball.
It was Howard's second homer in 75 at-bats this year, and first in 46. It was the first 0-2 pitch he's homered since 2008, first off a lefty since 2006 and sixth in his career.
Utley's belt earlier came on the 10-year anniversary of his first big-league hit: a grand slam at the Vet against Colorado and Aaron Cook, cut from Phillies camp this spring.
The Phillies could use more of that.
They have only 16 total homers so far. Atlanta entered the night with 35.
Now comes time to size up odds. What's more likely? That Halladay, Howard and Utley, and the bench continue this way? Or that the bullpen doesn't?
Take your time mulling the answer. It may be a long season.