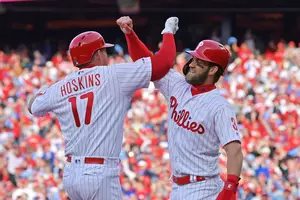 Harper is Hitless, But Impact Was Felt in Phillies Win
Rhys Hoskins and Bryce Harper Celebrate a Grand Slam off the Bat of Hoskins during Thursday's Opener (Drew Hallowell/Getty Images)
Looking at the box score, Phillies fans will notice that newcomer Bryce Harper went 0 for 3 with a walk and two strikeouts.  Hitless while the Phillies scored 10 runs en route to a 10-4 Opening Day victory over the Atlanta Braves, one might think that Harper did not contribute in a major way.  However, the presence of Harper was felt in a great way on Opening Day.
The Phillies had a solid 6-1 lead after the bottom of the sixth inning.  However, the game started to feeling as if it got back into Atlanta's reach in the top of the seventh inning.  Reliever Hector Neris looked like the Neris of early 2018 and not that of late 2017 when he saved 20 games in a row, and allowed two hits, including a two-run home run to Matt Joyce. That cut the lead to 6-3.
But the top of the seventh inning set up exactly in the manner in which the Phillies hoped that their new lineup would function.Outfielder Andrew McCutchen walked.  Shortstop Jean Segura followed with an infield tapper for a base hit; a defensive miscue meant that both speedy players advanced to the next base to put runners at second and third.
No, Harper did not drive in the two runners in scoring position.  What did he do, however, was make the Braves decide to have reliever Luke Jackson intentionally walk Harper. The bases were now loaded.
Jackson did not want to let Harper beat him.  But in doing so, he created another opportunity for Rhys Hoskins.  Hoskins, who frequently stepped to the plate in 2018 with little lineup protection, now stepped up to the plate with the bases loaded and with another threat, catcher J.T. Realmuto, right behind him.
Jackson had no choice but to pitch to Hoskins.
Hoskins connected for a grand slam that put the game and the Atlanta Braves threat to rest, driving in runs number seven, eight, nine, and 10.
What would have happened without Harper in the lineup?  Maybe Odubel Herrera is batting third and does not get walked.  Maybe Hoskins bats a batter sooner and Realmuto behind him is not too big a worry and they work around Hoskins.
Instead, pitchers facing the Phillies are frequently going to have to not just work around Harper, but instead pick their poison.  Harper, whose stats are lesser against left-handed pitching but not bad, may see pitches to hit with Hoskins and Realmuto behind him.  The instances when Harper does not see a pitch to hit, those behind him might.
Either way, it's a position of great power for the Phillies.  Bryce Harper has already made all the difference.