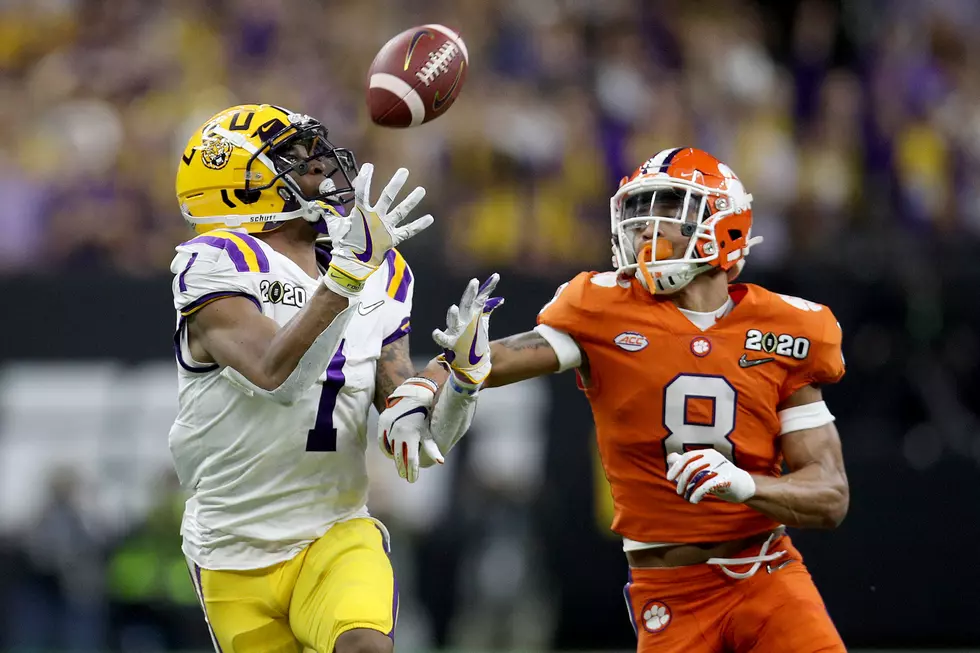 Here's Why the Eagles Moved Down in the NFL Draft
Getty Images
The Eagles and Dolphins made a blockbuster deal on Friday, which saw the Eagles move down from pick No. 6 in the NFL Draft to obtain pick No. 12, along with a future first-round pick and more.
Reviews from fans have been mixed, but the thinking from Howie Roseman and the Eagles front office appears to be that the player they targeted would not be on the board when it was their turn to make a selection - so they moved.
According to NFL insider Albert Breer of Sports Illustrated in his latest edition of MMQB, the Eagles felt there was a pretty good chance that wide receiver Ja'Marr Chase would be off-the-board to the Bengals with the No. 5 pick, feeling comfortable enough with the talent that would still be available at No. 12, so they pulled the trigger.
The Eagles worked exclusively with the Dolphins, and Roseman had to keep the trade under wraps in the two-plus weeks in between to allow for the bang-bang nature of how it eventually would go down. And with the Eagles believing there is a pretty good chance the Bengals will take LSU's Ja'Marr Chase at five (we mentioned in our mock this week that that Joe Burrow has given Cincinnati's brass a glowing recommendation), Philly felt comfortable with the difference in talent between six and 12—and also operated with the knowledge that it'd be hard to get a future first (this being Miami's slotted No. 1 in 2022) in exchange for moving down closer to the draft, particularly if it looked like the top four picks would be QBs.

(Also, this allows Philly to reset its roster, with a minimum of two 1s and two 2s—and more likely, so long as Carson Wentz stays healthy, three 1s in 2022—plus a cleaned-up cap to work with then.)
Overall, while I was a big fan of landing a player like Chase or Kyle Pitts at No. 6, I still like the potential of adding a player like Devonta Smith, Jaylen Waddle or even a defensive standout like Micah Parson, Patrick Surtain II, Caleb Farley or Jaycee Horn. The team also was also able to add another first-round pick next year and a fourth rounder this year, which they did not have.
The idea that Roseman will mess the picks up will constantly come up, but those are the same people who hated Sam Hinkie because he didn't hit on every pick, but refuse to give him credit for landing Joel Embiid.
The facts are this, the draft is an inexact science, one that Roseman has't done well in.  But lets not grade this trade on if he will hit on the pick, but the options it has give the team.
Roseman hasn't missed on every pick he has made, and with more picks, there are more chances that he eventually finds his Embiid.
Eagles Head Coaching Wins All-Time