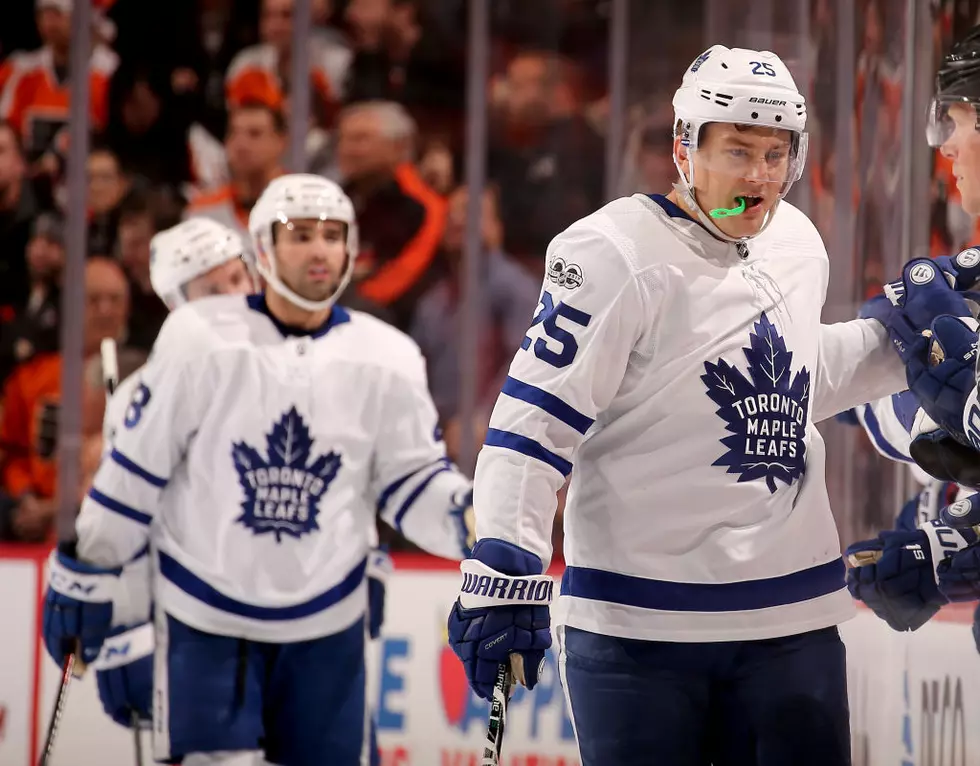 Hextall on JVR: 'This One Just Fit All Around For Us'
(Elsa/Getty Images)
Flyers GM Ron Hextall met with the media on Sunday afternoon almost three hours into the new league year and the start of free agency with one new addition to announce. The Flyers officially announced the signing of forward James van Riemsdyk to a five-year deal worth $35 million.
"We felt comfortable with the term and with the player," Hextall said. "We know the person, people inside this organization, obviously that helps."
As of Sunday afternoon, that was the only new addition to the Flyers roster.
The Flyers entered free agency with a few needs to address, among them a third-line center and a right-handed defenseman. Scoring winger was also on the list, and JVR checked off the boxes.
"The one thing we felt really comfortable with is that James was drafted as a Flyer," Hextall said. "We felt with the fit, we needed size, we needed goal scoring, we needed a left winger. This one just fit all around for us and I think James felt the same way."
van Riemsdyk scored 36 goals last season, a new career-high, and had 54 points in 81 games with Toronto. The second-overall pick in 2007 has emerged as one of the game's top goal scorers in his six years in Toronto.
As for the other positions, notably defensemen, the Flyers still had the funds to make deals, but weren't willing to commit to long-term deals.
"That guys that we felt were upgrades right now, there was too much term there for us," Hextall said. "We're not willing to commit long-term to a defenseman. We'll continue to look at what's out there, whether it be through trades or free agents and try to bring in, if nothing else, depth.
"The one thing we don't want to do is box our kids out that we feel are really good players long-term here. The term thing is a big issue for us right now. We're sort of waiting, so we're not going to bite into a long-term deal with a defenseman. We'll try to continue to get better at every position."
In saying that, it also meant that the Flyers are moving on from other players. When the team parted ways for the end of the 2017-18 season, Hextall had said that only Valtteri Filppula was being considered for a possible return. Brandon Manning was another player who remained on the radar, even though there was little chance he would be returning.
Manning signed a two-year deal with Chicago. Filppula remains available, but Hextall said the Flyers are moving on.
"We looked long and hard at what we have within, whether our guys in the minors or guys on the big team can be moved around," Hextall said. "We've got two or three options there. We're excited about this addition here. It fills a hole that we felt needed to be filled in terms of size and goal scoring. It gives us more flexibility in our top-nine and top-12."
For Hextall, this was the first major free-agent signing he has made since becoming GM in 2014. It's a step toward contention for the Flyers, or at least a move that shows the Flyers are going to be willing to be players in the free agent and trade markets with cap space now available. After spending several offseasons building up draft picks and prospects, the time has come to focus on the current team.
"Our philosophy, four years ago, was more to get our cap in order and gather young assets and we've kind of been through that process now," Hextall said. "It's coming to fruition in terms of guys we have on our team. When we can add someone to strength our team, we want to do it and we'll continue to try to do it."
The JVR signing doesn't fill the holes the Flyers have as next season approaches. They may be done for the day on July 1, but there is still time, as Hextall indicated, for players asking for four or five-year deals today to let the market play out and potentially be looking for one or two-year deals in mid-July.
It may not be a finished product yet, but the free-agent frenzy came and went and the Flyers at least made a splash. That's a start for Hextall in moving this team into contention.
Kevin Durso is Flyers editor for SportsTalkPhilly.com. Follow him on Twitter @Kevin_Durso.