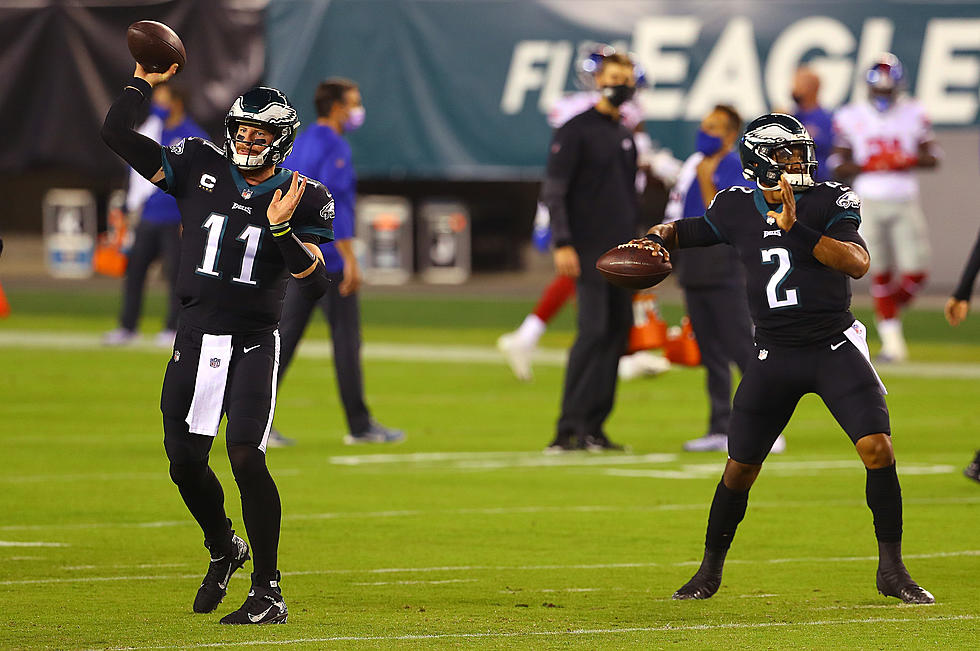 If Eagles Didn't See This Coming, How Can we Trust Them to Fix it?
Getty Images
It wasn't too long ago that Eagles executive vice president and general manager Howie Roseman was singing the praise of his franchise quarterback Carson Wentz.
Fast-forward to this weeks game against the Saints and Wentz is on the bench and the teams second-round pick, Jalen Hurts is getting ready to make his first NFL start.
"You dream of opportunities like this," Hurts said on Wednesday. My heads down, and I'm attacking it."
Enter your number to get our free mobile app
The Eagles are turning to Hurts, who Doug Pederson said provided a spark to the teams struggling offense, after another poor performance from Wentz on Sunday against the Packers.
Wentz completed just 6-of-15 passes for 79 yards before getting benched for in favor of Hurts.
While Hurts didn't light up the scoreboard, he did put points on the board and showed the ability to make quick, decisive decisions and push the ball downfield.
But more than anything, Hurts is a leader, and its something that his teammates are quickly noticing.
"He brings swagger and confidence," said first-round pick Jalen Reagor.
"He's a natural leader," echoed wide receiver Greg Ward.  "He's gonna come in and try to take control, make plays and that's all that you can ask for."
As for Wentz, is future becomes less clear.  Pederson wasn't even sure if he would be the backup behind Hurts this Sunday.
"We'll see how the week goes as far as that," explained Pederson. "We'll see how the week goes but I would expect him to be that."
Its a quick fall from the heights and promise Wentz once showed.  The former No. 2 overall pick led the Eagles to an 11-2 mark during their improbable 2017 season that ended up with the Lombardi Trophy.
During that sensational season, Wentz was at the top of many MVP ballots after his amazing 13 game stretch where he fired 33 touchdowns against just seven interceptions, before an major knee injury ended his season.
The following two seasons Wentz continued to play solid football, combining for 48 touchdowns and just 14 picks, leading the Eagles to the playoffs in both seasons.
This season has been a major struggle with 16 touchdowns, 15 interceptions, completing just 57.4% of his passes.
So while Wentz will be on the sidelines this Sunday, Pederson isn't ready to give up on his franchise signal-caller.
"I think Carson Wentz can be an exceptional quarterback in this league and he's proven that," Pederson stated.
"Back in '17, '18 and last year. We got to continue to battle and fight and work and work with him individually, work with him within the confines of the offense, the structure and just get [him] back to being Carson Wentz and back on track."
There are many factors in play moving forward including the amount of money the team invested into Wentz. It has been well documented that the team gave Wentz a four-year extension on his rookie deal, paying him $154 million total with $107 million guaranteed.
The hit dead money and cap-hit the Eagles would take for parting ways with Wentz would be massive, making this decision an more challenging.
While Pederson said on Wednesday that he never saw this situation coming, it's now here and the team has a franchise altering decision to make.
"Take Carson Wentz out of it, I didn't expect us to be in this situation back in April. So, let's just start there," Pederson admitted. "Has nothing to do with Carson, has everything to do with obviously the team and where we are and my expectation was definitely, and it still is, extremely high for this football team. But I didn't expect us to be here, no."
When Pederson says he didn't expect the team to be here, one would assume that they don't have a plan moving forward and are essentially flying by the seat of their pants on what to do next.
That's where Hurts comes in. What if he plays well, then what?
"I don't have a crystal ball, I can't predict the future," said Pederson. "All I can focus on is today and getting our team prepared today and getting our guys ready for Sunday."
If the Eagles didn't see this possibility coming, how can we trust them to fix it?
Eagles Head Coaching Wins All-Time