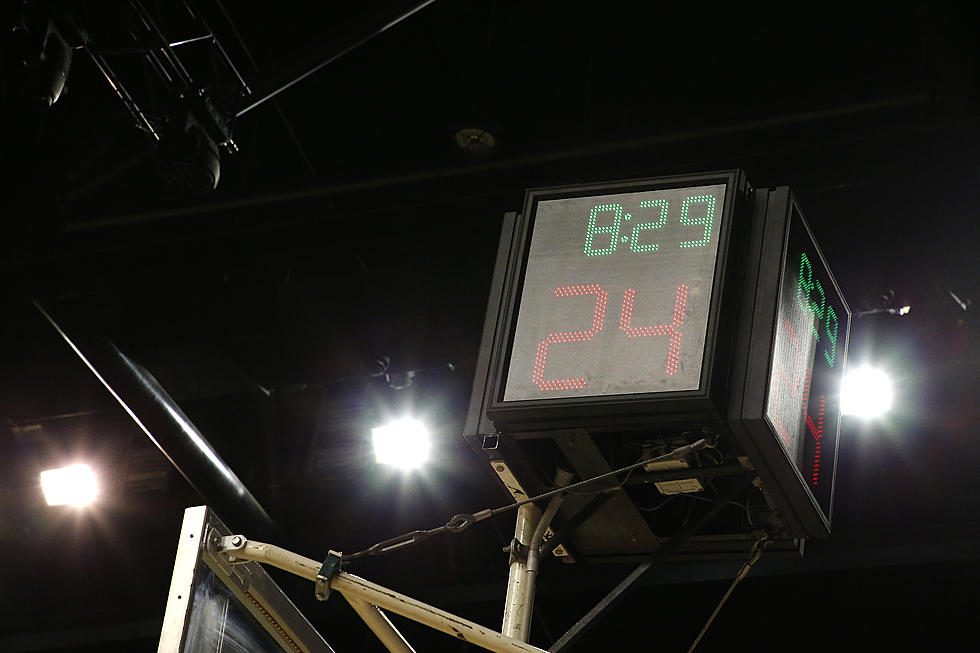 Is it Time for New Jersey to Use a Shot Clock in High School Basketball?
Getty Images
About 14 weeks ago, just a few days after high school basketball was prematurely ended in New Jersey for health and safety reasons, the Press of Atlantic City published an editorial calling for the addition of a shot clock to the sport in the Garden State.
Enter your number to get our free mobile app
It said that teams sometimes take a minute to set up for the perfect shot and teams trailing with four minutes to go will have a tough time getting back in the game. But the stats don't back that up.
In the recent Ocean City High School boys basketball season, for example, a shot was taken by one of the two teams in each game an average of three times per minute. And time and again, throughout New Jersey., teams have rallied in the final four minutes to win or at least have a chance to win.
What got the editorial writer's attention was the decision by Patrick School to hold the ball for about five minutes to start the fourth period against St. Augustine Prep in the Seagull Classic. It was a surprising decision by a nationally-ranked team – surprising because it rarely happens.
But it went on for five minutes because St. Augustine decided to stay back in its zone for that length of time before applying pressure. Shortening a close game against such a powerful team seemed to make sense. In fact, when it did apply pressure, The Prep forced two turnovers and, had they converted both of them, would have taken the lead.
There are nine states in the country that use shot clocks in high school basketball. It is a rule that the National Federation of State High School Associations (NFHS) does not recognize and two weeks ago the NFHS rules committee again voted not to add a shot clock. In fact, the NFHS does not allow any representatives from the nine states that use a shot clock to be included on its rules committee.
Some other stats might surprise you – and certainly would surprise the editorial writer. Nationally, high school games played with a shot clock average six points less than games played without a shot clock. And, in both boys and girls basketball, 18 of the top 20 highest scoring teams in the country played in states with no shot clocks.
Maybe some of these low scoring games referred to in the editorial have more to do with the shooting accuracy of the teams than the tempo of the game.
Some coaches might support a shot clock because it enhances their style of play. But forcing all teams to play at the faster tempo removes interesting strategy from the game.
There are other reasons not to have a shot clock in high school basketball. First, it would cost at least $10,000 to install the clocks and other equipment. It would also cost more to hire an operator for every game (and operating the shot clock, according to those with experience, is the toughest job at the scorer's table). Plus it adds still more stress to the game officials.
Congratulations to the NFHS rules committee for voting down the shot clock again. But, while we are talking about rules, here are a couple that might improve the high school game.
Lets eliminate the 30-second timeout and give each team four full timeouts per game. But lets stop the clock after every basket in the final minute of the fourth quarter and each overtime period. Also allow a team to get possession of the ball at half-court when it calls a timeout following an opponent's basket.
In addition, only allow a timeout to be called while the clock is running by a player with feet on the floor and his/her team in possession. No coaches screaming for a timeout or players hollering while scrambling on the floor for a loose ball. These are very difficult calls for officials to make accurately.
High school basketball is a great sport. It is popular, it is entertaining and the participants might require as much athletic skill as in any sport. Right now, people associated with the sport are more concerned with how the season will be played in 2020-21 with all of the possible pandemic safety restrictions.
A shot clock is not needed. In fact, it would be a mistake.
Enter your number to get our free mobile app
Eagles Quarterbacks With The Most Wins Since 1980