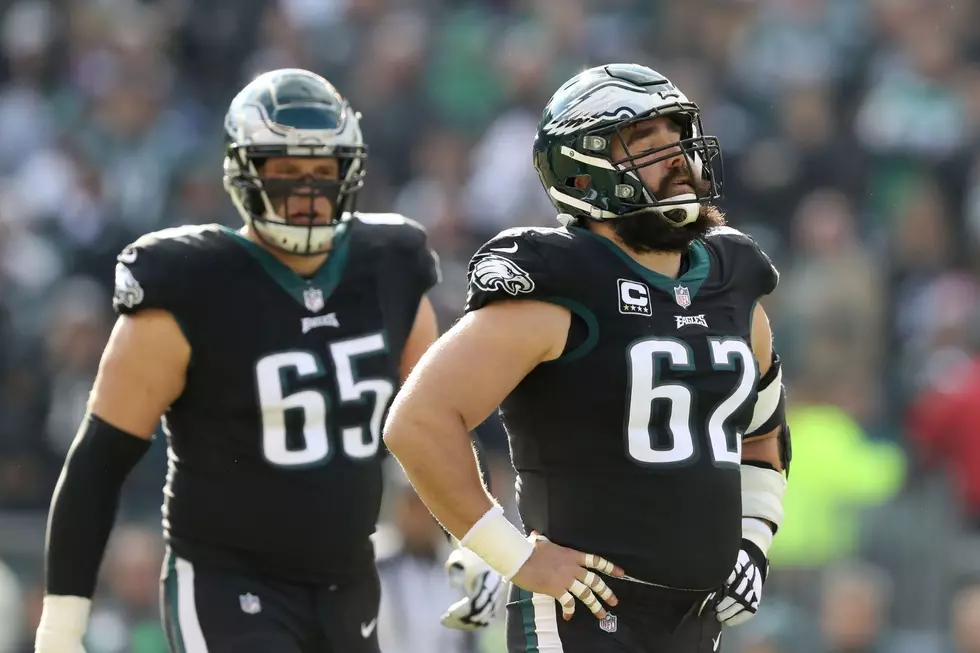 Jason Kelce Will Return for 11th Season with Eagles
(Photo by Elsa/Getty Images)
The Eagles and long-time center Jason Kelce, 33, have agreed on a new deal for the upcoming 2021 season that will bring him back for an 11th year in Philadelphia.
The team and Kelce have agreed on a new $9 million guaranteed deal for the 2021 season with incentives that could bring the deal up to $12 million, the three-time All-Pro announced on Instagram.
"Couldn't be more excited," Kelce wrote.
We discussed the possibility of Kelce returning last week during Football at Four with Adam Caplan from the Inside the Birds Podcast.
"There is nothing official here, but my sense is, in the end that he'll play rather than retire," NFL insider Adam Caplan from the Inside the Birds Podcast said on The Sports Bash during Football at Four.
"Again, there is nothing official, but there is a better chance that he plays than retires."
Turns out Caplan was right.
With Kelce back the Eagles figure to be very strong across the offensive line, that was decimated by injures in the 2020 season.
The team should have an interesting battle at left tackle with former first-round pick Andre Dillard and former seventh-round pick Jordan Mailata.  At left guard, Isaac Seumalo returns next to Kelce with veterans Brandon Brooks at right guard and Lane Johnson at right tackle.
With this group, the team could have one of the better offensive lines in football, if they can remain healthy.  Nate Herbig, Jack Driscoll and whoever losses out at left tackle will provide some solid depth.
While Kelce was banged up in 2020, playing with a baldy injured elbow, he managed to play in all 16 games for the six straight season.
According to the website, Pro Football Focus, Kelce was ranked as the third best pass blocking center in 2020.
Eagles Head Coaching Wins All-Time
KEEP READING: Eagles Quarterbacks With the Most Wins Since 1980