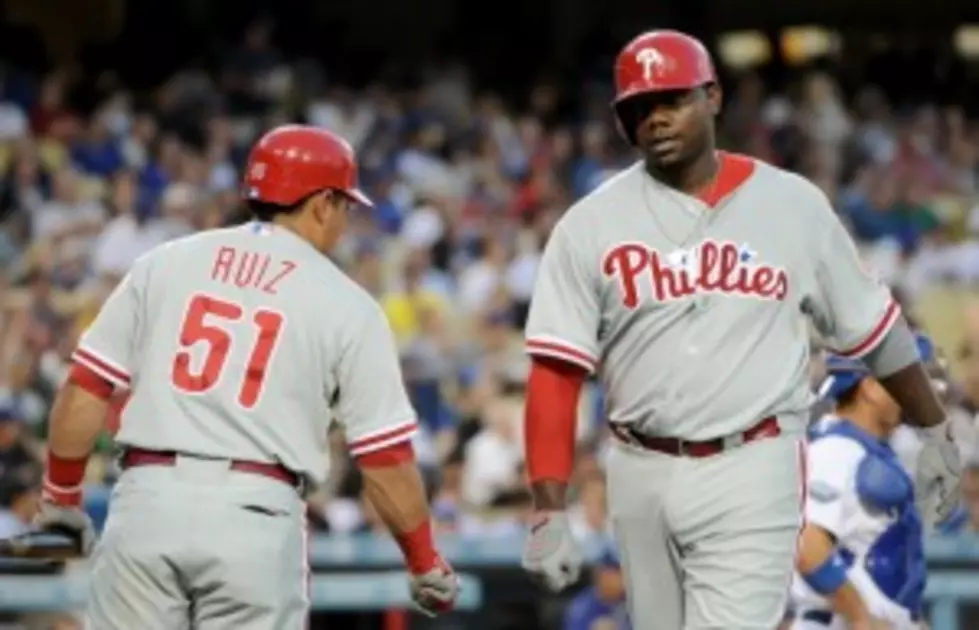 Jayson Stark: Phillies Trying To Give "Real Team" A Chance Before Trading Cole Hamels [AUDIO]
Most have termed the Phillies first half "luckless." Funny.
Because all the sums of all the parts gone wrong -- protracted injuries to Chase Utley and Ryan Howard and Roy Halladay, and underproduction from Cliff Lee and, basically, everybody else -- have landed them in this curious position of leverage on the Cole Hamels front. They're all but mathematically out of contention, even with the expanded wild card format. And yet, given the timings of Utley's and Howard's and Halladay's returns (Roy's due back tonight) relative to the July 31 trade deadline, they can play the "Wait And See" card.
And that's exactly what they're doing, according to ESPN's Jayson Stark.
"If you were to look at the standings, you wouldn't believe their stance on this. ... And they're still telling other teams they're not ready to sell. They wanna give their 'real team' a chance, is what they're saying. This is going to drag on for at least another week, week-and-a-half."
At which point, they hope, the convergence of a hot streak (at 3-1 since the break, the Phils are off to a good start) and the deadline will make enough potential buyers antsy enough to shell top MLB players or minor league prospects for Hamels on a rental. Especially for those (Rangers, Angels) with hopes of spending the next two months wooing Hamels away from the Phillies and Dodgers come free agent talk time.
Why anybody would buy their play, I don't know.
"Let's just think about the reality here. Just to get to the second wild card, not only do they have to make up 10 games, they have to pass seven teams. To get to 91 wins, they'd have to go 51-20, and they just finished a stretch in which they went 8-20. So reality says they're just going to run out of time to get back into any race, no matter how they play."
But they're playing it hard. That's why twice Phillie sources leaked word -- first of a "substantial offer," then of a "free agent-type" offer -- of impending deals for Hamels, without actually offering a deal. They're pretty clearly trying to invoke fear in league GMs that he might soon be off the table for good.
Whether it works? Guess we're sucked into the "wait and see" shenanigans too.