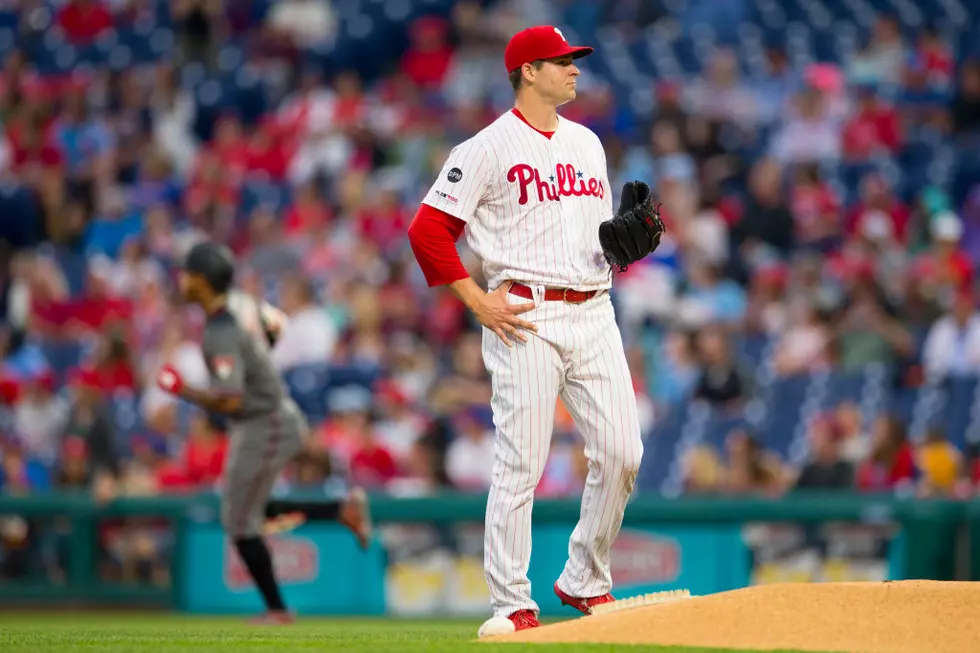 Jerad Eickhoff Loses Spot in Phillies Rotation
Jerad Eickhoff looks on after giving up a solo home run to Ketel Marte on Monday (Mitchell Leff/Getty Images)
Monday's loss to the Arizona Diamondbacks set a record for home runs in a major league baseball game.  Of the 13 hit that night, five were given up by starter Jerad Eickhoff.   Eickhoff lasted just three innings and allowed seven earned runs.  That was enough to cost himself a spot in the starting rotation.
Perhaps the Phillies would acquire an arm by then.
It is unclear whether or not the Phillies would consider using Vince Velasquez in the starting rotation again.  Velasquez has been up in down in a relief role since being removed from the starting rotation in favor of Nick Pivetta, whose own demotion led to Eickhoff joining the rotation.  The Phillies may need Velasquez in the back end of the bullpen right now too much to consider that again.
The Phillies are expected to be active on the trade market looking for a starting pitcher, among other needs.  While the club decided against signing free agent pitcher Dallas Keuchel, the club could add a left-handed starter in the six-plus weeks before the July 31 trade deadline.
Eickhoff is 3-4 with a 5.02 earned run average in 11 appearances, 10 of them starts.  The Phillies can option Eickhoff to the minor leagues, if they choose.  However, they made no moves ahead of tonight's game against the Arizona Diamondbacks.