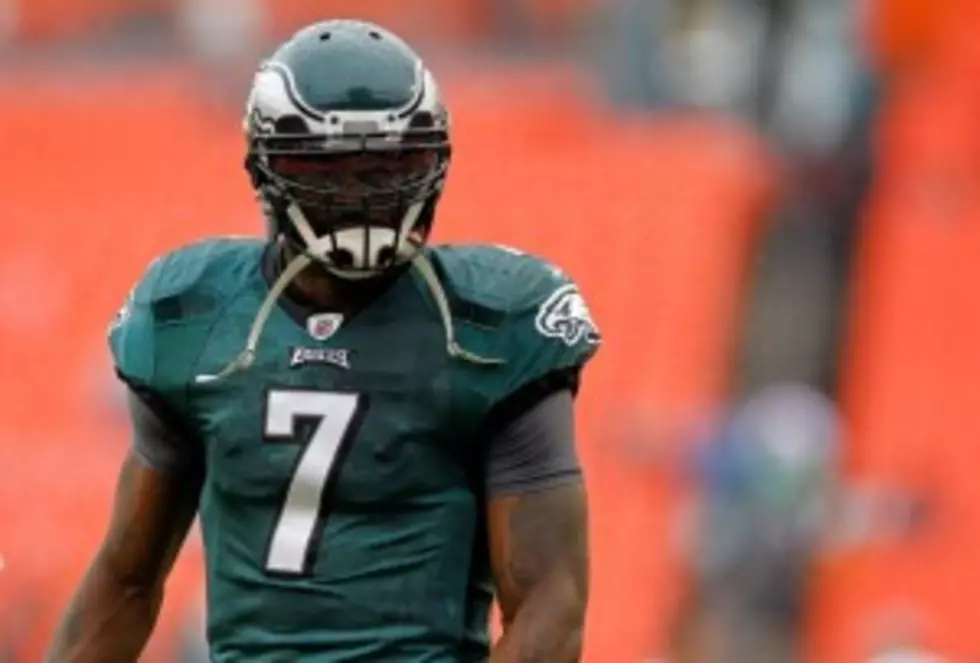 Jeremy Maclin: 'Mike [Vick]'s The Big Dog'
Look past what was, no doubt, a pretty patently poor choice of words. (Think the guy was on the spot and just let it roll. Think that's also why, as you'll hear in a sec, he stutters.)
Because what Jeremy Maclin said, to Daily News Live on the court that Allen Iverson was about to swag tap all over and the Sixers (or CEO Adam Aron, by virtue of bringing back Iverson) were about to reclaim the awe of the city, was also pretty telling about the structure and hierarchy and order of leadership -- and blame.
Said Maclin: "At the end of the day, Mike's the big dog. We listen to him. We call him 'big bro.' He keeps everybody in line. He keeps everybody (in check).
"But what I appreciate and what I like about what we got going on is that it doesn't matter if it's me saying something or Mike or even Chad Hall -- it doesn't matter who's saying something. If I'm doing something wrong, I don't mind Chad coming up to me and saying something. I think that's the type of deal of respect we have for each other.
"And I think that's what takes an 8-8 team to a 13-3 team. And I think that's what we're on the verge of doing that."
(1) If Vick's the (how can I put this more tactfully...) leader (easy enough...), that's also gotta make him the fall guy if this all-in thing blows up. Maybe a little unfair. But that's how it works.
(2) That order was always something of an ambiguity -- until now. Before that snippet, we knew that players revered and loved and would trek the country to play with Vick. But communication was so disjointed, accountability seemed so scattered, we never really figured that out for realsies on our own. After? Well...
(3) That a team that's most distinguishable for the absurd amount of money thrown at it, like, 37 seconds ago to talk like every member of its ranks is equal to the next is pretty refreshing stuff. Or, basically, how Maclin put it: worth (at least) five games. (Maybe the same five games that were blown in fourth quarters a year ago. Because of a number of factors. But not the least of which was disunity.)
Then there's this: What Maclin said about his own situation, which, yeah, is kinda quirky in that none of the guys to get bumps this off-season -- DeSean Jackson and Shady McCoy were second-round picks, Todd Herremans a fourth, Trent Cole a fifth -- were, at least in terms of in-the-draft investment, as significant a piece in the organization as he was when he was taken in the first round three years back. And he's just kinda chillin, waiting for his. (Or not.) Give a listen...
Said Maclin: "I'm not the type of guy that goes out there and counts all that stuff. That's not me. It's (all) about what I can do for my team. And whether that's catch 100 balls, that's catch 100 balls. Whether that's catch 60 balls, catch 60 balls. That's really the kind of person I am, and I think everybody who's seen me the last three years in Philadelphia understand (sic) that. I'm just out here trying to do what I can ... get that ring on our finger."
And then there's that. Super Bowl talk. Fun.