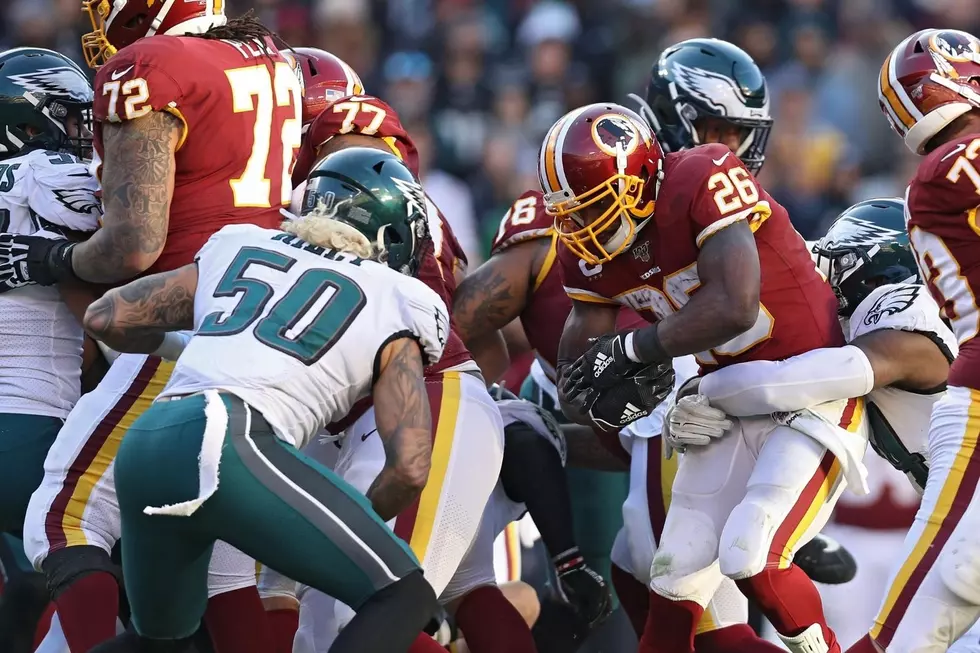 Eagles LB Duke Riley Offers an Intriguing Skillset
Photo by Patrick Smith/Getty Images
The long-awaited commencement of the 2020 NFL season is just three weeks away -- yet the oft-maligned Eagles' linebacking corps remains an area of concern.
Of the team's seven remaining linebackers, only three have started an NFL game, collectively combining for 35 career starts.
Hardly household names, the unit is largely comprised of youth and inexperience.
T.J. Edwards, who made the team last summer after going undrafted, fronts the unit. Edwards played in all 16 games last season, accumulating four starts. While the Wisconsin product is primarily noted for his outstanding run defense, Edwards has reportedly looked more fluid and comfortable in pass coverage in his second training camp. If the stars align for Edwards in 2020, he could be in for a breakout sophomore campaign.
Edwards running mate in two linebacker sets will in all likelihood be fourth-year pro Nathan Gerry. In 12 starts last season, Gerry racked up 78 tackles (4.0 for loss), five passes defended, 2.5 sacks, two interceptions, a forced fumble, and a touchdown.
Like it or not, Gerry -- who would undoubtedly occupy a niche role on most teams -- is a starting linebacker on the Eagles. There are glaring flaws in Gerry's game, but the 25-year-old has made encouraging strides in each of the past three seasons.
With the top spots permanently etched in stone, who seizes the role of third linebacker?
Jim Schwartz deployed three linebackers just 20.7 percent of the time last season. However, the lack of substantial depth behind Edwards and Gerry leaves Duke Riley, Davion Taylor, Shaun Bradley, Alex Singleton, and Dante Olson vying for the third spot on the depth chart.
Taylor and Bradley are rookies that require additional seasoning, and Alex Singleton will be counted on for special teams with Edwards and Gerry taking on prominent defensive roles. Olson will have an arduous climb just to garner roster consideration.
Despite joining the team in late-September, Riley quickly entrenched himself as a core third phase performer. Appearing in 12 games with the Eagles, Riley played 254 snaps on special teams, accounting for 56 percent of the total. Riley finished fourth on the team in snaps behind Gerry, Edwards, and Douglas, but his leadership was not lost on his new team. Following a season-ending injury to fellow linebacker Kamu Grugier-Hill in December, Riley was named a team captain the rest of the way.
The fifth-year pro may not possess prototypical size for the position, but Riley is unquestionably the team's most athletic second level defender. Known for his sideline-to-sideline range, blistering closing speed, and astute coverage acumen, Riley is best-equipped to step into Grugier-Hill's old role.
Riley's size likely caps his ceiling, but after a full offseason to dissect the playbook, his progression appears to have finally caught up to his innate intangibles.
"Duke has great speed," Schwartz said in a Zoom call with reporters on Monday. "He's not the biggest linebacker in the world but he does have good movement skills and good speed. He's not in a situation where he's trying to learn the defense during training camp. He was learning sort of in the middle of last season.
"But you can see him sort of present his skillset a little bit more clearly when it's not in the middle of the season and you're just preparing for a specific opponent and you're also trying to prepare guys that you're expecting to play in the game. He's had a good training camp so far."
Enter your number to get our free mobile app
KEEP READING: Here are 50 of the most famous sports goofs