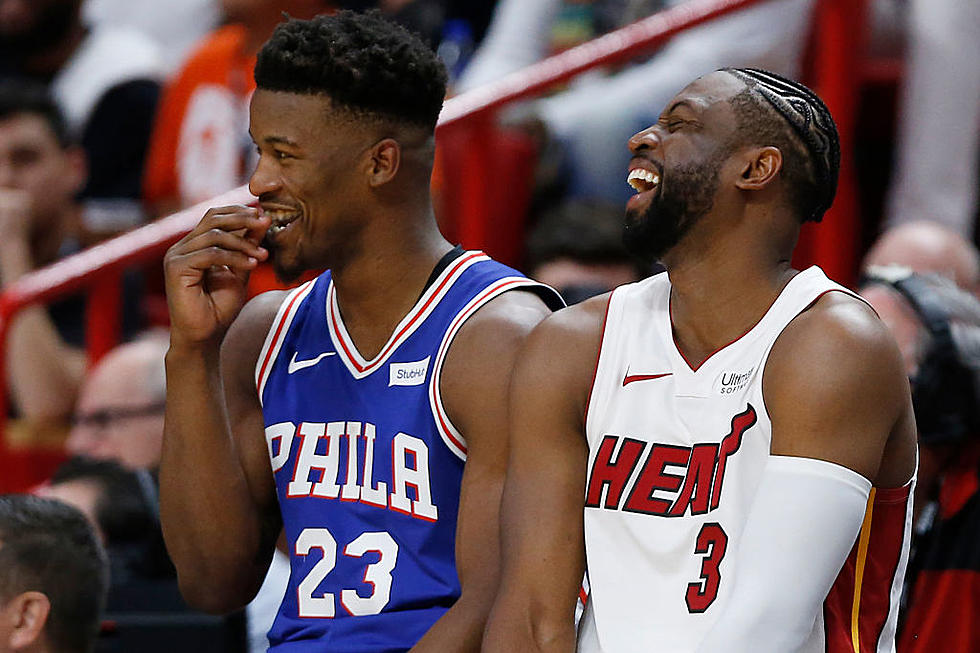 Jimmy Butler Documented Beginning of Free Agency Journey
Michael Reaves, Getty Images
The start of the 2019 NBA Free Agency period was one to remember for the Philadelphia 76ers. Although it didn't go the way everybody expected it to, it was entertaining, nonetheless. Before the Sixers officially wrapped up the 2018-2019 season, their General Manager Elton Brand was supposed to give everybody an update on the team's plans.
Were they going to get Jimmy Butler back? How about Tobias Harris? In the eyes of Brand, he confidently saw them both coming back. At this point though, it has been made official that's not exactly the case. Tobias Harris will make his way back for the 2019 season and beyond -- but Jimmy Butler is headed elsewhere.
For a while, Butler had the city of Philadelphia confident in his potential return. As he left the city with the impression that he fits the blue collar, die-hard, winning mentality -- it felt like it wasn't going to be an uphill battle to retain Butler, despite him having significant interest from other potential powerhouse teams such as the Los Angeles Lakers or the Houston Rockets. But it turns out, that was never the case.
Butler is more than just a basketball player, as he frequently contributes to his YouTube account with video blogs, documenting his adventurous life. And thanks to his content, we also found out that Butler's basketball decisions don't just fall on him or his agent personally. As Butler has a team of friends and family who follow his every move, he allows them to help make him make the decision of where he wants to land.
The move to Philly wasn't optional, as the Minnesota Timberwolves traded him. But his next destination for the 2019 season and beyond could be selected by Butler and his camp. And in his latest upload to his YouTube channel, Butler let his viewers in on a sneak peek on how his decision was coming together. And had this video surfaced before Sunday nights sign and trade with the Miami Heat, Sixers fans probably would've given up hope on Butler's return to Philly rather quickly.
What was Butler looking for in his new team? A place with warm weather. I'm not kidding -- in a conversation between Butler and his friend, Jimmy would ask where he prefers to go. His friend answered with, "I'd like to see you play somewhere warm." Butler then agreed and got excited over the fact that there's a strong possibility he could end up on the West Coast or down in South Beach.
Obviously, we now know that Miami was the desired landing spot for Butler. While there were talks of him potentially landing with the Houston Rockets, he wasn't as thrilled with that idea. There weren't too many mentions of the Sixers as Butler sat down with his camp. But when Philly did come up, it became evident that Butler and his friends liked Philly a lot at first, but began to fall out of love with the idea of staying there long-term.
Was it the cold weather in the winter time? Perhaps, it was the relationship with Brett Brown, which Butler might've hinted at a potential falling out in his video. There's no definitive answer, as Butler left everybody in the dark with that situation. But regardless of the reasoning, the Sixers made the logical decision of dealing Butler as it became clear that he didn't see a future in Philly.
Justin Grasso covers the Philadelphia 76ers for South Jersey's 97.3 ESPN. You can follow Justin on Twitter: @JGrasso_