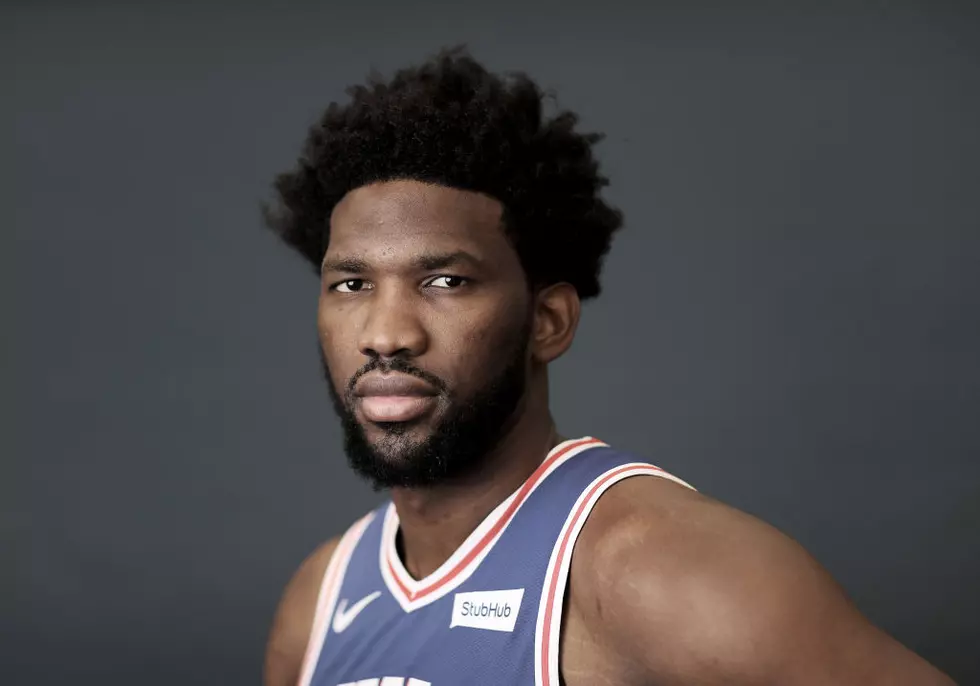 Joel Embiid Faces One of His Most Difficult Challenges to Date
Elsa, Getty Images
CAMDEN, NJ (973espn.com) -- Playing up against Philadelphia 76ers center Joel Embiid is a tough task for most players in the NBA. As his newest teammate, and former conference opponent, Al Horford put it on Monday, "He's the best big man in the league."
Not everybody will agree with Horford's assessment on Embiid, but many cannot deny the fact that the Sixers' center is at least one of the best in the league right now. Offensively and defensively, Embiid is a force in the NBA -- but his game wasn't the only factor that made it difficult to play against him.
As one of the league's most outspoken players, Embiid quickly established himself as a notorious trash talker. From the moment he got drafted back in 2014, Embiid couldn't stop talking. It started on social media, as he rehabbed from lower-body injuries early on in his career. Once Embiid actually got on the court though, he would verbally let every opponent know just how he feels, without a filter.
What's the reasoning behind Embiid's trash talking? Well, some say it's purely cockiness for a guy who can simply back it up. In Embiid's eyes though, it's just pure motivation for himself. "I kind of need that extra motivation sometimes," Embiid says.
"You know -- before a game playing against a guy that people might say is better than me... It doesn't matter who. [Whether it's] a big man or a guard, anybody else [if] people say they are better than me, I just feel like I gotta' show people that I'm better than them too."
After falling to No. 3 overall on draft day years ago due to a foot injury, perhaps Embiid could feel slighted by the two other teams passing on him. And after dealing with loads of criticism due to a lack of playing time early on, Embiid could've been out seeking revenge as he's on a mission to prove to the league that he's one of the best after injuries regarded him as a first-round bust early on.
Whatever his bottom line reasoning may be, Embiid no longer feels he needs to motivate himself in such a way. As he enters his fourth year in the NBA, the Sixers' big man has plans to stop his trash talk for the 2019 season. Well, at least that's what he said on Monday. However, on Tuesday, he didn't sound as sure.
"I'm not talking trash ever again," Embiid stated Monday on ESPN writer, Zach Lowe's podcast titled 'The Lowe Post.' The quote blew up on social media as many were shocked to hear those words come out of the All-Star's mouth. Considering how much trash talking has become a signature of Embiid's game, the news went viral.
Will it hold up, though? That becomes one of Embiid's toughest challenges to date. His reasoning for wanting to stop makes total sense, but sometimes, things are just way easier said than done. And silencing Joel Embiid may be difficult than guarding him. Even he knows this himself.
"I just want to play basketball," Embiid says with a smirk. "That's what I say now -- I mean... it's fun! (Laughs). Trash talking is fun. A lot of people say it's a bad thing, but it's just fun -- especially for me." So far, Embiid's spirits are high with the trash-talking factor on hold. We'll see if that holds up as time progresses though.
 Justin Grasso covers the Philadelphia 76ers for South Jersey's 97.3 ESPN. You can follow Justin on Twitter: @JGrasso_