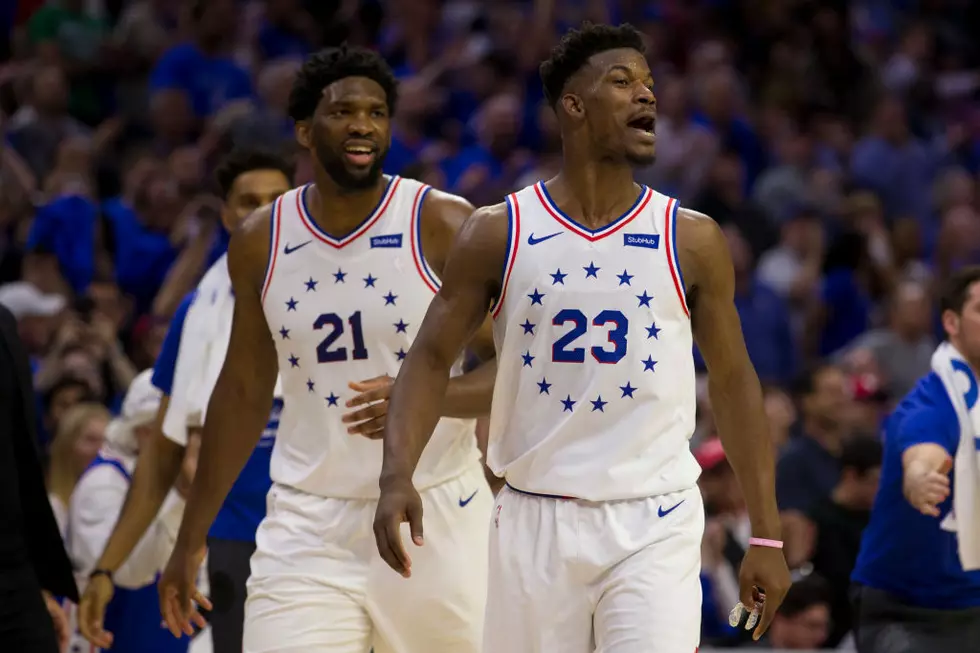 Joel Embiid Is Learning a Lot From Jimmy Butler This Year
Mitchell Leff, Getty Images
The Philadelphia 76ers are feeling lucky to have veteran forward Jimmy Butler this year. Despite the negative rumors of behind-the-scenes spats between Butler and his head coach, Brett Brown - the Sixers haven't quite had a veteran leader like this since they have started making the playoffs with their young core. Sure, JJ Redick was around for last year's run, but this time around is different with Butler being the frontrunning veteran on the court.
Looking at it from a statistical standpoint, Butler has been a force for the Toronto Raptors. Since the Eastern Conference Semi-Finals had begun, Butler has been averaging 23 points-per-game, which is a significant upgrade from his regular season average of 18.7 points-per-game. You could easily say that without Butler, the Sixers could realistically be at home watching the remainder of the playoffs due to being eliminated.
However, that's not the case. Butler has helped turn the Sixers into a scrappy team that won't go down easy. Last year, the Sixers were a team who struggled to get past a Game 5 as the underdogs in the second round. This year, they are forcing a Game 7 against a team they have historically struggled to defeat - especially on the road. And thanks to Butler, the Sixers' most signficant young star is taking in the experience and using it to his own personal advantage for future playoff runs.
As of right now, it's unclear as to wether Jimmy Butler is going to be a part of the 76ers beyond this playoff run or not. If he ends up finding himself elsewhere in 2020, at least he would leave a lasting impact on Sixers' center, Joel Embiid. As perhaps the most important player for the Sixers of this era, Embiid needs to do more than just dominate on the court. He needs to be able to step up into a leadership role and get other young players looking up to him to follow his lead, just like how he did with Butler.
The day before the Game 7 battle against the Raptors on the road, the Sixers were present at Toronto's visiting practice facility getting a workout in before the big game. According to Sixers' reporter Brian Seltzer, the team seemed loose, in a good way. Everybody was excited to get going, but also, the confidence was high. And while the players mostly looked forward to the game they were preparing to play, Embiid took a step back and reflected on the process of learning from Butler.
"I know to become a better leader you also got to watch and learn from a better example. Him [Butler] being here has taught me that just because he's always on top of everything basketball wise he's helped me a lot, becoming a better man. Just being on time, just showing up every game, or just having a better relationship as a leader with my teammates. He doesn't have to say anything."
Embiid's quotes regarding leadership come in perfect timing after his own actions were questioned roughly about a week ago. Despite not being even close to one-hundred percent health-wise, Embiid disappointed former players-turned-analysts Shaquille O'Neal and Charles Barkley. As they described Embiid's actions as 'draining' for his surrounding teammates, it seems as though the Sixers' big man took those quotes into account and switched up his body language and attitude the following game.
As Embiid entered the Wells Fargo Center during a do-or-die Game 6 with a smile on his face, the Sixers produced a convincing victory as a whole. Their entire performance was like night and day compared to the two games that Embiid was visibly sick. A bit of a coincidence. Now that Embiid knows he has to lead by example as he 'learned from a better example' the Sixers will expect the big man to have much more of an impact on the team moving forward, whether they end up retaining Butler for next year or not.
Justin Grasso covers the Philadelphia 76ers for South Jersey's 97.3 ESPN. You can follow Justin on Twitter: @JGrasso_