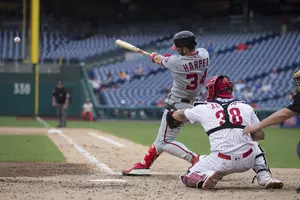 Latest Rumors: Waiting on Machado, Phillies and Harper to Meet
The Phillies are reportedly set to meet with Bryce Harper (Mitchell Leff/Getty Images)
The second day of 2019 turned out to be a very active one for the rumor mill in Major League Baseball.  The Phillies, with pockets flush with cash, are far from completing their final roster before pitchers and catchers report to Clearwater next month.  While the Phillies wait for a decision from Manny Machado, the club is set to meet with free agent Bryce Harper.
Here is a rundown of the latest on the Phillies and the two superstars:
Harper and Phillies to Meet
Even while they negotiate with Machado, the Phillies remain interested in outfielder Bryce Harper, the other megastar on this winter's free-agent market. In fact, a person close to the player tells NBC Sports Philadelphia that a face-to-face meeting between Harper and Phillies officials is being planned for "the next week or so," in Harper's hometown of Las Vegas.
Salisbury also notes the Phillies remain in their pursuit of Machado and a reliever.
Nationals and Harper Have Long Sit-Down
Janes says that mega-agent Scott Boras is negotiating directly with owners and not team front offices.  Janes does not believe that this necessarily makes a deal likely, however.  The best deal would still likely land Harper.
Phillies Are Willing to Give 10-Year Deals to Superstars; Others Will Not
The Social Media Habits of Machado
Machado caused a bit of a fervor the other night, when he followed the YES Network on Instagram, Jon Heyman of Fancred Sports noted.  The YES Network is the Yankees-owned regional sports network.   After a significant buzz, Machado then unfollowed YES on Instagram.
Does it mean anything? We will find out.