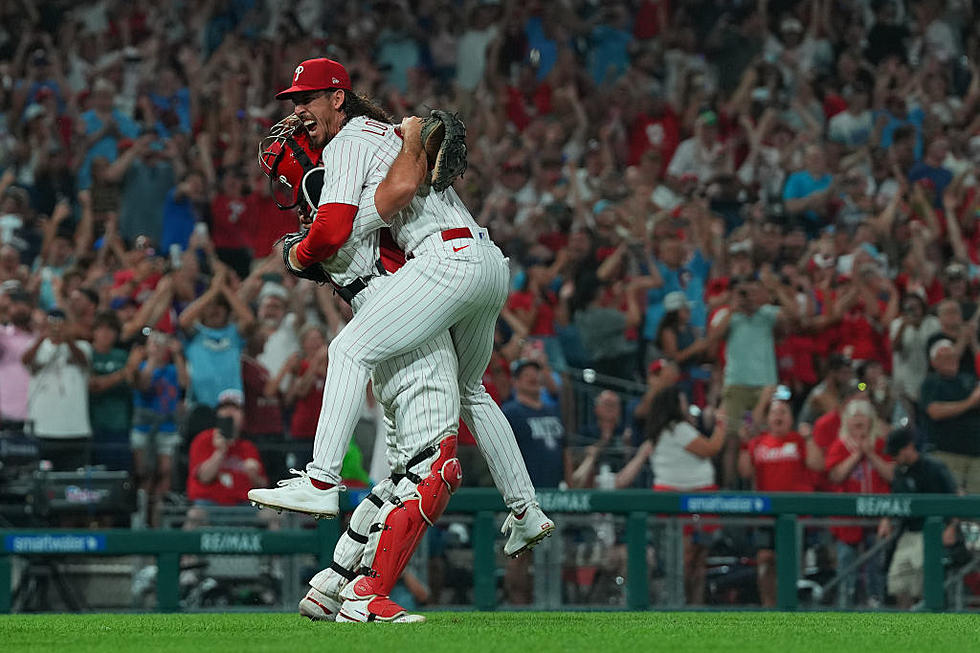 Lorenzen's Phillies Debut No-Hitter Was a Night for the Ages
Michael Lorenzen and J.T. Realmuto celebrate a no-hitter (Mitchell Leff/Getty Images)
In case you are living under a rock and are just happening to head to 973espn.com on your web browser, Phillies starting pitcher Michael Lorenzen pitched a no-hitter in just his second Phillies start and first ever home start in Philadelphia.  Much like the last Phillies no-hitter, by Cole Hamels in July of 2015, this was a game filled with memorable story lines.
Storyline 1: Michael Lorenzen Makes his Phillies Debut at Home
The leading trade deadline acquisition, 2023 MLB All-Star Lorenzen had what was probably his best start of 2023 with the Phillies in his first Phillies start.   On August 3 against N.L. East foe and Wild Card competitor Miami Marlins, Lorenzen went eight full innings, the longest start of the year for Lorenzen.
Sure, he had some outings in which he allowed no runs.  But none of those starts exceeded 6 2/3 innings.  Allowing two earned runs, Lorenzen helped the Phillies create some space in the standings with the Marlins, who most of the season were ahead of the Phillies in the Wild Card and N.L. East standings.
Could he do better than that in his first home start?
And the great Jayson Stark of the Athletic is of course the one to look to for finding the stats that make your jaw drop. 
Here's what he came up with
The closest deadline deal no-hitter: Mike Fiers of trashcan-gate snitch fame threw a no-hitter for the Houston Astros upon his deadline trade from the Milwaukee Brewers in his fourth start against the  Los Angeles Dodgers.
"According to MLB.com's Sarah Langs, via the Elias Sports Bureau, only four pitchers besides Lorenzen have pitched a no-hitter in their first start at home with a team:• Don Cardwell, Cubs: May 15, 1960 • Jay Hughes, Orioles: April 22, 1898 • Bumpus Jones, Reds: Oct. 15, 1892 • Ed Cushman, Milwaukee Cream Citys: Sept. 28, 1884"
Only once had he gotten an out in the ninth inning of a big-league start (May 1, 2022, as an Angel).
 But of course there is more because Jayson Stark does Jayson Stark things.  Check out his Athletic piece. 
Storyline #2: Weston Wilson has Very Impressive Major League Debut The Philllies signed utility player Weston Wilson as a minor league free agent.  Drafted and playing his minor league career in the Milwaukee Brewers system, he never had an opportunity to play in the major leagues.  After the injury to Brandon Marsh on Saturday, Wilson got the call.  Wednesday was his first opportunity. The Phillies put him into the lineup in left field, and batted him seventh, below Rodolfo Castro. His family in the stands, he did not disappoint.
Wilson's first major league at bat was a home run:
"You only get one chance to homer in your first at bat in the major leagues".
Wilson's father was indeed brought to tears at the sight.  But beyond that home run?  Wilson never got out.
Wilson walked two times.  He stole a base after his first walk.  Beyond that, he scored every time he came to the plate: on his home run and after each of his two walks.
The incredible debut from Wilson leaves a nice box score:  His batting average is 1.000 and his OPS is 5.000.
That might come down slightly in the coming days.
Storyline 3: Trea Turner Appears to be Back
Phillies shortstop Trea Turner continued his rebound.  After a coordinated effort from Phillies fans to give Turner standing ovations during the most recent weekend series against the Kansas City Royals, Turner seemed to continue to turn things around.  In the leadoff spot in place of Kyle Schwarber, Turner did not hit like someone batting as low as eighth in recent days.
Turner went 2-4 on the night.  They were both singles.  However, the hits gave Turner a six-game hitting streak.
In his last seven games, he is batting .346 with an OPS of .985.That sounds like someone who is coming out of his funk
For his appreciation for Phillies fans giving him vocal support, Turner took a billboard out on I-95 to thank fans. 
Storyline 4: Nick Castellanos Has Shaken off Slump
Phillies right fielder Nick Castellanos struggled in his inaugural season in Philadelphia.  But a rebirth in 2023 led to an All-Star appearance.  After the All-Star game, Castellanos struggled a little bit.
Looking at his last 30 games, Castellanos is batting just .185.
The last seven games shows how good he's been, considering those seven game are part of that 30.  With two home runs on Wednesday night, Castellanos is batting .321 in his last seven games with four home runs. That's been good for a 1.090 OPS during those last seven games.
The second home run was the 200th of his Major League career.
His son Liam is always an interactive presence at home games.  He was rooting his dad along on Wednesday.
How many cities have come to know the children of their players?  That was a storyline on Wednesday's broadcast.
Storyline 5: The Phillies Currently Hold the First Wild Card
Looking at the standings, the Phillies probably will not catch the Atlanta Braves.  Down Bryce Harper and Ranger Suárez in the early going, the Phillies struggled out of the gate.  But they are well positioned for the playoffs.
At the end of play on Wednesday night, the Phillies hold the first Wild Card in the National League, 3.5 games above the third team, which is currently the Miami Marlins.  The San Francisco Giants are one game behind the Phillies for the second wild card.
The Chicago Cubs are surging and the Cincinnati Reds also are a threat.  Both clubs are .5 games behind the Marlins for the third Wild Card.
The Arizona Diamondbacks, once up in the standings, are now one game below the .500 mark and are now 2.5 games behind the Marlins for the third Wild Card, and 6 games behind the Phillies.