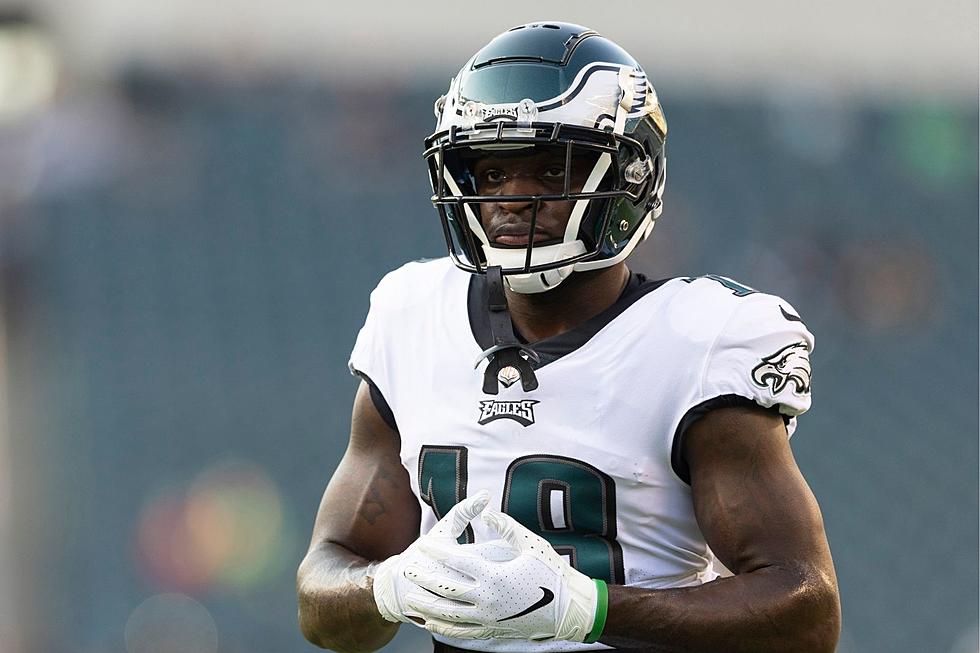 NFL Insider explains who made decision for Eagles to draft Reagor
(Photo by Mitchell Leff/Getty Images)
In the aftermath of the Philadelphia Eagles ugly 13-7 loss to the New York Giants, many people are zeroing their attention on second-year Eagles Wide Receiver Jalen Reagor. The 22-year Old Wide Receiver drafted in the First Round of the 2020 NFL Draft out of TCU, had two drops in the Eagles' loss that if he makes one of those catches, the Eagles could have won the game on Sunday.
The day after the worst game of Reagor's NFL Career, ESPN Senior NFL Insider Chris Mortensen was a part of the group of analysts on the ESPN show "NFL Rewind" and wanted to set the record straight on the Eagles situation with Jalen Reagor:
"What people (misunderstand) is number 18, Jalen Reagor, he was the guy the Eagles took ahead of Justin Jefferson last year in the (2020) NFL Draft and listen as the story goes and nobody's has denied it: it was Doug Pederson, and I like Doug the former Eagles' Head Coach, and Howie Roseman the (Eagles General Manager) who (both) decided they wanted Reagor over what their (Player) Personnel Draft Board said which was Justin Jefferson (at the 21st Overall Pick). And so they took Jalen Reagor, he's a bust, but when you put him on the field, and they continue to put him on the field, (opposing defenses) basically takes away Devonta Smith because they know (the Eagles) want to target a certain player. So the answer is don't have him on the field in those situations, he's not going to catch the ball"
That's a lot to digest for anyone considering Chris Mortensen is one of the best, most reputable NFL Insiders of the last 30 years covering the league. The fact that former Eagles Head Coach Doug Pederson along with the man in charge of the Eagles' Front Office Howie Roseman together overruled their Draft Board to select Jalen Reagor is an ominous note. The man who is building that 2020 NFL Draft Prospects Board is Eagles VicePresident Of Player Personnel Andy Weidl, who has been a part of the Scouting Department and Player Personnel for two organizations when they won Super Bowls: the 2017 Eagles and 2012 Ravens. For both Roseman and Pederson to agree on passing over current Viking Wide Receiver Justin Jefferson, the player that Weidl's Draft Board said to take, in favor of draft Jalen Reagor is eye-opening. Jalen Reagor is statistically one of the worst Wide Receivers in the NFL this season:
The other part of what NFL Insider Chris Mortensen said, calling Jalen Reagor "a bust" and saying he shouldn't be on the field, flies directly contrary to what current Eagles Head Coach Nick Sirianni said about Jalen Reagor at Monday's press conference:
"(Jalen Reagor) does work extremely hard in practice to get himself better. When he had those opportunities (Sunday)...we all wanted him to make that play. Nobody wants him to make that play more than himself, either. - But what you want out of every player, not just Jalen, right, you want out of every player: consistency. I think what we saw yesterday is that he wasn't consistent throughout the game. He knows that, we have already talked to him about that. - We go out there and we're seeing who gives us the best chance to win. We played all five wideouts yesterday: Greg [Ward] played seven plays, J.J. [Arcega-Whiteside] played fifteen plays, then obviously the guys that started...so, I'm comfortable with the roles they're in right now. I have not thought about (benching Reagor) and not thought through that because I don't think that's in the best interest of the team because I think Jalen Reagor gives us the best chance to win."
Sirianni talking about Reagor sounds very much like former Eagles Head Coach Doug Pederson talking about Nelson Agholor. No one denies that players like Reagor and Agholor are working hard, they made the roster and get playing time over other Wide Receivers for a reason aside from being drafted in the First Round.  But their draft slot seems to be the thing that the Eagles' organization is holding on to the most. Just because Doug Pederson and Howie Roseman wanted Jalen Reagor doesn't mean that Nick Sirianni has to play him 68 percent of the Eagles Offensive Snaps this season (compared to Greg Ward playing just 20.4 percent of the Eagles Offensive Snaps this season). Just because Jalen Reagor is the son of former Eagles Defensive Tackle Montae Reagor (Just an FYI: Montae played SEVEN GAMES in an Eagles uniform) doesn't mean the organization should have this special loyalty to him or the family.
At this point, only one group of people in the Eagles organization have gotten their evaluation of Jalen Reagor: Andy Weidl and the Eagles Player Personnel who work under him. From Howie Roseman to Doug Pederson to Nick Sirianni to other Eagles coaches, they all sound like they are in denial about who and what Jalen Reagor is at this point.
Top Ten Eagles Wide Receivers in Franchise History