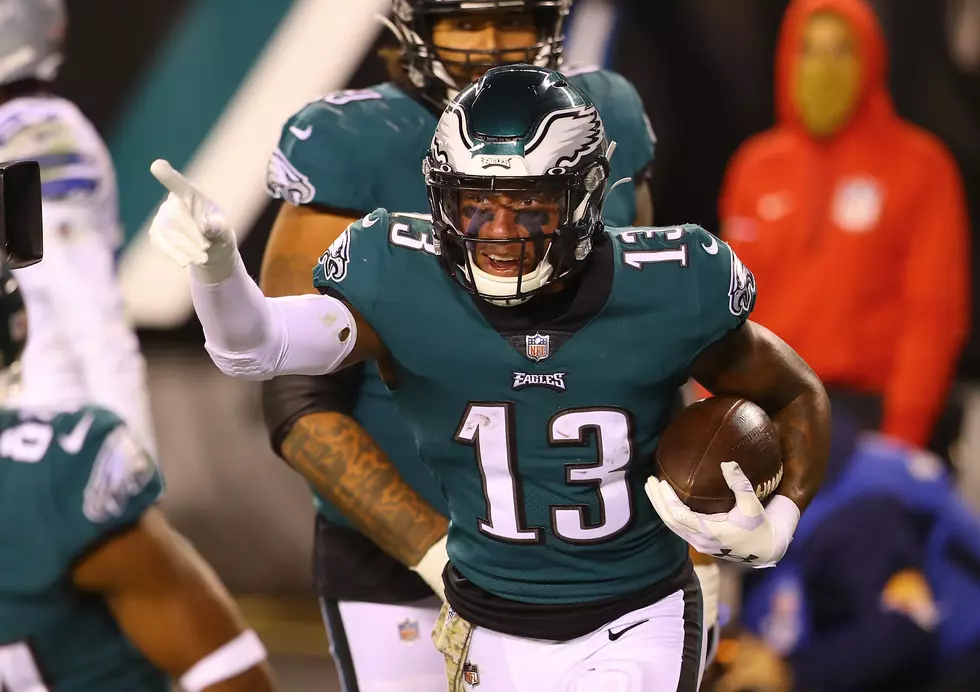 Observations from a Dismal Eagles' Win Over the Cowboys
Getty Images
The Eagles (3-4-1) enter their bye week following an ugly prime-time victory over the Dallas Cowboys (2-6). As inept as they looked on offense throughout much of the game, the Eagles received immense support from the defense, which enabled them to pull away in the second half.
Jim Schwartz's unit pounced on rookie quarterback Ben DiNucci, registering four sacks and two forced fumbles. The defense performed as expected against a deplorable Cowboys offense. Still, the offensive output left much to be desired and will now have an extended idle period to correct reoccurring issues.
Let's get to the observations.
Erratic quarterback play continues
Let's start with the obvious: The Eagles won on Sunday night despite Carson Wentz.
The fifth-year quarterback committed four inexcusable turnovers through three quarters, despite improved offensive line play and the return of two prominent offensive components. Wentz's propensity to hold onto the ball too long and fall away from throws was once again a glaring issue.
Against a historically horrid Cowboys' defense, Wentz managed to complete just 15-of-27 pass attempts for 123 yards, two touchdowns, two interceptions, and two critical fumbles. Sure, the Eagles ultimately pulled away late in the game, but they won't win many games with this kind of lackluster quarterback play.
Teams typically take the good with the bad with signal-callers with a hero ball mentality, but there is a fine line between aggressiveness and recklessness.
"I'm going to stay aggressive, I'm not going to change who I am. But I can protect it better," Wentz said after the game."
Questionable coaching decisions resurface
While Doug Pederson has committed his share of blunders this season, his coaching effort on Sunday night was rather troublesome.
In a game in which the Eagles' offense needed to simply exist and avoid critical miscues, it operated as a dysfunctional mess. While he coached an aggressive game, Pederson was too cute with his play-calling against a defense that hadn't stopped anyone all season -- run your offense!
Many of the head-scratching decisions came in the first half. The ill-timed Philly Special attempt on a 3rd-and-6, out-route on 4th-and-1, and going for it on 4th-and-3 on the Cowboys' 44-yard line -- all in the second quarter -- immediately spring to mind.
Fortunately for Pederson and the Eagles, they'll have a sorely-needed bye week to regroup and reassess before a daunting slate of games.
Travis Fulgham is the real deal
For as much grief as the Eagles' evaluators receive for their oft-scrutinized decisions, they undoubtedly hit one out of the park by stumbling on Fulgham.
Of course, Fulgham was waived twice in nine days from two teams over the summer before joining the Eagles in late August. The Old Dominion product failed to crack the initial 53-man roster but fostered enough intrigue in limited practice time to stick on the practice squad. As they tend to do, injuries eventually mounted, thrusting Fulgham into the spotlight.
Fulgham has ascended from an obscure second-year player scratching and clawing to find his footing in the NFL to the Eagles' top receiver in a remarkable twist of fate. Fulgham has amassed 29 receptions for 435 yards and four touchdowns on 44 pass targets through five games. His rapidly growing rapport with Wentz is unmistakable, and has become among the league's most productive pass-catchers over the past five weeks.
As the Eagles prepare to embark on the most difficult part of their schedule after the bye, they'll do so with one of the top feel-good stories of the season fronting the aerial attack.
Enter your number to get our free mobile app
Eagles Head Coaching Wins All-Time