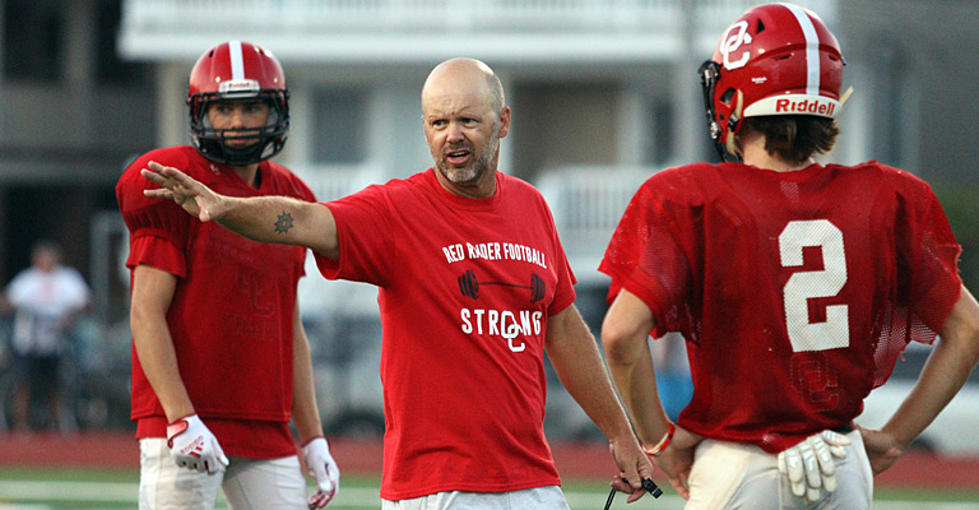 Ocean City Football Team Has a New Goal, Winning Championships
Photo: Sully, Glory Days
Two years ago Ocean City played for a South Jersey Group 4 championship, ultimately falling to Shawnee, and last year the Red Raiders made it to the "championship game" of their "playoff pod" in a weird, Covid-19 shortened season. That game ended at halftime, as a Williamstown player was discovered to have been in close contact with someone who tested positive for Covid. Just like that, the 2020 season was done, the seniors who had given so much to the Red Raiders program for four years forced to just pack their bags and clear the field.
But Ocean City got right back to work. The Red Raiders are no longer in the building phase when it comes to their football program. They're expected to be one of the top teams in South Jersey, and even losing a host of talented and experienced seniors won't limit this expectations that this football team not only has for itself, but those that are put on it from the outside.
Ocean City has become the hunted.
"That building phase, you showed up every day focused and energized because you knew there was so much that needed to be done. This is a bit of a different challenge," head coach Kevin Smith explained. "We were the hunter for so long and now we're the hunted, so it's a different level of expectation. For the kids, it doesn't really change for them but as coaches, every practice we have to have that same drive and same motivation. It's just a different perspective."
Ocean City begins its season tonight at 8 when it hosts Vineland as part of the Battle at the Beach, a huge, 11-game showcase this weekend at Carey Stadium put on by the West Jersey Football League Coaches Association. The Red Raiders have some other tough matchups this season, including Week 2 against Hammonton and then a big rematch from last year when they host Williamstown on Oct. 29.
But the Raiders should be ready to compete and perhaps even do better than the 6-2 mark they put up a year ago. Gone is quarterback Joe Repetti and running back Jake Inserra, as well as some defensive stalwarts such as Mike Rhodes, but Smith has plenty of weapons at his disposal. Riley Gunnels, a junior, takes over as the signal-caller and Smith said he has several options at running back, including Jacob Wilson, Sean Mazzitelli and sophomores Henry Souto and Tyler McDaniels.
"We have some options on offense. Riley's big issue is going to be experience. He has a lot of ability but he doesn't have a lot of experience, so he's going to have to learn as he goes," Smith said of Gunnels. "I was really impressed with him when we put him in against DePaul Catholic (last year). He had no preparation and the first drive was a mess — he got sacked and fumbled, and they ran it in. But the second drive he took us down the field against their first team for a touchdown, which was great. He's unfazed. He'll stand in the pocket when everything is collapsing around him. For him, he doesn't know what he doesn't know. There are all these little things that only experience can teach you. I hope to see him continue to improve as the season goes on."
"We have a lot on our shoulders this year because last year the seniors gave us such a good season, so we have to live up to that. All the juniors from last year have to step up and be role models and make sure we coach up the young guys. We lost a lot of our key players, but we have a lot of new players who are going to step up and step into those roles of being key players, both on offense and defense. We just have to learn how to utilize our new weapons on the field," said senior tight end Mike Gray, who figures to play a big role in the offense. "(Riley) likes to throw the deep ball so I think it will be pretty fun in the passing game. I'm not worried about him. I know he's going to step up into that role."
The line should be a strong point for Ocean City with a couple starters back plus Gray, who as a tight end is bigger than most high school defensive linemen.
"Last year he was a little more of a blocker but this year he'll step into that Brad Jamison role," Smith said of Gray, comparing him to last year's dynamic pass-catching tight end and one of Repetti's favorite targets. "He was a running back when he was younger, but now he's 6-foot-4, 230 pounds. So we're going to hope to make him a huge focal point of this offense."
"We lost a couple starters off the line but we're looking pretty good. We've been working a lot this offseason and we've been trying to work out some kinks," said senior center C.J. Conte. "We might not have as much quarterback running this year but the offense should look pretty similar. We've been running a lot of the same plays that we ran last year."
The key to Ocean City's success probably won't come down to Xs and Os, it will depend more on if this year's crop of juniors and seniors can assume the leadership roles of a very strong 2021 senior class.
"I've been hearing a lot about all the seniors we lost, but we're hungry," Conte said. "I'm excited to see what we can do this year. The guys last year were good so we have to see who can step up and replace them. We worked with (last year's seniors) for three years, so we picked up a lot of their ways and we want to continue the tradition."
"Every year is different and every group of kids is different. The big challenge this year is to replace, from a leadership perspective, those seniors," Smith added. "They were good football players, but we had good football players behind them. Now, the challenge for these guys is leadership. Those guys last year really set a precedent for how they wanted everything done and these guys have to fill that void."
Gray said the Red Raiders are focused on one thing — winning a championship.
"I feel like I'm at a pretty good point. I've been working hard all summer to get ready for the season and I've been coaching up all my teammates to make sure they are working just as hard. We can't wait (for the season opener)," he said. "The offseason was weird. That was an odd way to end a season, without having playoffs or a championship or anything like that. This year we'll finally have that chance and we plan to take that opportunity and hopefully go all the way."
Ocean City 2021 Schedule (Home games in BOLD)
August 27 vs. Vineland, 8
Sept. 2 vs. Hammonton, 6
Sept. 10 vs. Absegami, 6
Sept. 17 at Mainland, 6
Sept. 24 vs. Seneca, 6
October 1 at EHT, 7
October 16 at Pemberton, Noon
October 22 at Oakcrest, 6
October 29 vs. Williamstown, 6
Nov. 25 vs. Pleasantville, 10 a.m.
High School Football Venues in South Jersey